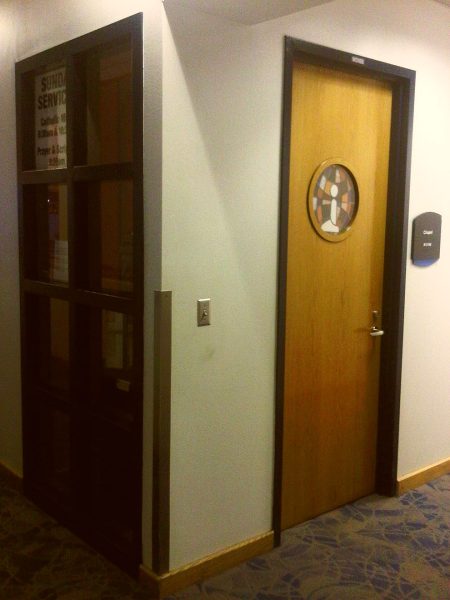 I am en route ultimately to Medellín, Colombia several weeks ahead of the Seventh World Urban Forum. 
If I could have, I would have prayer in the Chapel at Pearson International Airport. However the plane left Toronto before Maghrib Sunset Time, and I decided to not pray while in flight.
Originally, I decided that once I arrive in Florida, that is where I could catch up my Sunset and Night Prayer as this connection in Charlotte, North Carolina was too short to risk taking a few minutes break to pray.
Upon arriving in Charlotte Douglass Airport, my connecting flight was delayed about 40 minutes. Alhumdullilah, I could pray and InshAllah arrive in Florida having completed even my Isha Prayers on time.
A quick look at the CLT airport map and the Chapel was easy enough to locate. It's on the second floor in the middle of the Terminal connecting all the gates. To find it, immediately go up the stairs where it says USO. Walk left, and there on the first corner on your right, is the Multi-Faith Chapel.