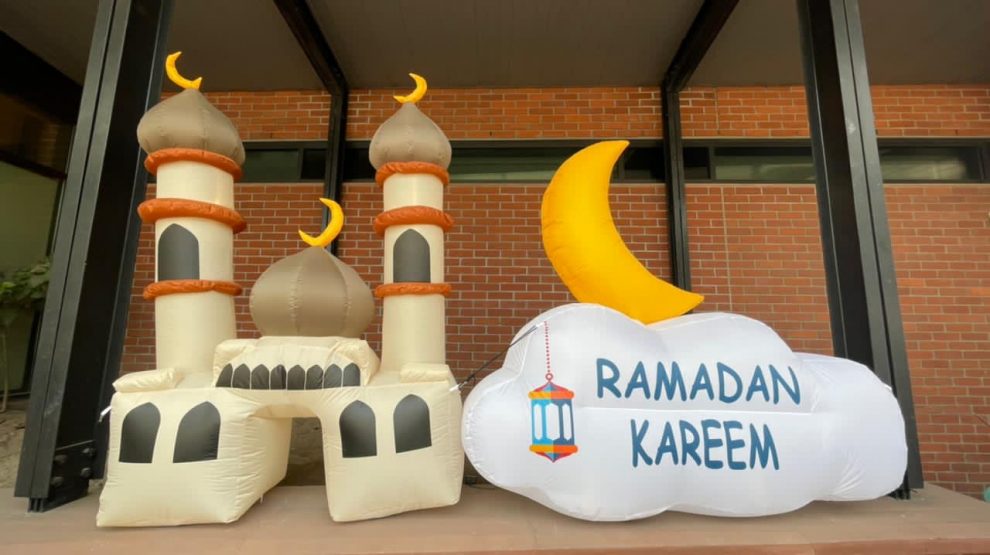 Inflatable Masjid and Inflatable Crescent wishing Ramadan Kareem placed in front of Canada's High Commission in Bangladesh.
Inflatables are from Toronto Area startup New Traditions Store. (Photo Credit : High Commission of Canada in Bangladesh)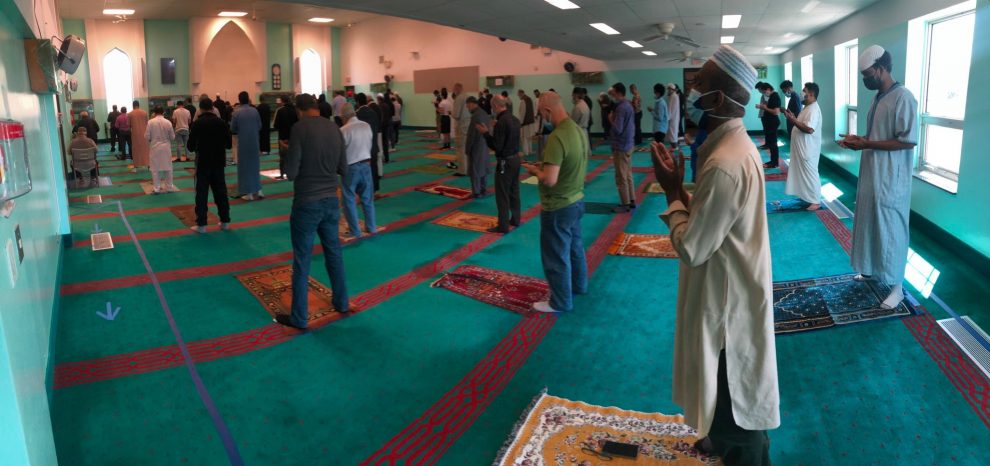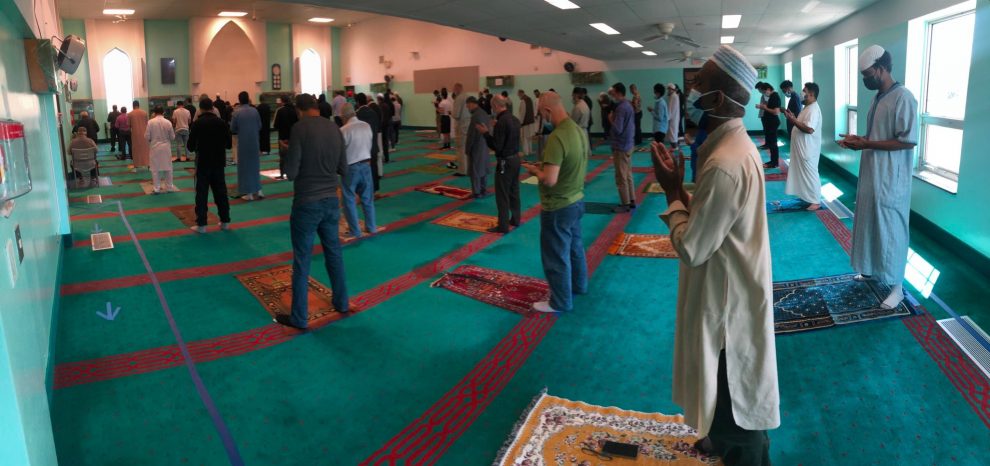 2
First day of Ramadan 2021 inside Windsor Islamic Association, 1320 Northwood Street, Windsor, Ontario.
In Person prayer hall limited to 15 percent capacity with physical distancing. For a second year, Public Adhan Al Maghrib, the Call to Prayer after Sunset, will be broadcast via loudspeaker each night. ( Photo credit: Jacob Barker )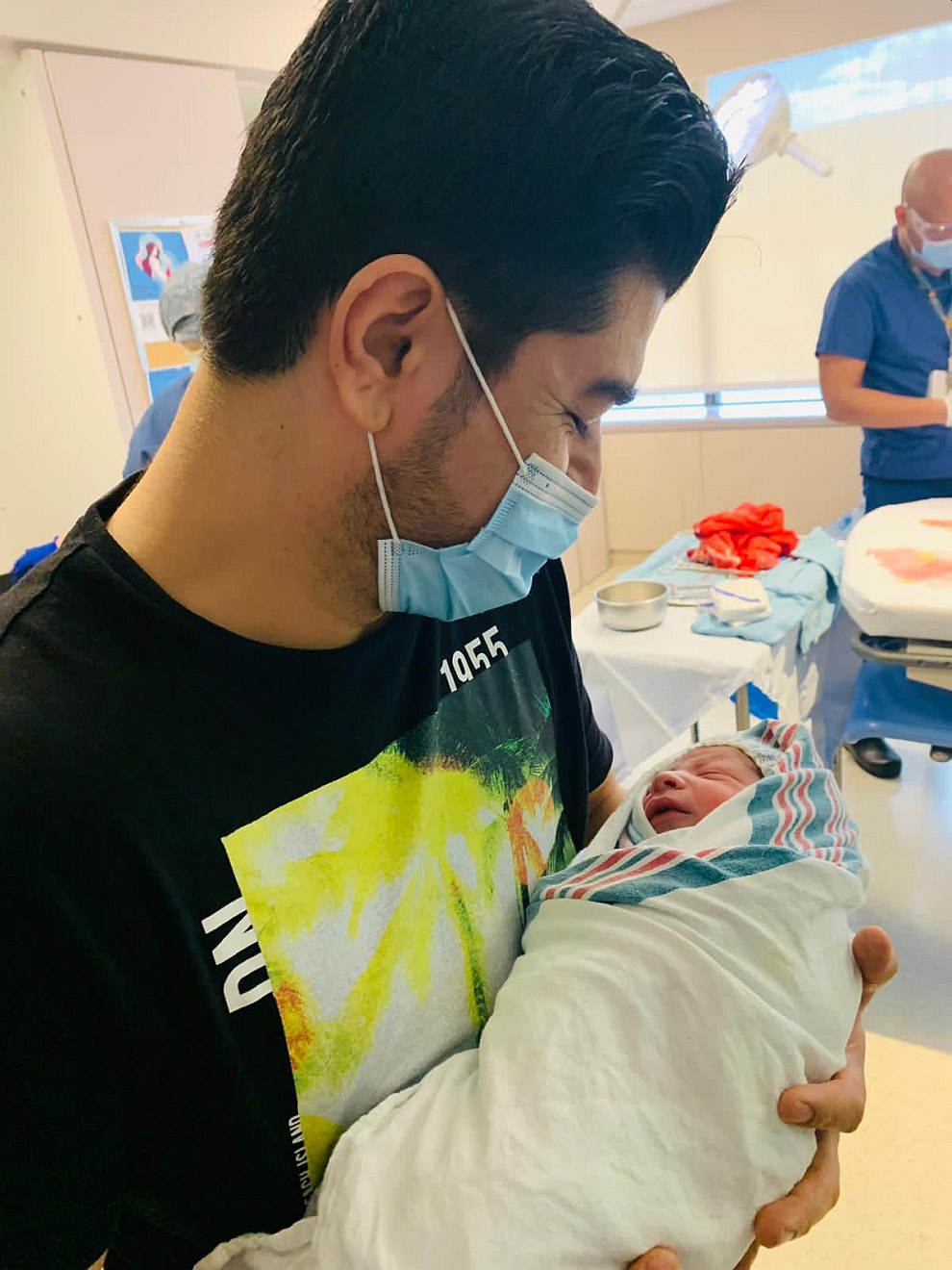 3
Proud uncle Irshaad Ahmad Ashkan, holds his newest nephew, Arham Muhammad Rahim, and our newest Canadian, who was born at the beginning of Ramadan 2021. ( Photo credit : Irshaad Ahmad Ashkan )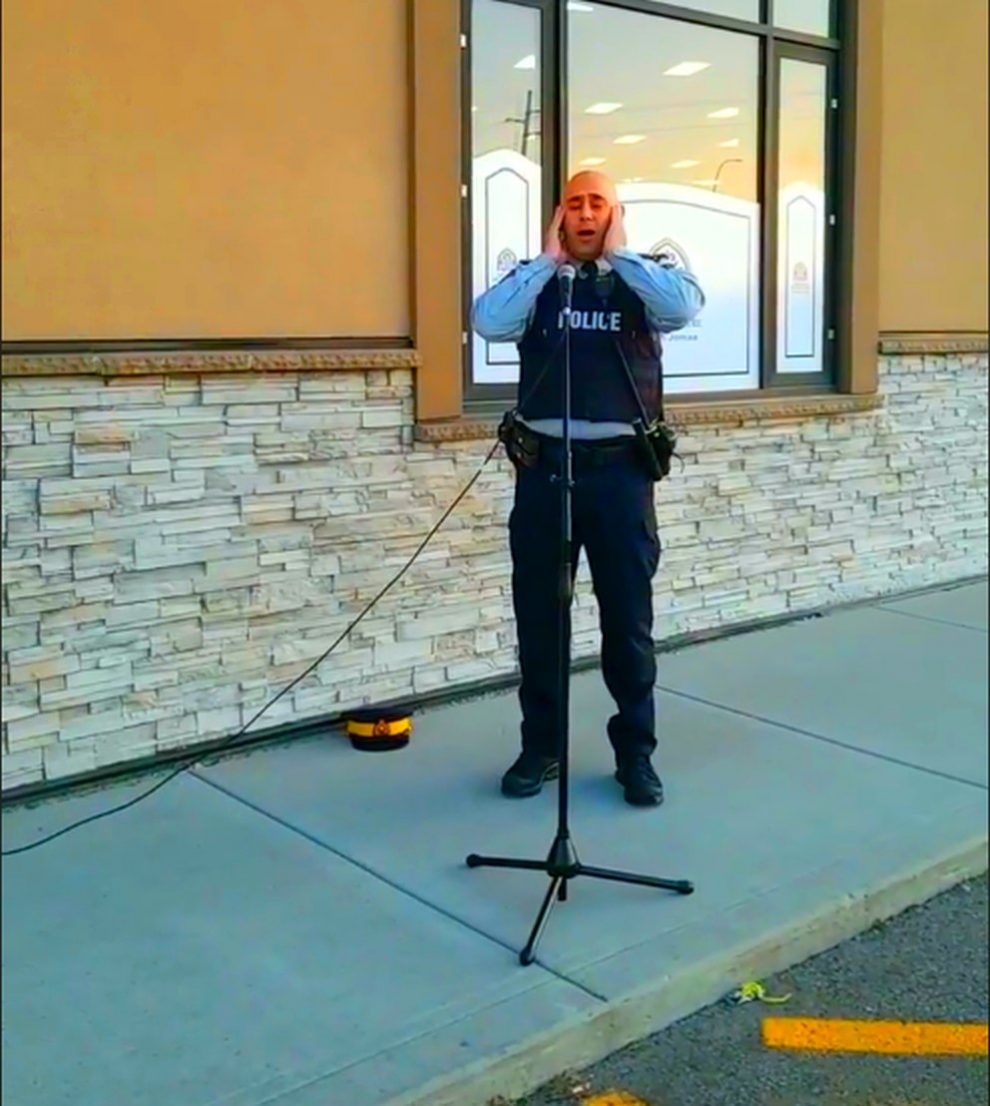 4
Calgary's Muslim community witnessed history in the making on the first Friday of Ramadan 1442 / April 16 2021.
RCMP Corporal Nader Khalil was invited by the Akram Jomaa Islamic Centre to make Adhan Al-Maghrib, The Call to Prayer after Sunset.
With official approval from the RCMP, Corporal Khalil made the Adhan Al Maghrib in his full RCMP uniform on Friday.
It is believed to be the first time this has happened in Canada.
Public Adhans at Maghrib Sunset Time have been permitted by The City of Calgary for a second year. ( Photo credit : Sam Nammoura )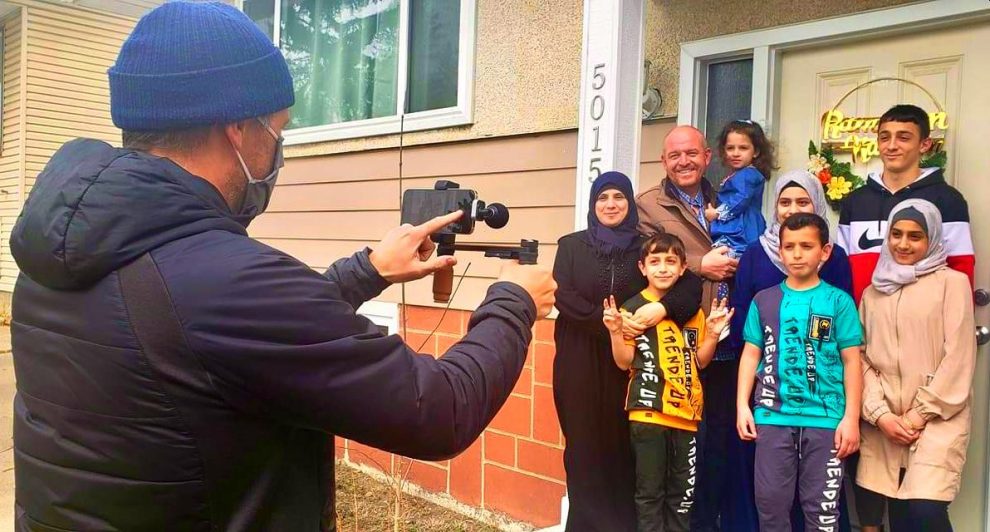 5
Mobile Journalist Dan McGarvey Shooting a story for CBC about Ramadan 2021 with a family from Syria in Calgary, Alberta. ( Photo credit : Dan McGarvey )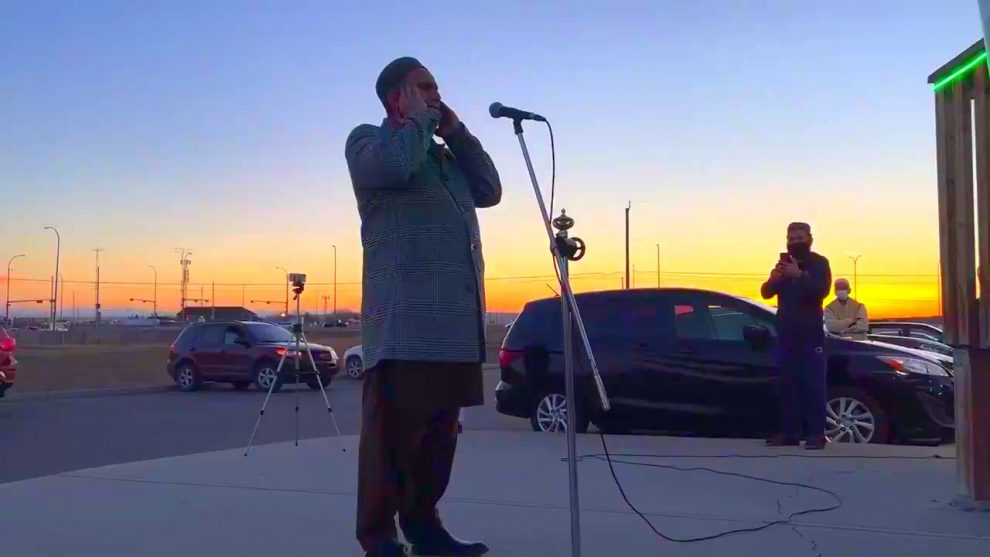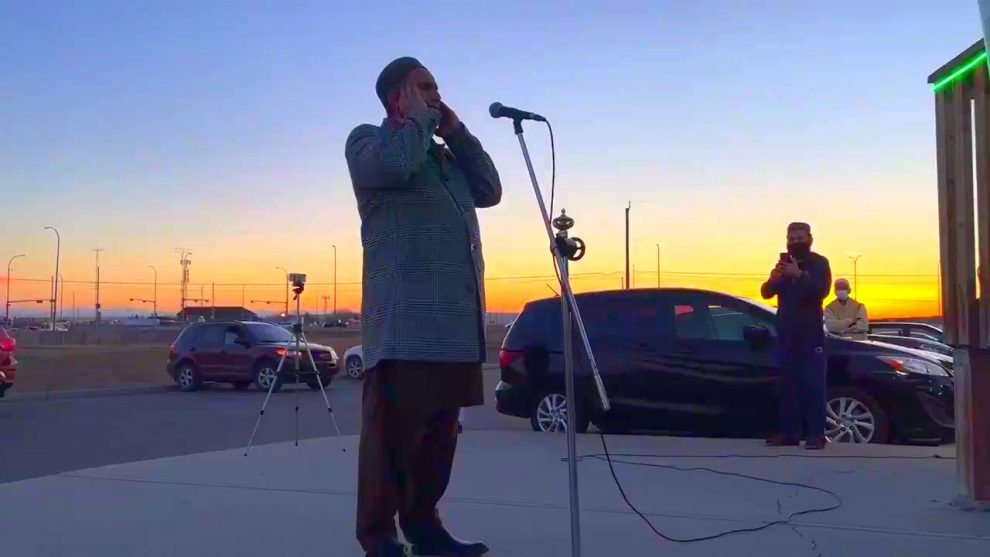 6
Masjids around Calgary are being allowed to broadcast the Adhan, or Call to Prayer, on outdoor speakers at sunset during Ramadan.
The second night of the holy month was the first night Adhan Al Maghrib was called just outside the Green Dome Mosque in North East Calgary. ( Photo credit : Dan McGarvey )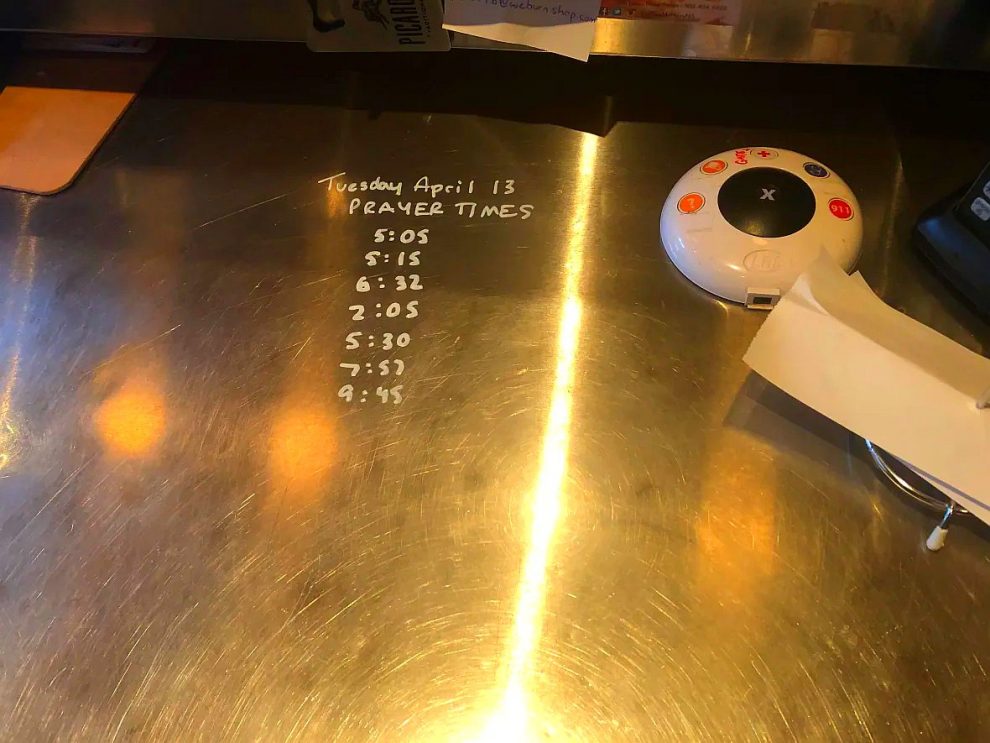 7
Good Robot Makes Bad Neighbour : The brewing company and bar is next door to the Centre for Islamic Development in Halifax, Nova Scotia. On the first day of Ramadan 2021 they Instagrammed a long caption explaining how they had been a bad neighbour. They owned their mistakes and wanted to do better.
In their words…
"We had a DJ on the roof, fog machine, glitter bombs… The works. It was cathartic. It was loud.
Unfortunately this party occurred smack dab in the middle of Ramadan; a very holy and sacred time for Muslims. This was the last straw for them and it would soon become a huge wake-up call for us.
The result of our subsequent conversations with the CID were some major operational changes that we implemented to ensure a more peaceful coexistence. For example, we now take note of all daily prayer times when we open up in the morning. During those prayer times we regulate the sound outside. We have initiated hourly cigarette butt sweeps in front of the bar and the Islamic Centre. Outdoor events like RobieScope now tend to be silent events using Silent Disco headphones that we rent from the amazing Evolution Sounds Entertainment. We have also removed some of our rowdier activities such as "Cornhole".
It has taken some deep introspection and a lot of difficult conversations with the CID to regain their trust. They now occasionally invite us over for dinner.
In that difficult time in our history we humbly learned what it means to be a part of a community. Neighbourhoods come with responsibility.
All of this said, as we return to Ramadan season again today, we would like to send good wishes to our Muslim friends and neighbours."
( Photo credit : Elizabeth Chiu / CBC )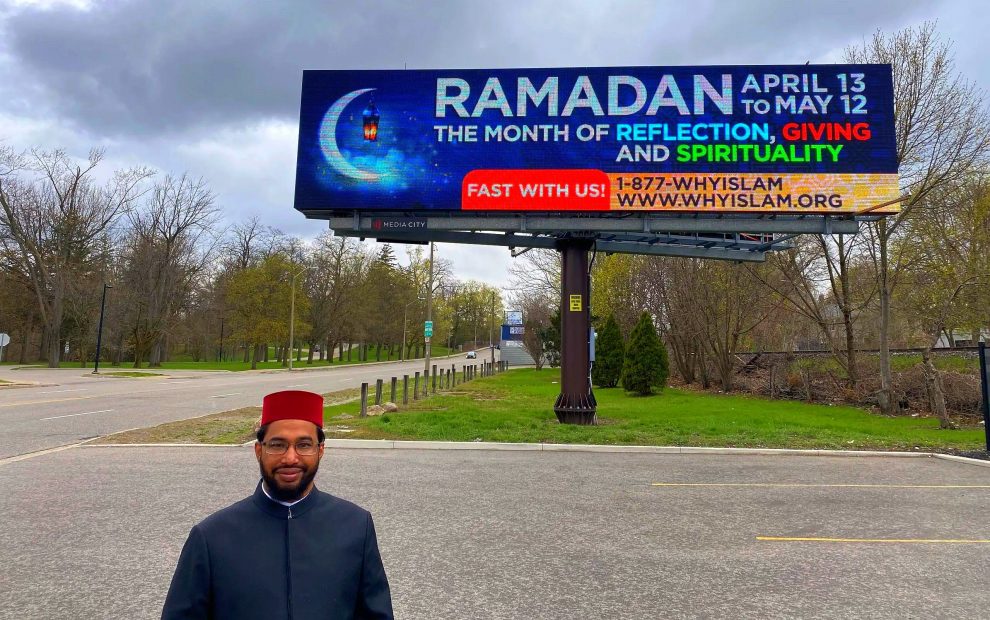 8
Imam Abu Noman Tarek, of the Brantford Mosque, in front of a billboard celebrating Ramadan.
The Muslim Association of Brantford this week unveiled billboards at several locations to help followers celebrate Ramadan.
Billboards can now be seen on West Street, Brant Avenue and Paris Road, around Brantford, Ontario.
Says Imam Tarek,
"Some Muslims are also putting Ramadan lawn signs on their front yards. We're hoping these signs might bring some ease to Muslims during this unprecedented time."
( Photo credit : Imam Abu Noman Tarek )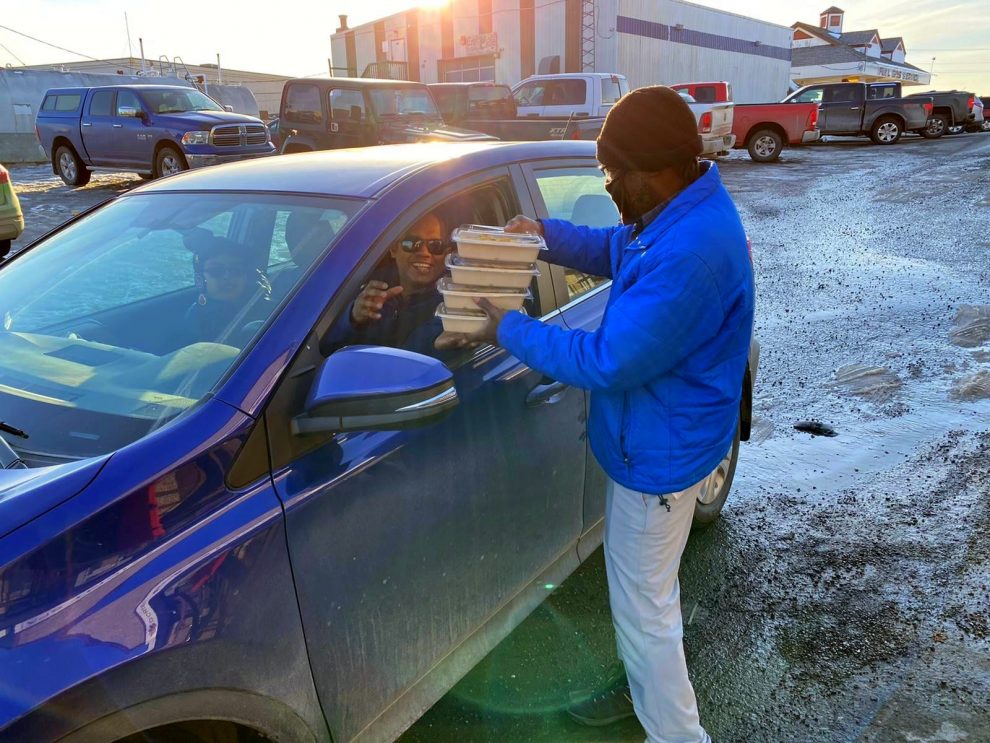 9
First Drive-Thru Iftar in Yellowknife, Northwest Territories, Canada. ( Photo credit : ISNA Canada )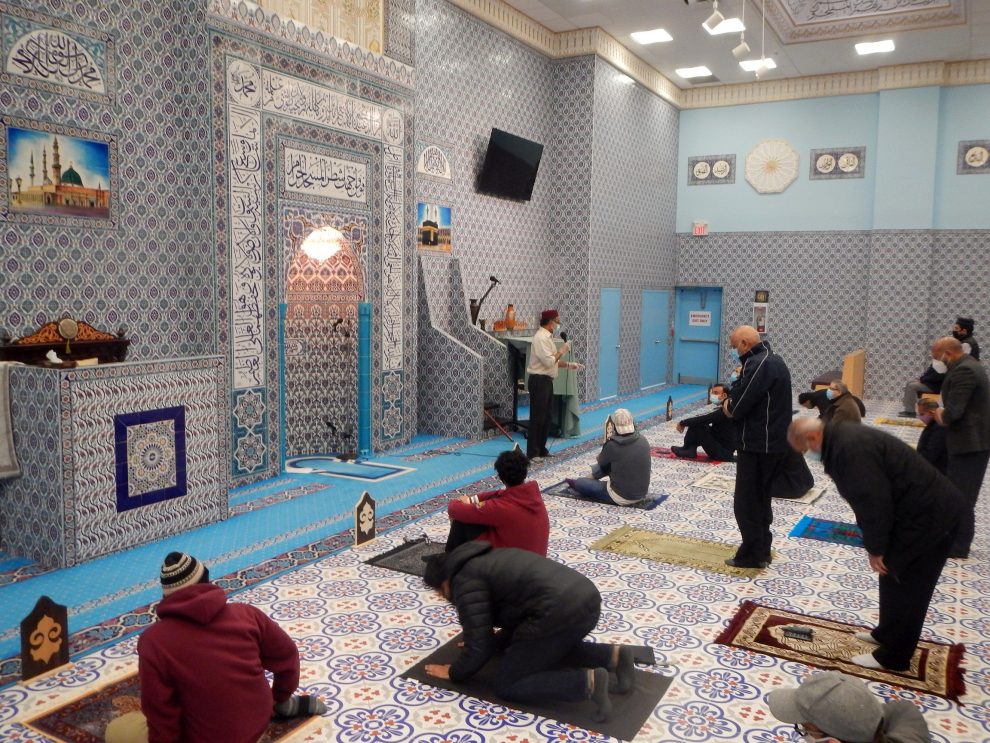 10
Under strict COVID-19 Physical Distancing and 15% Capacity Limits, Sayeda Khadija Centre in Mississauga, Ontario scheduled consecutive Jumah Prayers.
Worshippers would place their prayer mats brought from home on pre-designated spots.
Each prayer mat is placed at least 6 feet or 2 meters apart from the others.
This Friday Prayer turned out to be the First and now ONLY Open to The Public Friday Prayer.
The Monday after, The Province of Ontario ordered all Houses of Worship to only allow 10 people in total, inside or outside any Masjid.
( Photo credit : HiMY SYeD )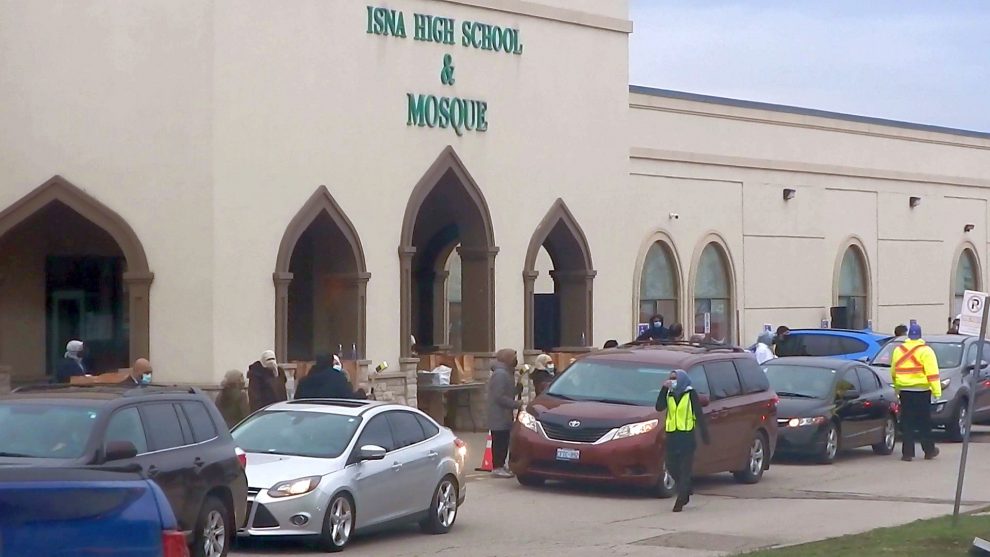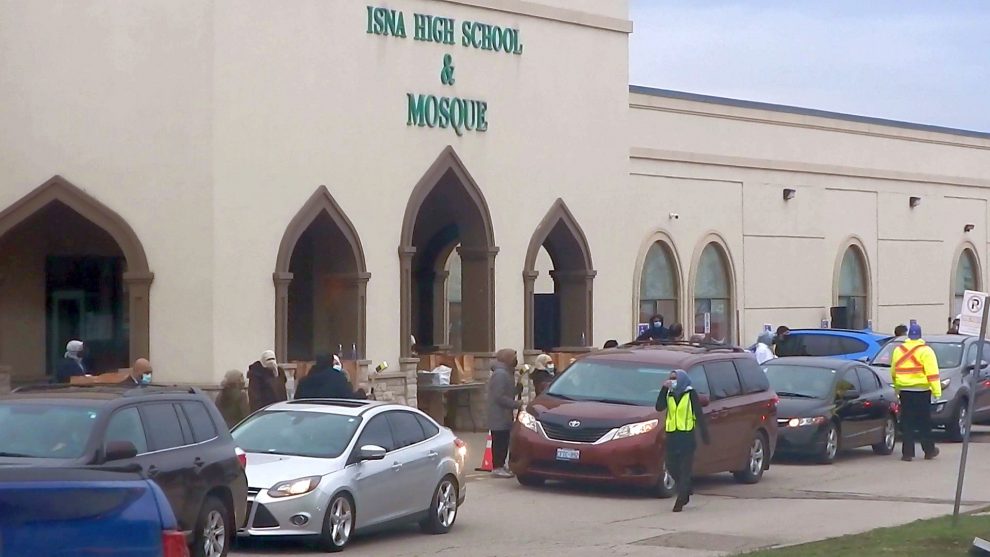 11
First inspired by Winnipeg Grand Mosque's Drive-Thru Iftars during Ramadan 2020,
ISNA Canada is again hosting Drive-Thru Iftars during Ramadan 2021.
The Islamic Centre of Canada is in South Mississauga.
This was their first Drive-Thru Iftar Pickup on Friday April 16 2021.
( Photo credit : HiMY SYeD )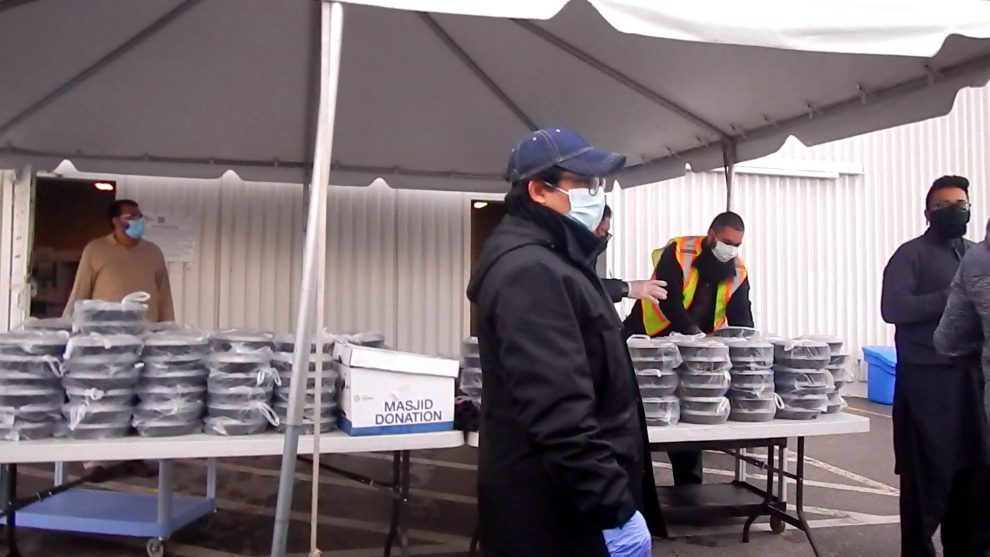 12
First Drive-Thru Iftar of Ramadan 2021.
Volunteers under the tent in the parking lot outside Sayeda Khadija Centre in Mississauga, Ontario.
Beside them atop the table are Iftar Dinner Trays, two per see-through bag, ready to be picked up with physical distancing and safety protocols in place.
( Photo credit : HiMY SYeD )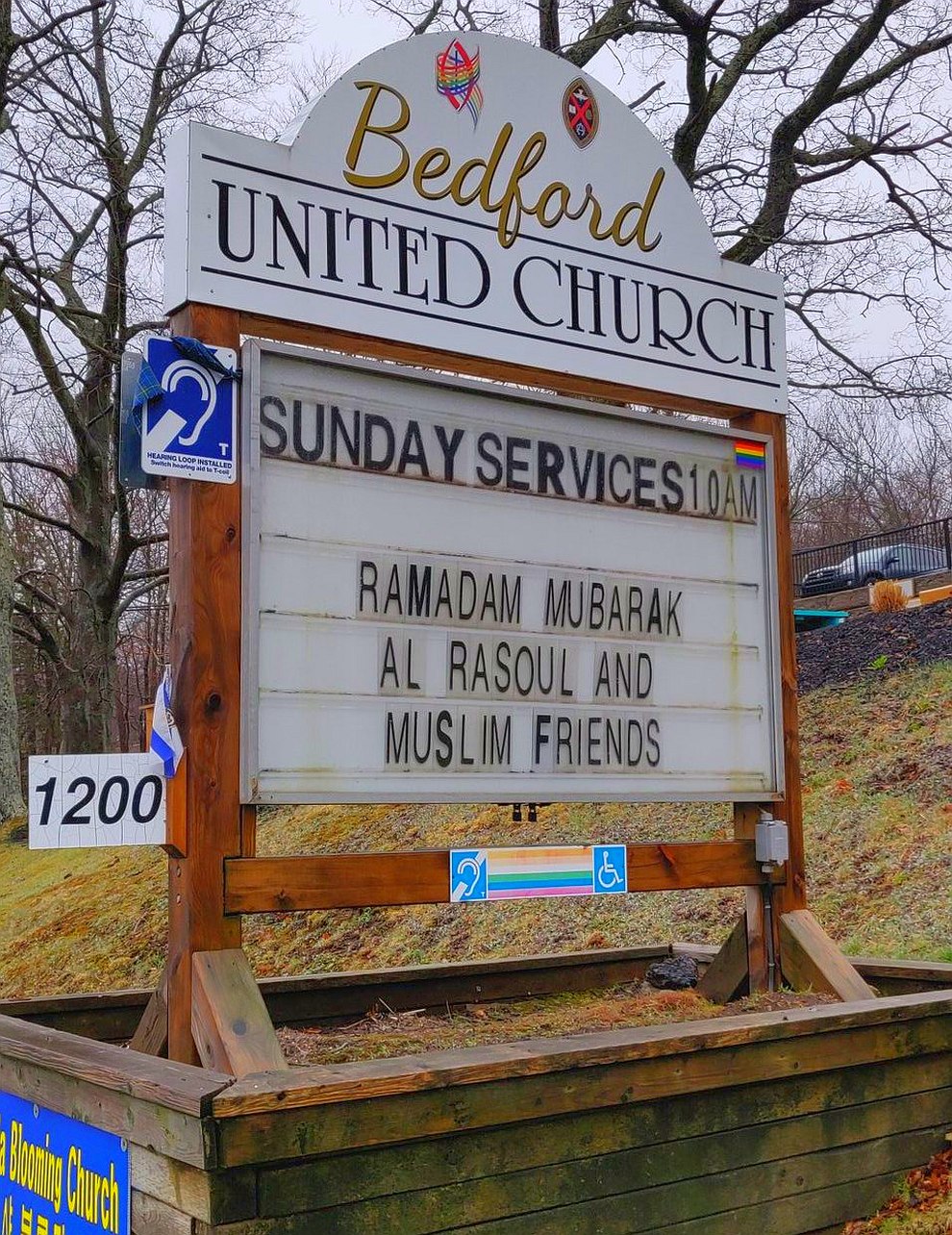 13
'Ramadan Mubarak … Muslim Friends'
Message on outdoor sign board of Bedford United Church, Bedford, Nova Scotia.
( Photo credit : Willow Anderson )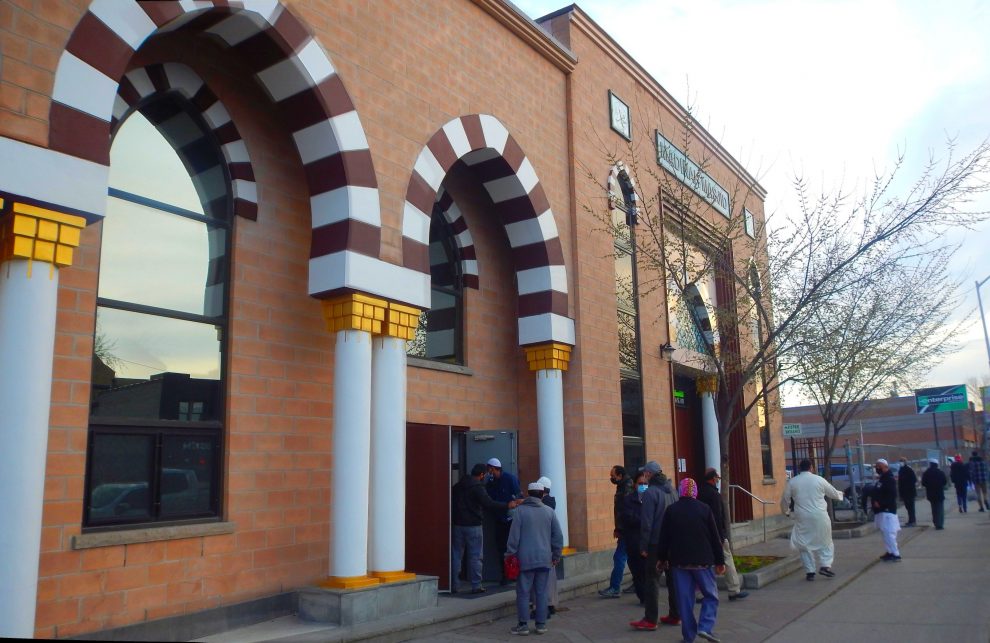 14
Curb Side Iftar Pickup in front of Madinah Masjid in Toronto.
Many Muslims live within walking distance of Madinah Masjid, it is a beating heart of a thriving local community and congregation on Danforth Avenue.
People waited in line 6 feet apart for containers filled with Chicken and Haleem / Soup.
( Photo credit : HiMY SYeD )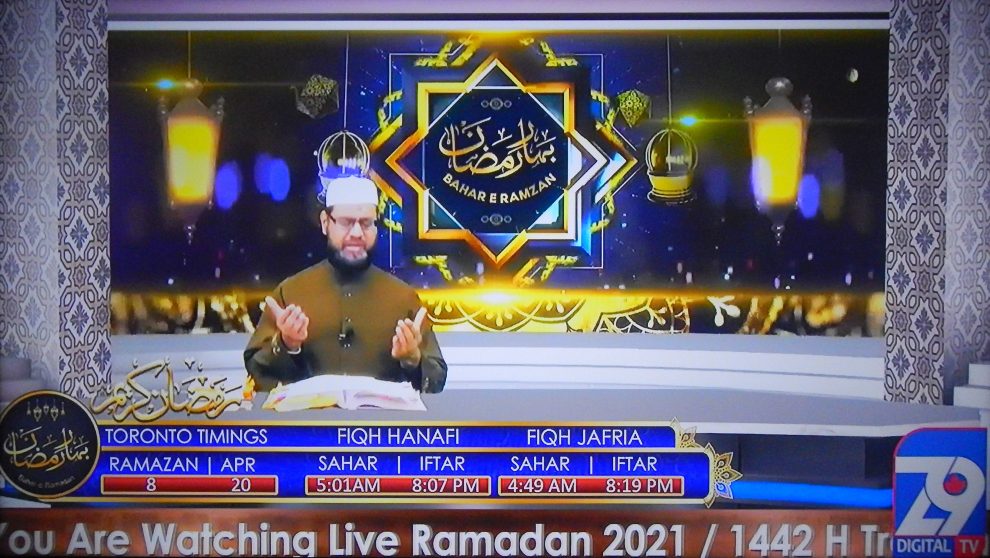 15
Z9 Digital TV is a Toronto Area based IPTV Streaming channel broadcasting online in English and Urdu.
Each morning before Fajr,
Z9 streams a live daily broadcast with Toronto Suhoor and Iftar times listed on screen according to both Sunni and Shia Muslims method of calculating Dawn and Sunset.
Hundreds, if not thousands, of Toronto Area Muslims watch these programs to start their Day of Fasting during Ramadan 2021.
( Photo credit : HiMY SYeD )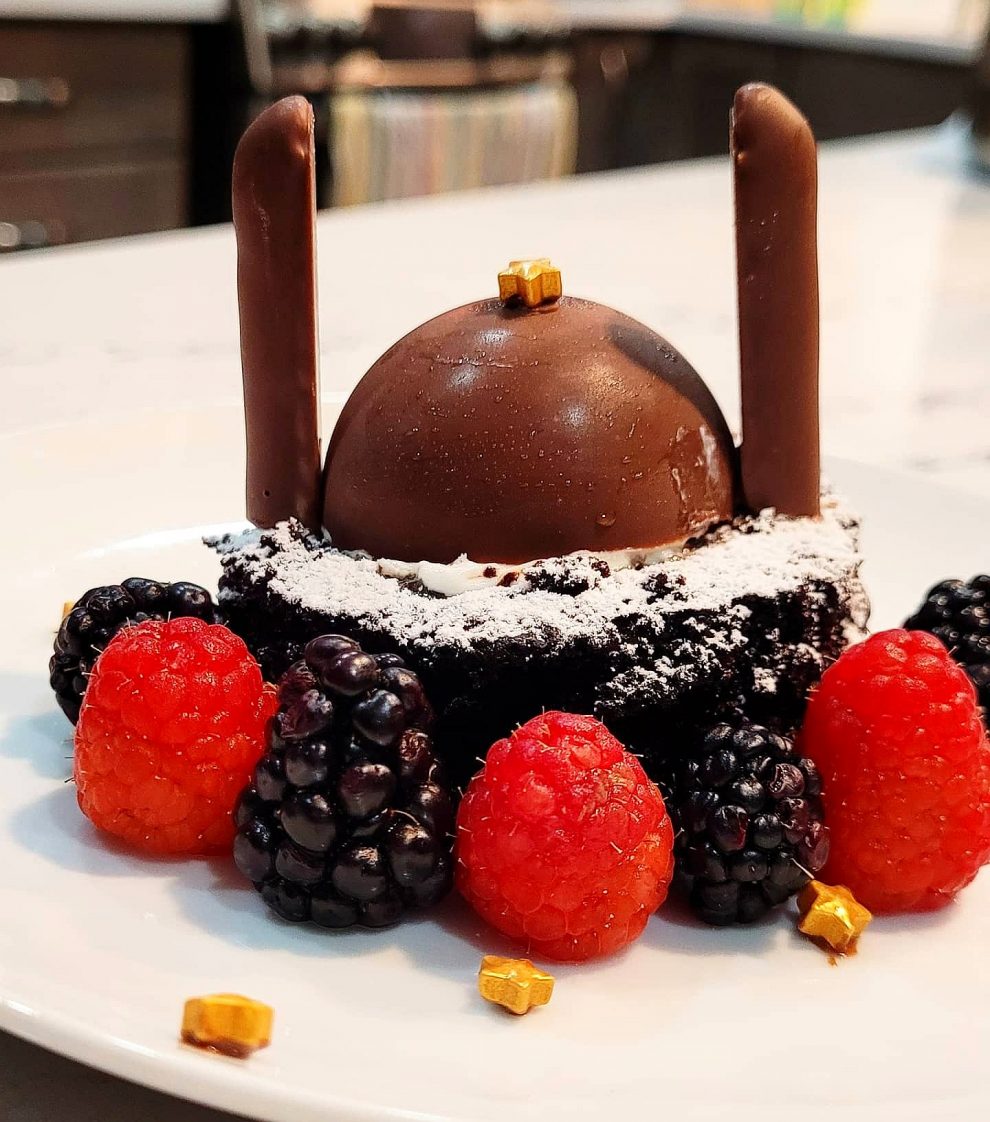 16
Ontario currently has a Province-wdie Stay-At-Home order in effect. Many Masjids began Ramadan 2021 either at 15% of their regular capacity, or decided to close up completely.
This Ice Cream and Chocolate and Berries dessert made to resemble a Masjid with minarets, may be the closest the sister who made it will get to a Masjid this year.
( Photo credit : Hijabi of Green Gables )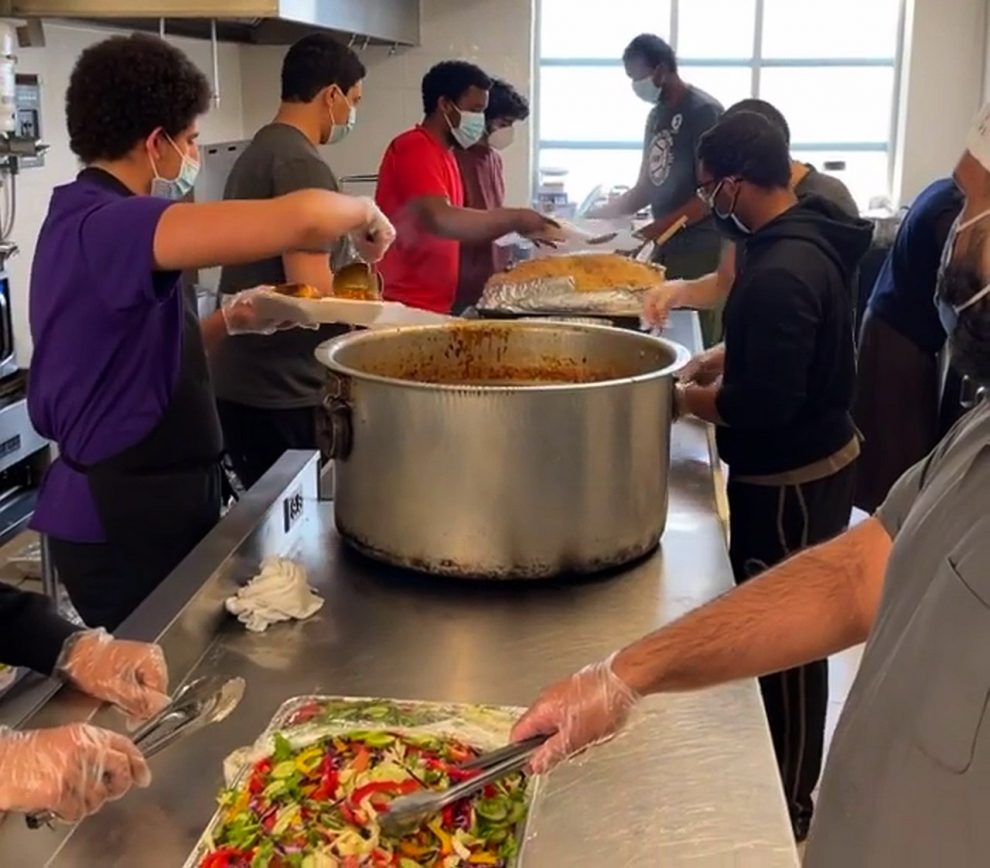 17
Volunteers prepare Iftar Dinner Trays in North York, Ontario for Abu Huraira Center's first ever Drive-Thru Iftar on Saturday April 17 2021.
( Photo credit : Abu Huraira Center )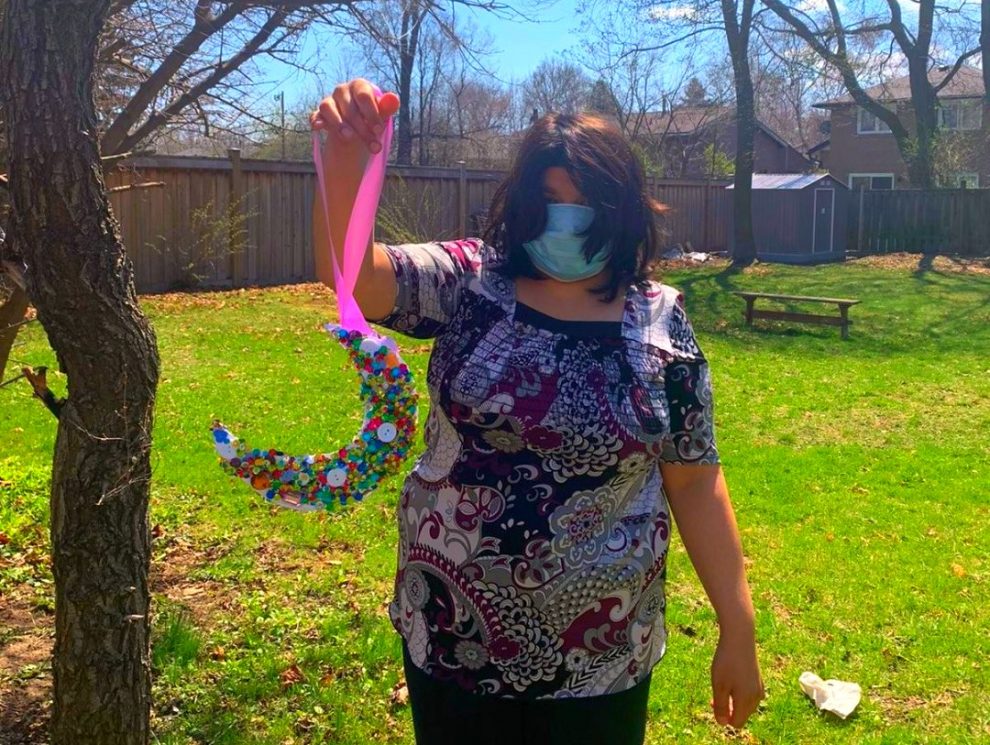 18
Sana made a beautiful crescent moon, decked out in glitter, buttons and jems! She can't wait to hang this in her house to celebrate Ramadan.
( Photo credit : Deen Support Services )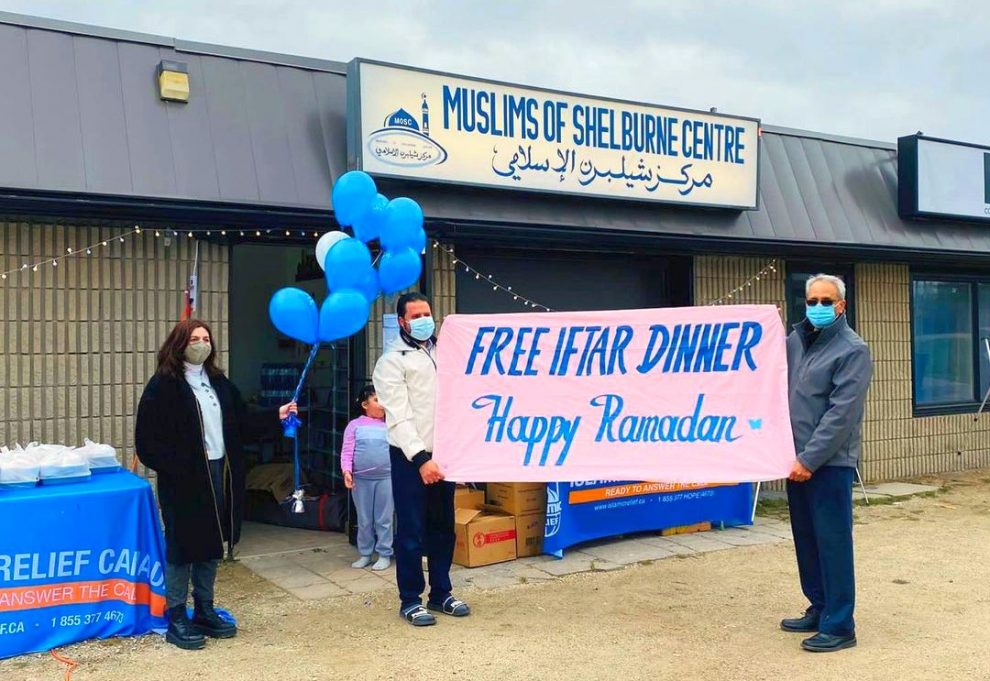 19
Muslims in Shelburne, located an hour's drive north west of Toronto, held their first ever Drive-Thru Iftar Pickup service in front of their recently opened Muslims of Shelburne Centre Masjid. Tuesday April 20 2021.
( Photo credit : Muslims of Shelburne Centre )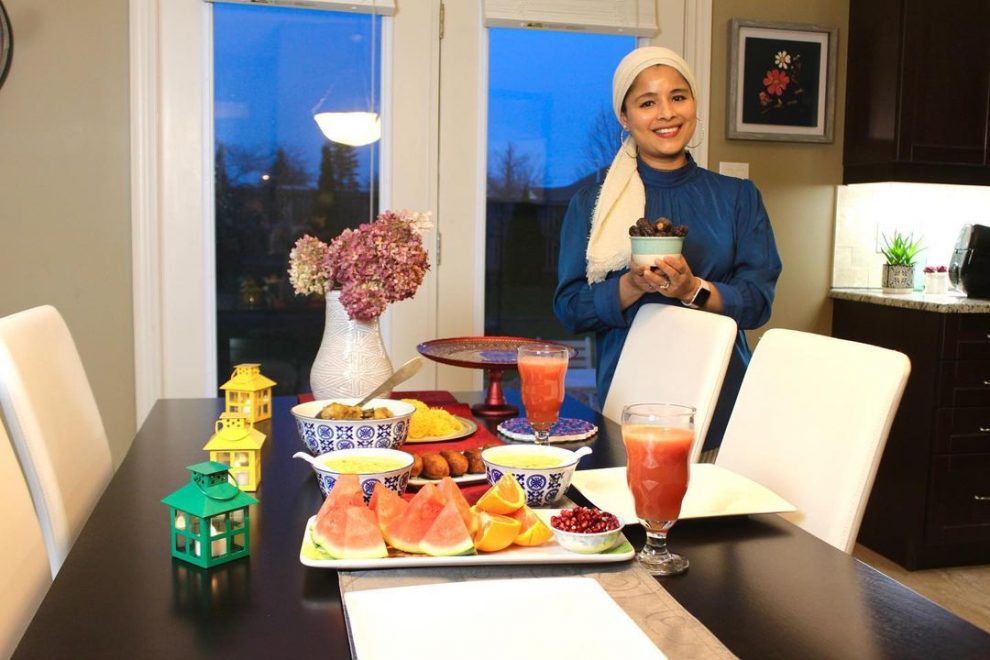 20
London, Ontario based Food Blogger, Thas, sharing her Iftar for Day 6 of Ramadan 2021.
( Photo credit : Cooking With Thas )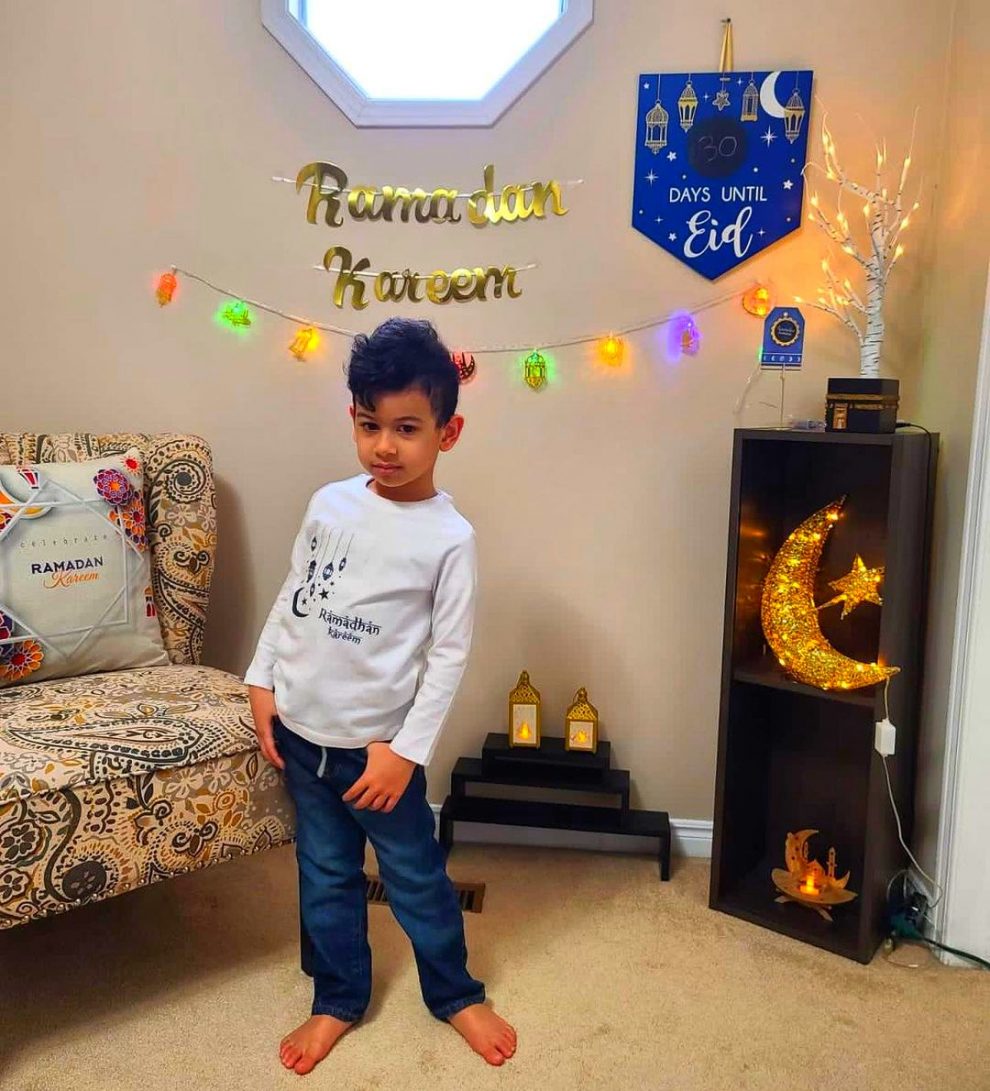 21
Ramadan Kareem & Ramadan Kareem & Ramadan Kareem from Khizer Raza in Toronto. Only 30 Days until Eid.
( Photo credit : Khizer Raza )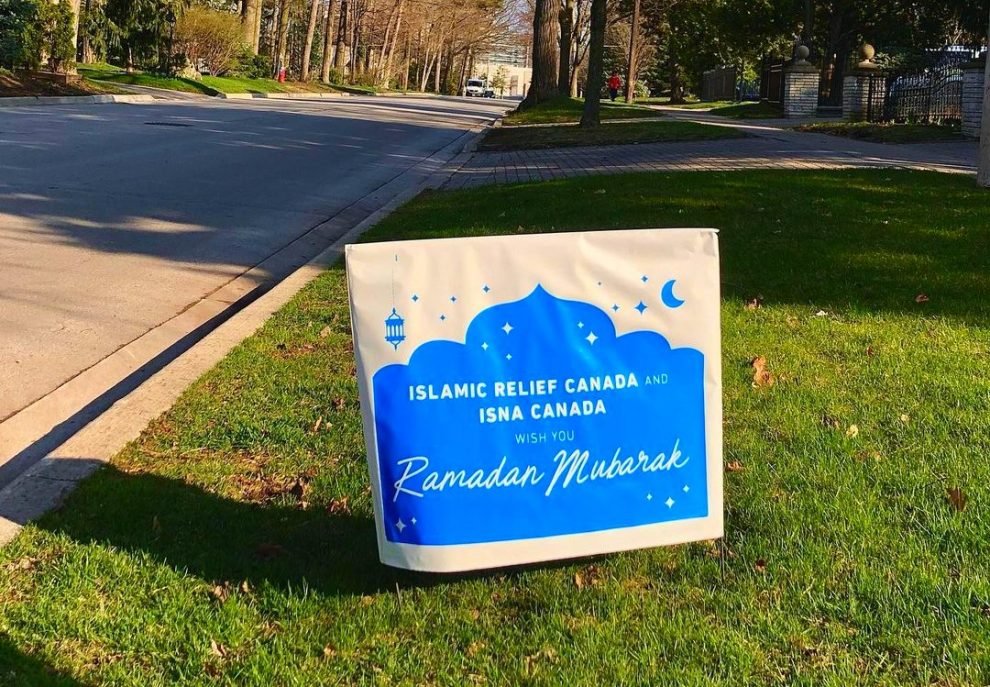 22
Islamic Relief Canada and ICNA Canada Lawn Sign wishing you Ramadan Mubarak. Spotted in Mississauga, Ontario.
( Photo credit : Meet Me Mississauga )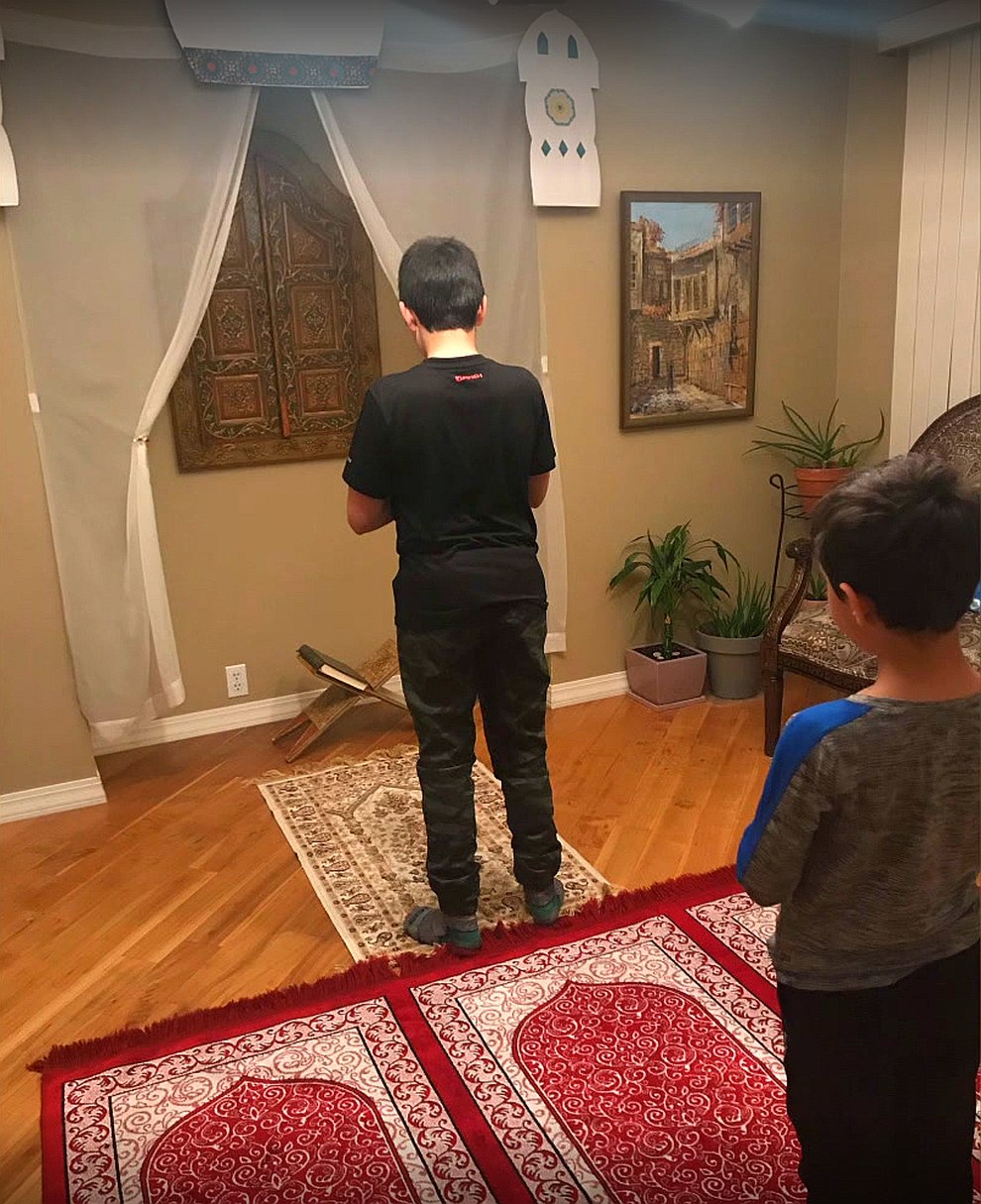 23
The Elbakri family of Winnipeg, Manitoba created a Mini-Masjid inside their home during Ramadan 2020.
They didn't expect they would be celebrating a second Ramadan apart from family and friends and the Masjid during the pandemic.
Winnipeg's smallest Masjid, The Elbakri Mini-Masjid is once again in use, for Ramadan 2021.
( Photo credit : CBC Winnipeg )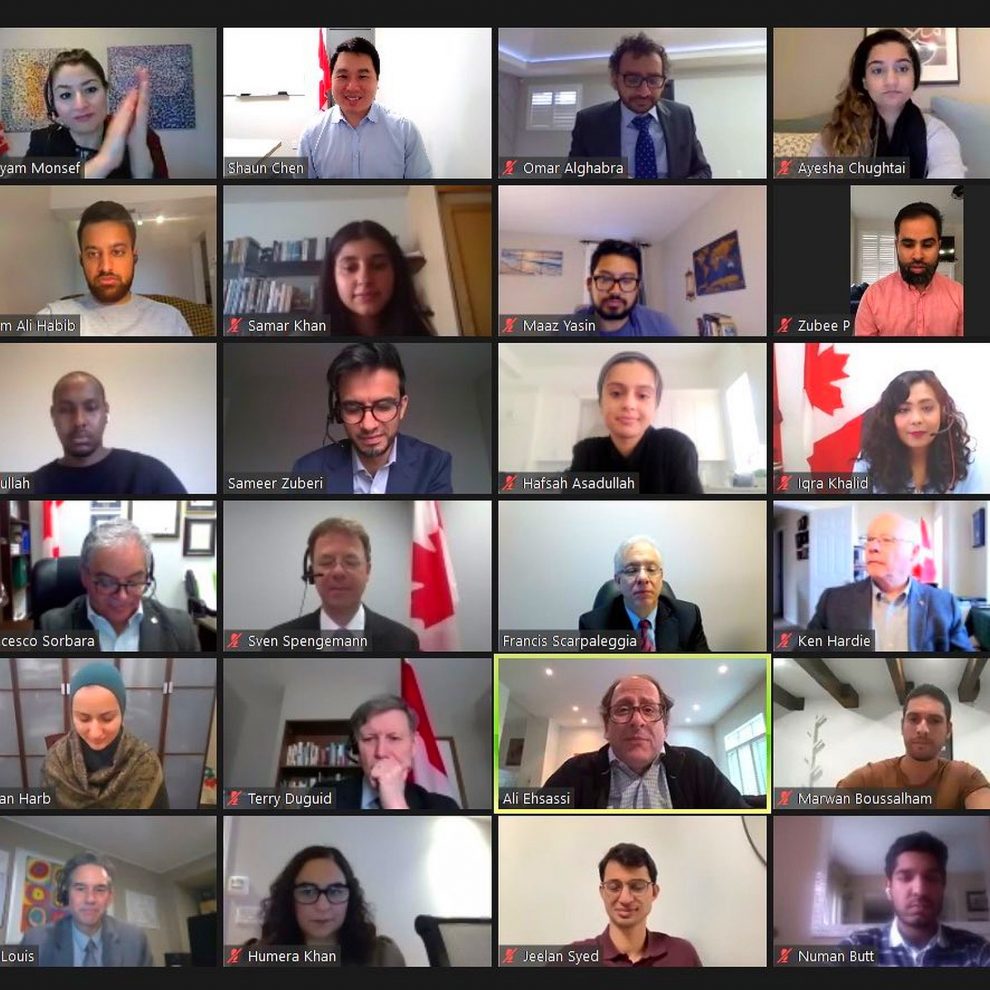 24
Canadian Members of Parliament, their colleagues, and staff, celebrate Ramadan 2021 virtually this year, replacing their annual in-person Ramadan Gathering on Parliament Hill in Ottawa.
Friday April 16 2021.
( Photo credit : Shaun Chen, MP )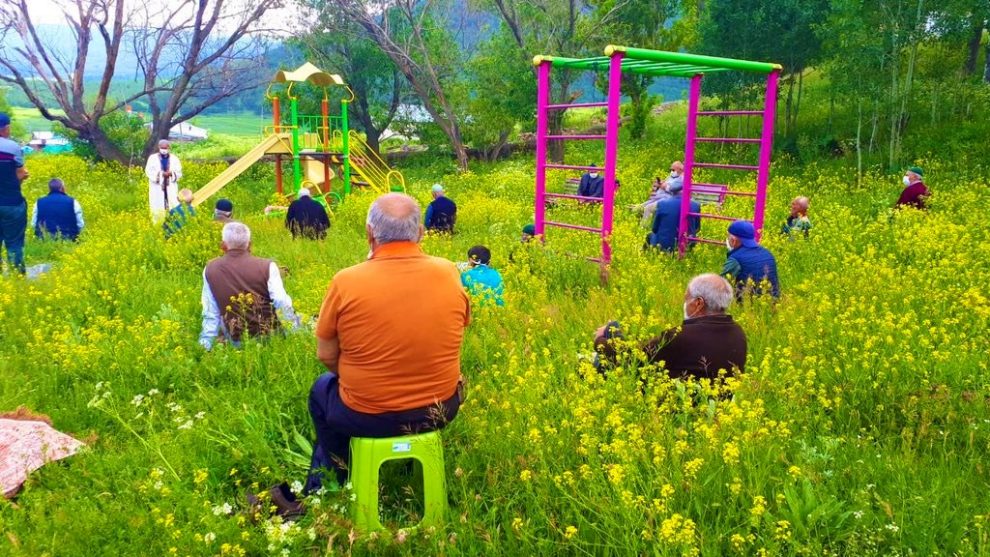 25
First Friday of Ramadan 2021 and this village in Turkey helds its Jumah Prayer outside because of the Corona Virus. Korona sebebiyle bir köydeki cuma namazı.
( Photo credit : Reynmen )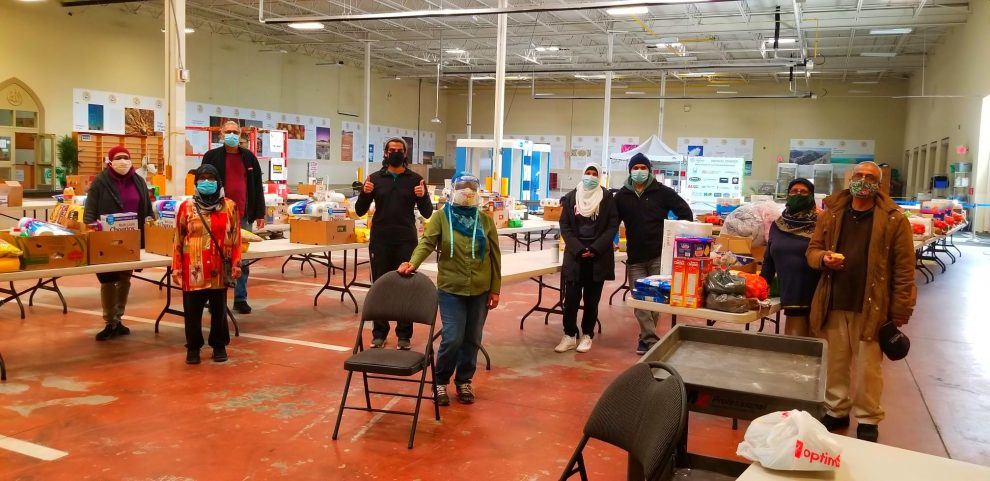 26
Volunteers inside Sayeda Khadija Centre in Mississauga, Ontario, organizing food collected for re-distribution to those in need during the Pandemic, as part their GiveBack program during the start of Ramadan 2021.
( Photo credit : Sayeda Khadija Centre )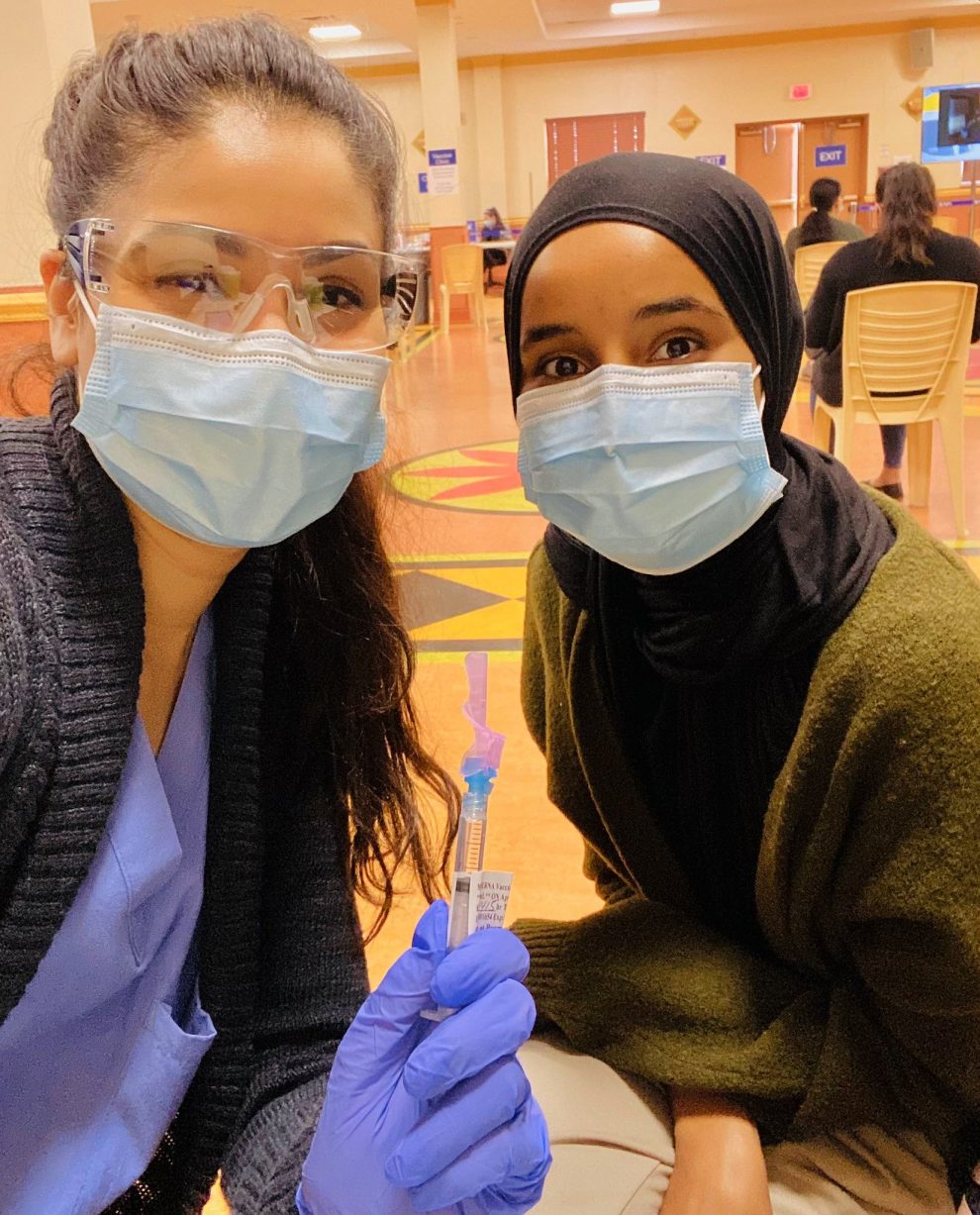 27
Dr. Fariha Khan vaccinating fellow Muslim woman, on the first Jumah of Ramadan 2021. Both women are fasting.
Vaccination took place inside the Hindu BAPS Shri Swaminarayan Mandir in Toronto's north west, as part of Osler Health's pop-up 18+ vaccine roll-out.
( Photo credit : Dr. Fariha Khan )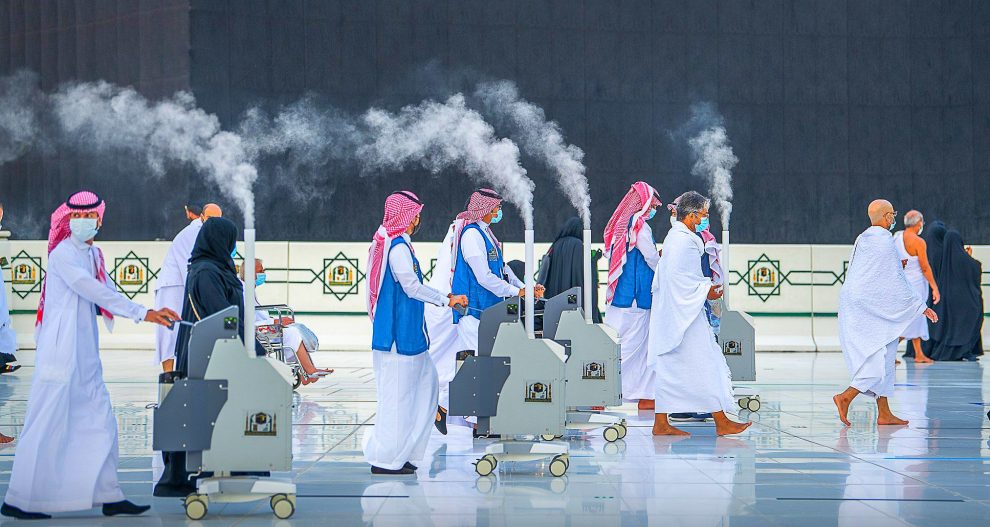 28
Continuous efforts in sterilizing of Masjid Al Haram in Makkah, Saudi Arabia, to ensure the safety of Pilgrims performing Tawaf during Ramadan 2021.
There are more than 70 field teams like this one, using 10,000 litres of sterilizers, 24 hours a day, to sterilize all sides of The Kaaba and the entire Masjid Al Haram.
( Photo credit : Reasah Alharmain )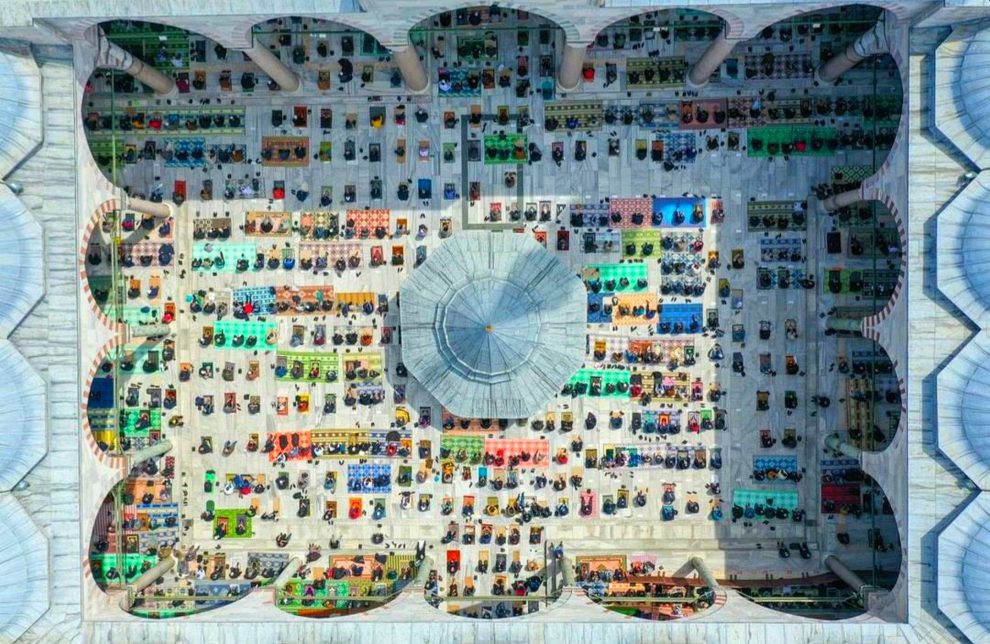 29
Worshippers practising physical distancing inside the open air courtyard of Fatih Masjid in Istanbul, Turkey on the First Friday of Ramadan 2021.
( Photo credit : The Istanbulist )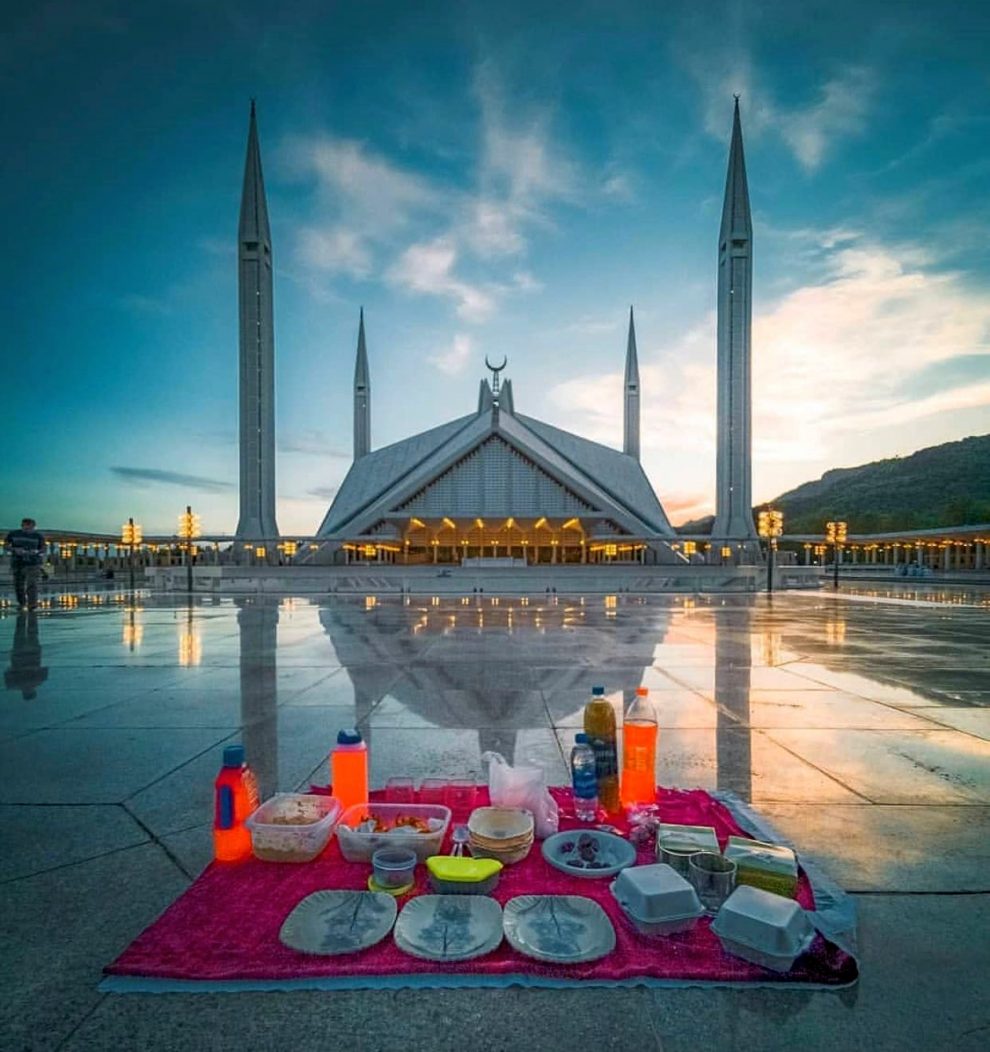 30
VERY Physically Distanced Iftar spread in front of Shah Faisal Masjid, Islamabad, Pakistan.
( Photo source : What's Up Pakistan )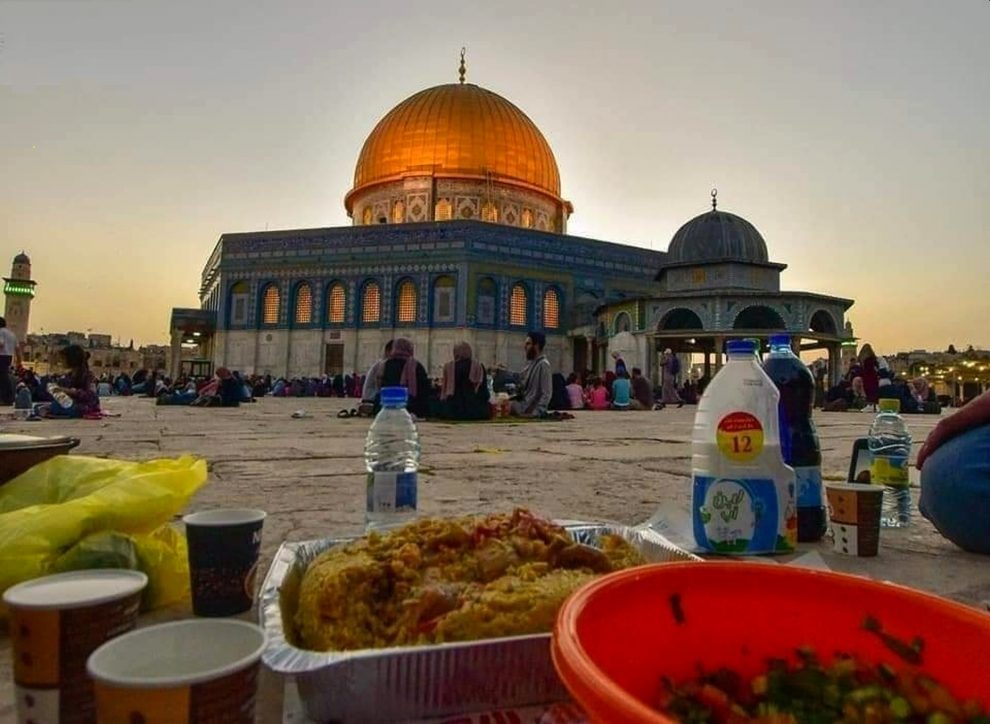 31
Iftar in front of Dome of The Rock and Masjid Al Aqsa in Jerusalem, Palestine. Ramadan 9 1442 – April 21 2021.
( Photo credit : PFP )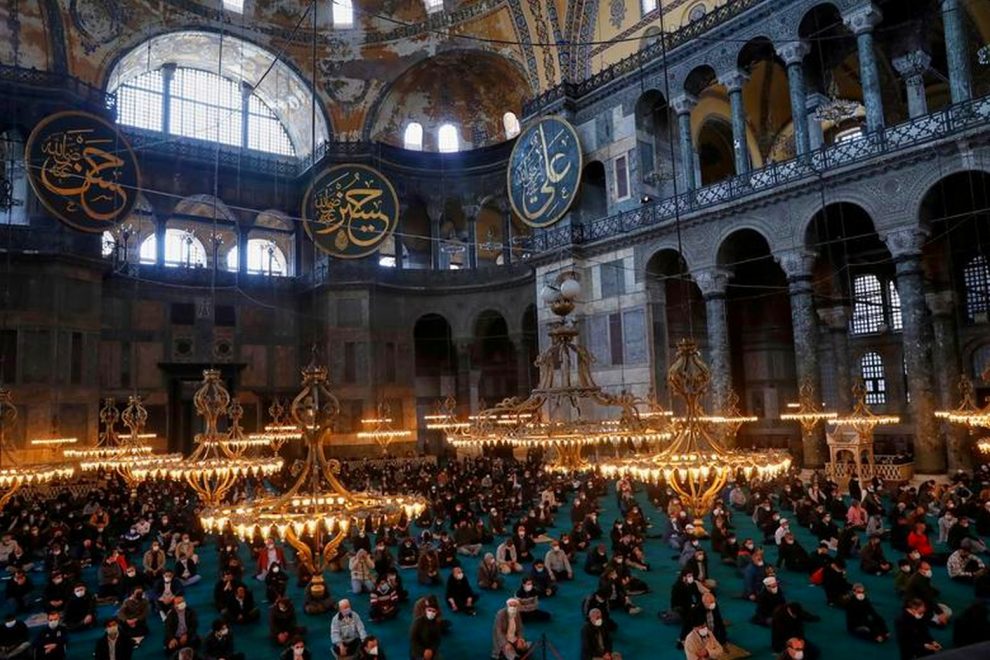 32
Ramadan prayers held in Hagia Sophia for the first time in 86 years.
The building in Istanbul was reverted into a masjid after Ramadan 2020, making this the first year that Ramadan prayers are allowed here in eight and a half decades.
Originally buillt as a Christian Basilica, or public bulding, for the Roman state-recognized Nicene church, which both Catholics and Orthodox today claim to be the continuation of.
Before that, there was a Roman temple in this same location.
( Photo credit : Ian Bremmer )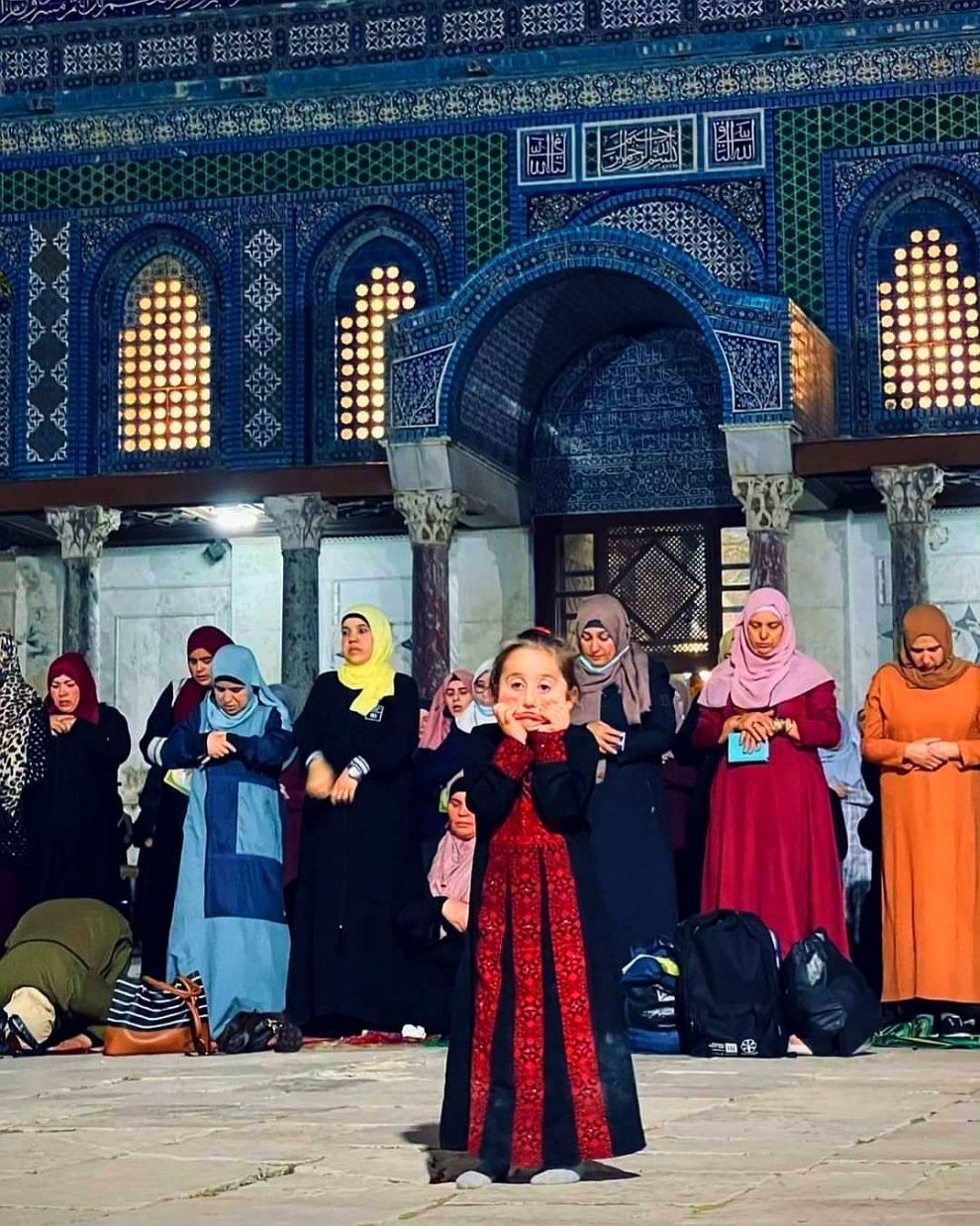 33
Taraweeh prayers in front of Dome of The Rock.
( Photo source : Women 4 Pal )