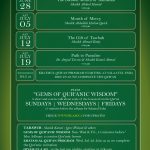 Each Saturday in the Month of Ramadan, The Islamic Institute of Toronto hosts an Iftar and Lecture Program.
I wrote about IIT at length on Day 6 of 30Masjids in 2011.
Then, like today, I came to hear Shaikh Abdullah Hakim Quick (@HakimQuick)'s Lecture before the Iftar, and again it was time well spent.
His lecture had breadth and depth weaving into it many threads:
Marking Canada Day and reminding us that Muslims were present at Canada's Founding
Aboriginal Concept of Niskam in The Mi'kmaq Nation in Newfoundland and similarities with Islam
Instinct in Migratory Birds and how they fly to the same trees year after year
Why Fasting is not in vain, rather it is a Mercy on the Human Being
Using Handheld devices during the Month of Ramadan