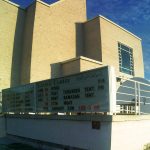 It's Juma. Friday. The weekly congregational day of prayer for Muslims. Feeling the itch to join a larger than usual size Juma prayer, finds me heading to North York, home to TARIC Islamic Centre.
It's at 99 Beverly Hills Drive. 99 is also the number of different names for God Alone mentioned in The Qur'an.
Toronto and Region Islamic Congregation, or TARIC, is one of the largest masjids in the Greater Toronto Area. It's 20 years old with the congregation older than the building. A number of Indo-Carribean Muslims formed TARIC in 1977 and began holding Juma prayers in rented halls, often across the street from their present location in the then Ramada Inn Hotel.
They purchased an undesirable triangle of land immediately north-east of one of the busiest highway interchanges in North America, highways 400 and 401.
The intention was to create a landmark of Islamic architecture echoing the golden age of Islam, yet within the context of today's Canadian design sensibilities and engineering zeitgeist. It was hoped, the eventual masjid would be seen by the millions of drivers who pass by annually and function as a visual form of dawah.
LINE Architect Inc. accepted the task and created one of the most advanced engineered buildings in Canada at the time. It influenced building design across Canada, as well as one just down the street.
When looking at TARIC from the outside, one may be forgiven for taking what they see for granted… LINE's engineering innovations are subtle and nuanced. The Chairman of TARIC, Haroon Salamat, is a Professional Engineer (P. Eng.). I've often wondered if his being an engineer was the motivation in the design. A minor mystery I've had for years, somehow I always forget to ask Haroon about this whenever we meet.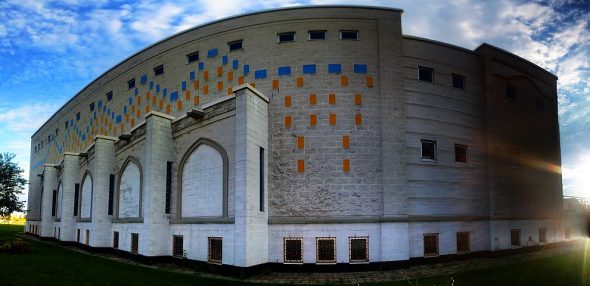 The first innovation is the most striking. TARIC Islamic Centre has not one, but five mihrabs.
A mihrab is the niche in front of the building facing the Qiblah, the direction towards Makkah which Muslims face when in prayer. Inside many masjids, the Imam, literally one who is in front, leads the prayer upon a prayer mat which is usually spread into part of the mihrab.
There are only a handful of masjids anywhere in the world with five mihrabs, among them:
TARIC's five mihrabs are symbolic of the five daily prayers in Islam. The other reason is pragmatic.
The first phase was built upon the bottom corner of a triangle of land. Constructing a rectangular building in parallel to Beverly Hills Drive, rather than perpendicular to the Qiblah, allows increased flexibility in any future expansion.
TARIC may be the only masjid built in centuries to have five mihrabs, and it's right here in Toronto, beside Canada's busiest highway interchange.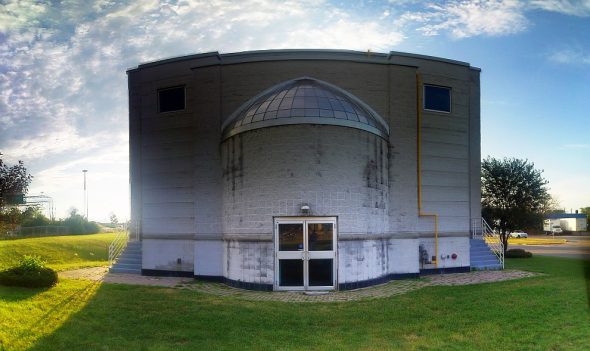 The south east multi-storey mihrab-ish bump serves a triple purpose:
a required fire escape exit from the basement prayer hall
the back of the stage on the main floor
for drivers heading west and north there is hint of an Islamic dome suggesting this building may be a masjid.
The Islamic Centre's west wall is equally innovative.
It's almost expected that any new masjid nowadays have a minaret, literally a lighthouse as in spiritual light, and a dome.
TARIC skipped the minaret and creatively included two domes. A second small multi-pane glass dome sits atop the second floor library, allowing in natural light for easier reading.
In lieu of constructing an actual dome above the main prayer hall, which in this case meant the basement, TARIC placed coloured tiles under an outline of a dome using the western side of the building. The advantage being it was a prudent financial decision, yet easily communicates to millions of east and south bound highway travellers that this is modern Islamic architecture.
In the basement, vertically two storeys below the glass dome, centred in the shoe racks, is a water fountain.
Or a fountain minus the water. It hasn't been turned on in ages. During the first year plus change TARIC was open, the fountain was on all the time. It was amazing. Something you'd see only in history books on the pages showing courtyards and palaces, was right here, in front of you, IN North York.
The gentle splashing echoes and rippling shadows on the pillars and shoe racks immediately made you forget a moment ago you had walked down stairs from an outside parking lot beside a noisy highway. This instant personal transformation via water, a welcoming sensation before you even enter the wudu area or the prayer hall is missed. I hope they turn the water fountain on again, at least once in a while.
Love thy neighbour? Keeping up with the Joneses? Imitation is the sincerest form of flattery? Suburban renewal?
Once TARIC Islamic Centre had been around for a while, owners of the auto service centre up the street at the corner of Beverly Hills Drive and Wilson Avenue inquired about the cement bricks used in the masjid's exterior walls.
Turns out those too were an innovation and had to be special ordered.
Investments in renovations were made and a drab run of the mill oily car repair shop became something more inviting, more attuned to the architecture of their new Muslim neighbours.

Visually, each building now complements the other.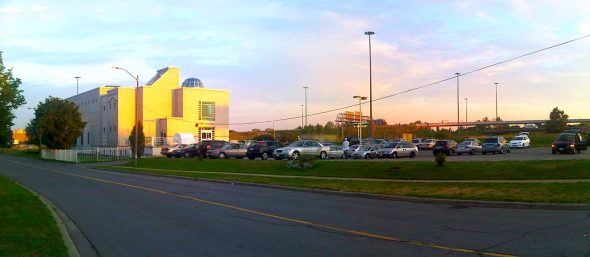 TARIC needed about a decade to gather the funds to build the first phase, which is what stands today. Beginning an ambitious second phase has been a question mark for some time. If the question mark is ever answered, the parking lot space is earmarked for the expansion.
Another question may come to mind, if the intention was to communicate Islam and Islamic culture by going to all this trouble of design innovation, was it worth it? Did it work? Do highway drivers and passengers even wonder about the strange building beyond a passing curiousity?
In the early nineties, I was hanging out at TARIC, and a gentleman walked in with a tense smile and handlebar moustache. He was looking around, nervously, as if he shouldn't be in here. Noticing his trepidation, I broke the ice.
He was an older Italian man with a jolly demeanor. I gave him a tour. He told me that everyday he drove by TARIC not knowing yet always wondering what this building was. He kept wondering until that day and he finally exited the off-ramp, made his way to the Islamic Centre and found the courage to walk in and look around.
He saw the kids playing basketball, learned this was a Masjid and we were Muslims. Good enough. He thanked me, we shook hands, and he left without needing to see the prayer hall.  As he drove off, he seemed to have the look of satisfaction of someone who had finally solved a minor mystery.
 *   *   *
If the physical design of the TARIC Islamic Centre had non-Muslims in mind, their metaphysical design had Muslims top of mind.
The intention was to create a safe space where lapsed Muslims could show up on their own terms and not be judged. In the early nineties, during numerous Ramadans at TARIC, I made many a friendship or acquaintance sharing Iftar with people who told me how far they were from the practice of Islam, and TARIC was the only masjid they felt they could find their way to. I recall one brother telling me he flew from Guyana every year to Toronto just so he could spend Ramadan in TARIC. That floored me. Did it always work out that way for returning Muslims? No. But it sure did way more times than it didn't.
From TARIC Islamic Centre's official opening in 1991, the masjid's first phase was an instant success, often with overflowing crowds spilling out onto the lawn for Friday Prayers. For those outside, the constant din of highway traffic competed with loudspeaker calls to prayer, sermons, and Qur'an recitations.
For those inside, an audible oasis. Unless a door is open, it's as if the highway doesn't even exist. It's that quiet.
So much so that today I lose track of my surroundings when a number of sisters show up to pray. In TARIC's main prayer hall, there is no physical separation between where the sisters and brothers pray. I'm sitting in their space. Oops. I forgot. I relocate to the opposite wall.
Between Juma and Asr prayers, I've been reacquainted with a tranquility that uniquely exists only here among masjids in the GTA.
 *   *   *
Iftar, break fast time is at 8:37 p.m. AND 33 seconds away. . .
Volunteers are preparing cups of water and dates for the break fast.
After hours of being inside, I find the air conditioning quite chilly and actually need to warm up. I head outside and join others in waiting for Maghrib sunset time.
TARIC is a commuter masjid. Located beside highways, across from a Days Inn hotel, shopping malls on both side of Wilson Avenue, it all adds up to very little residential housing in the immediate area. People either transit here or drive here. The parking lot will quickly be filling up. The sun is already setting quickly.
I'm trying to remember the last time I opened my fast outside of a masjid and can't. Looking forward to this being outside business. How different can it be.
Across from me is a brother who usually prays downtown at Jami Mosque. We sort of recognize one another. I share with him and the others how I was inspired by the 30 Mosques in 30 States in 30 Days Muslim bloggers, to do likewise here in Toronto. He tells me as he was driving to TARIC, he began thinking maybe this year, for a change, he'd travel around the city attending different Iftars at different masjids. He'd never heard of the 30 Mosques blog before.This is the second time I've had this conversation in as many days.
As I quickly bring everyone at the picnic table up to speed on their and my journeys, it's almost Iftar time. Greater numbers of people keep arriving, rushing inside to make Iftar.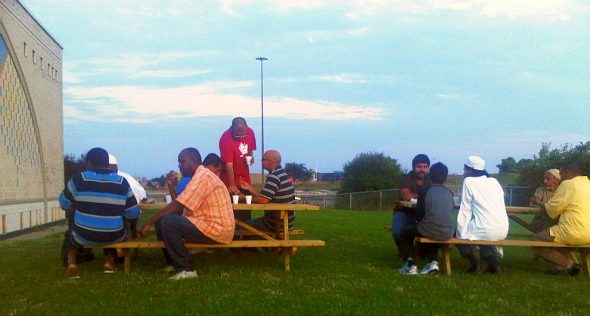 The sun has set. The adhan is called. We break our fast. Dates and cup of water. Everyday, that first bite is getting sweeter and more appreciated.
After performing maghrib prayers, we all head upstairs for the Iftar dinner. I end up not having an Iftar conversation, but end up being surrounded by them, in different languages.
There are less people this year. TARIC is one of the only masjids in this north west corner of Toronto still serving daily Iftar dinners. Other masjids have reduced it to once a week, Saturdays only. Throughout the 90s, TARIC was one of the go-to masjids for Ramadan. Every night. Cramped, and squished, and short on space, no one cared about all that. People would drive suprising distances to make Iftar and stay until Tarawih was done.
A decade or more since those days, Muslims today are spread out over a greater area and have numerous closer choices for Iftar and Tarawih night prayers.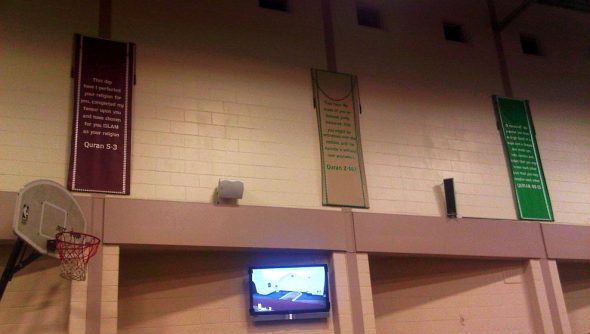 One thing hasn't changed, are the banners hanging above three of the five mihrabs. The first time I saw them, I thought they were so cool.They're still something that stands out and adds character to this multi-use basketball court.
After Isha prayer and just before Tarawih begins, Shaikh Ali, TARIC's Imam, previews in English the themes and the translation of what is about to be recited in Arabic.
Not every masjid thinks to do this, and it makes a huge difference in understanding what's being said as you stand in prayer.
Most people pray eight rakats, and clear out shortly thereafter. I pray a few more and decide to end my Tarawih.
Upstairs, there are others continuing their Tarawih prayers towards the complete twenty rakats.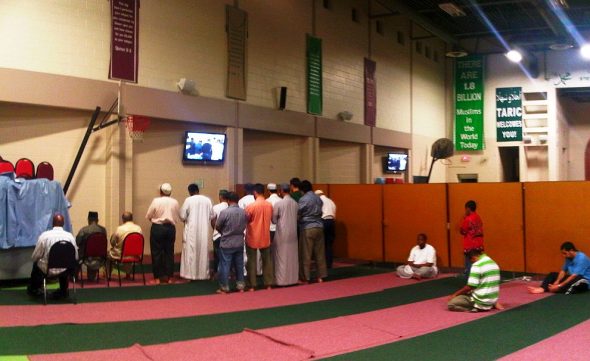 One larger banner on the south wall originally said There are 1.2 Billion Muslims in The World Today. That banner's since been updated to 1.8 Billion.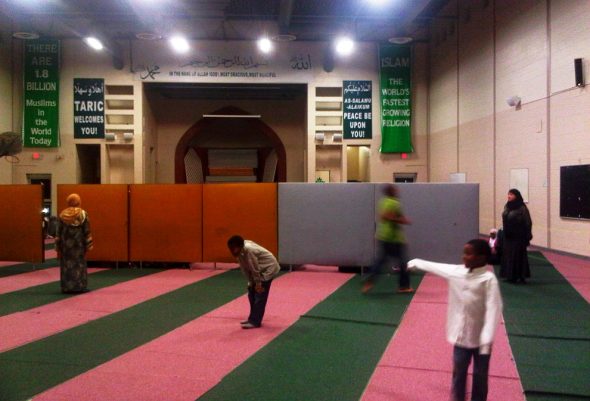 The kids running around and playing in TARIC tonight are part of those numbers. These five year olds weren't even born when TARIC came into being. But they will grow up in it. The one masjid with five mihrabs.
TARIC Islamic Centre remains a commuter masjid.
The sun will be up in a few hours, it's time for me to commute home.