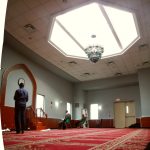 Masjid Khalid bin Al-Walid or simply Khalid Mosque, which doubles as their twitter handle (@KhalidMosque), is pretty much known by everybody in the wider Muslim Community.
They are located at 16 Bethridge Road, immediately west of Kipling Avenue, in the Etobicoke North neighbourhood of Rexdale.
I easily reached it after leaving the Bosnian Islamic Centre on bike, turned right on Kipling, cycled for about an hour, then turned left at Bethridge.
People know where this masjid is even if they never have been here. One may assume they are known because it was one of the first Big Somali masjids. That wouldn't begin to tell the story.