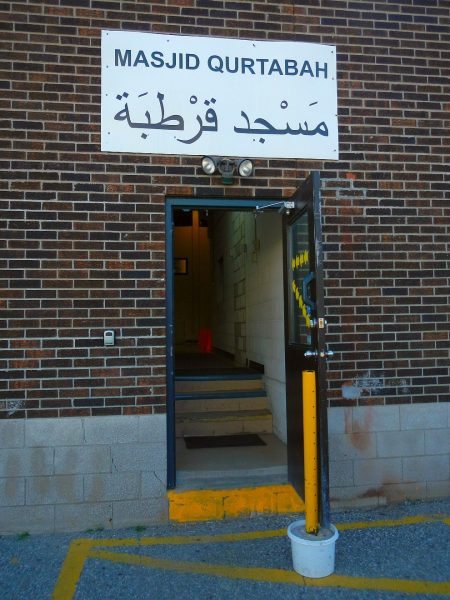 Masjid Qurtabah is located in back of North American Muslim Foundation (NAMF) at 4140 Finch Avenue East in the Agincourt area of Scarborough. One enters it through a side entrance.
Today is Day 9 of Ramadan 2012. The second big Saturday. Every Masjid Iftar location will be hopping in hosting their BIG Community Iftar.
This is the weekend many organizations double down and host speakers or make it a fundraising event addressing a captive audience between Asr and Maghrib before Iftar.
Tonight, NAMF hosts a Lecture titled  Countering Islamophobia in Canada.  That title more than anything else is what drew me here.
There is still time before Adhan Al Asr, the call to late afternoon prayer. Enough time to strike up a conversation with an Elder sitting beside me on chairs in back of the carpeted prayers lines.
One can usually sneak a guess at the aggregate age of any given Toronto congregation by the ratio of chairs to prayer lines. In NAMF however, my calculus breaks down. Chalk it up to this being the exception which proves the rule.
Abdul Gafoor lives close enough that he prays here more than anywhere else. When he wants a change of scenery he drives to nearby Masjid Huzaifah which is just south of Highway 401 east of Kennedy.
He's excited and eager to share a minor debacle and a minor miracle, drawing a lesson from both.
His daughter was having severe headaches and he discouraged her from fasting for that one day. His wife wasn't one hundred percent either. He himself woke up with plenty of time for Sahoor, a small pre-dawn meal Muslims are encouraged to eat before the break of dawn and the formal start to each day's fast.
Yet, out of a misplaced concern on this one morning in the first few days of this Ramadan, he decided not to wake either of them up.
His wife awoke on her own with only 3 minutes to spare, barely enough time for a glass of water.
His daughter was mad at him for not waking her up at all to give her the choice to have Sahoor or not.
Abdul Gafoor then spent the better part of the day privately asking the Lord's Forgiveness for messing up their fasts. He decided he will always wake people up from now on.
By day's end both daughter and wife had forgiven him.
Let there be no compulsion in religion.  Truth has been made clear from error.  Whoever rejects false worship and believes in God has grasped the most trustworthy handhold that never breaks.  And God hears and knows all things.

— Qur'an Chapter 2, Ayah 256
Abdul Gafoor relates to me part of the above verse from the Qur'an.
He shares his renewed understanding of the …No Compulsion in Religion… part. It includes NOT making decisions for other people, because in a way, that too is compulsion. Like deciding not to wake people up because you decided they weren't going to fast.
Islam is always about one's free choosing of their personal level of observance in the faith.
In relating this personal story, Abdul Gafoor is deeply concerned he may be backbiting members of his family, even if this conversation was relating something positive.
This is the third time in four days that,
Backbiting consumes good deeds as fire consumes wood
has been said in front of me. Its consequences are suddenly top of mind and remains so for the duration of my stay inside Masjid Qurtabah.
The Countering Islamophobia Lecture began shortly after our conversation wound down.
The lecture recounts what every single Muslim already knows first hand from personal experience about Islamophobia.
Brother Qayum offers up one remedy: an internet radio station to provide a counter-narrative can be a good start.
He makes his mild pitch for funds.
The lecture ends. It will soon be Sunset.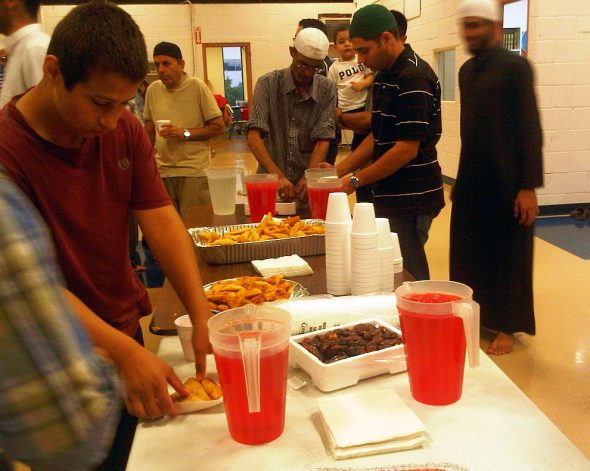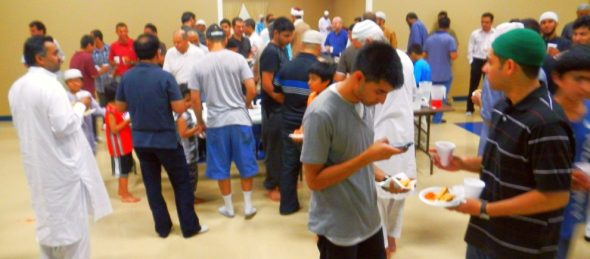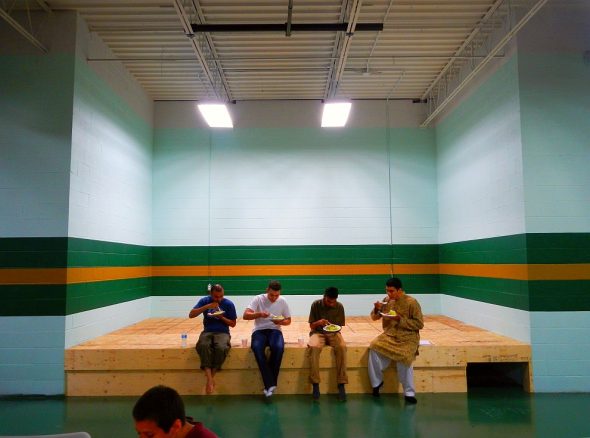 In writing entries for 30Masjids, the sweet spot in gathering information about any masjid's people, history and insight is gleaned between sitting down with the iftar plate until it's time to get up for and go for seconds.
I find myself in a circle with a number of people. My question about this masjid somehow degenerates into something I say is backbiting. Others disagree.
It now is absolutely clear that the past day's warnings against backbiting or even listening silently as others engage in backbiting were by providencial design.
Shaikh Rabbani at SeekersHub on Thursday night, Imam Abdulvehab Hoxha in his Jumah Khutbah at the Sufi Centre, even Brother Abdul Gafoor only a short time ago, all were preparing me for this conversation I somehow was the root cause of.
I abandoned the conversation. I remain unsettled sitting inside the prayer hall waiting for Adhan al-Isha, the Night Call to Prayer.

Eying this football field wide empty prayer hall and seeing the tiniest of bookshelves housing Islamic books, I am morose. Like my chair to prayer line ratio not holding up here earlier. Such a small bookshelf for such a large prayer space. This wasn't making sense.
I didn't end up learning about this Masjid anywhere close for a proper blog entry.
The echoes of the backbiting  remain in my ear.
I need a change of scenery. As the Adhan is being called, I find myself exiting the building.
Something I never do.
I hop on my bike and am off to an Isha and Taraweeh elsewhere as the Muezzin's words hang distant in the air….