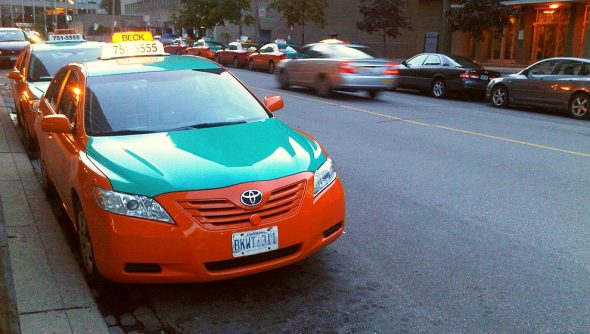 It's said there's never a taxi cab, or a cop, around when you need one.
In Toronto, that's likely true when trying to hail a Taxi at least five times a day.
As for the Police?
Somehow cops magically appear around masjids looking to make quota and ticket illegally parked cars or cabs at least five times a day.
Parking. Praying. Ticketing. Towing.
It's all a kind of game.
*   *   *
Every city has a Jami masjid.
The biggest, the largest congregation. The go to place of worship that sets the direction for the wider urban Muslim community.
For the first two decades of its existence, Jami Mosque filled that role. As more larger Masjids were built throughout the Greater Toronto Area, that title has been up for grabs.
Today, there remains a vacancy in that department.
If however, we go looking for a candidate Masjid to be the next Jami Mosque of Toronto, Masjid Toronto is most likely it.
When broadcast media need a quick streeter or print media need a quick quote from Muslims or the Muslim point of view on any news of the day, they often show up outside here and within moments will find an informed interviewee.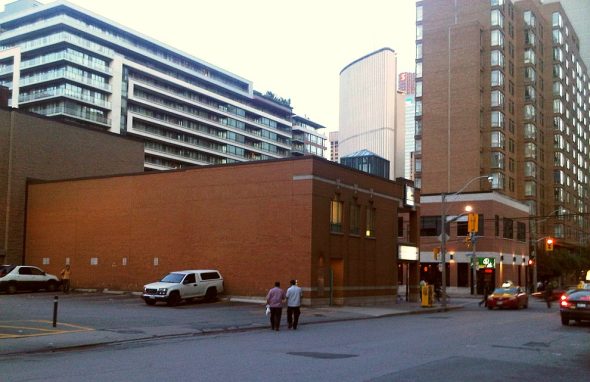 Masjid Toronto is a former Royal Bank of Canada retail RBC branch building.
Passing this location growing up, I often thought this building would make an ideal masjid location one day. Sometimes wishing I could buy this bank building and turn it into one. A couple of decades later, along with many, many people's donations and fundraising contributions, that wish came true.
Not the least of which was Hakeem Olajuwon. He played centre for the Toronto Raptors in his final career season in the NBA. The timing couldn't have been better. There was a key moment when a significant amount was due to seal the deal to secure Masjid Toronto. When Hakeem learned of this, he quietly made up the difference.
I once bumped into him wearing his Raptor practice sweats in the Masjid Toronto hallway after he had made wudu and was about to pray Asr.
After exchanging Salam greetings. He seemed like he was waiting for me to ask him something. Hakeem when playing for the Houston Rockets, had contacted ISL Software about helping us out.
However, his schedule didn't allow him to become an official spokesperson for The Alim Islamic Software, which I was selling in Canada in the early nineties.
We just smiled at each other and I left him alone.
Like Toronto's first Masjid, the Dundas Street Mosque at 3047,  Masjid Toronto is also on Dundas Street West. At 168 Dundas West inbetween Bay Street and University Avenue at Chestnut Street.
It takes up the south-west corner of the same block as the arrivals building for the Toronto Coach Terminal. Many travelling by bus may easily find Masjid Toronto by walking across the parking lot, or walking across the street from the main bus terminal building.
Travellers find the location convenient enough to quickly perform any of their five daily prayers without the fear of missing their next connection.
It's one block north of Toronto City Hall, steps away from Hospital Row and University Avenue, walking distance from the Financial District, and just west of our wannabe Times Square, Yonge-Dundas Square.
Like Sheikh Deedat Centre/Downtown Mosque five blocks east on the other side of Yonge Street, many find Masjid Toronto convenient.
Politicians also find it convenient.
There's a Provincial Election in progress and Ontario Premier Dalton McGuinty (@Dalton_McGuinty) showed up on the first Friday in Ramadan looking for support.
Why do politicians canvass former bank buildings?
Because that's where the votes are . . .
Now you know!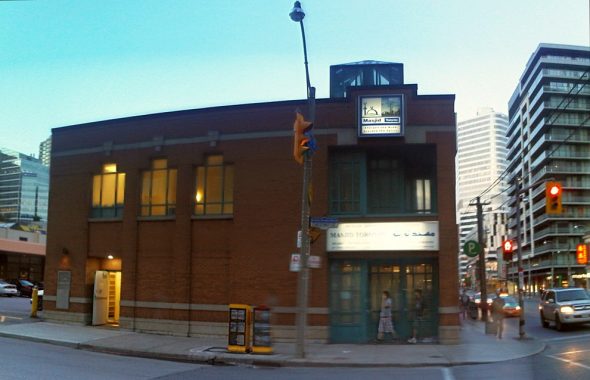 The building has three storeys including the basement and an elevator, making it fully accessible.
Two out of three entrances are constantly in use, with the third entrance open to ease the flow of worshippers during Friday Jumah Prayers.
All three of them.
Entrances? No. All three Jumahs.
Friday prayers had gotten so big in numbers, people would spill out onto the Chestnut Street sidewalk as space inside would often run out.
At first, a second Jumah prayer was added, yet that still wasn't enough. Because many downtown people traded their Friday lunch hour to pray, adding a third late in the afternoon Jumah prayer wouldn't work.
Seeking the advice of Sheikh Ahmad Kutty, a flexibility in Islamic Jurisprudence was found where a scheduled Jumah Prayer may take place before the Sun's zenith.
Masjid Toronto now schedules three Jumah Prayers:
12:10 pm
1: 10 pm
2:10 pm
The first floor may handle 250 people, the basement maybe the same for 500 tops. Altogether 1,500 may perform Jumah prayers in staggered shifts on any given Friday.
This flexibility combined with the convenient location has definitely eased the burden of those trying to fit Jumah Prayers into busy downtown working lives.
Both the labourer and financier, business owner or professional, university student or bus traveller in transit, can easily catch one of the three Jumahs.
Masjid Toronto opened in 2002 with the tagline:
Sharpen The Mind, Elevate The Spirit
Before that, this downtown congregation was nomadic, moving from rented space to rented space holding Jumah prayers anywhere they could reasonably find.
The best one was an entire vacant office on the 19th or 20th floor in LuCliffe Place two blocks north.
I always looked forward to spectacular views of the downtown core after those Jumah Prayers.
Masjid Toronto is a MAC Masjid.
Not MAC as in Stephen P. Jobs and Apple.
MAC as in Muslim Association of Canada.
They also run IIT in the north east of the city.
Speaking of Apples, it's almost time to break fast…
Masjid Toronto hosts Iftar and Iftar dinner every night throughout the month of Ramadan.
Each night a table is spread out filled with dates and fruit.
They often makes dates available at Sunset in the days following Eid al-Fitr for people who are catching up on any fasts missed during Ramadan. More and more masjids are also doing this.
This image betrays how busy the masjid is at the moment. Many brothers are bunched behind me as they gather their Iftar dates and water.
The prayer hall, both the men's and the women's prayer space on the second floor, are buzzing and are filled with people.
The sisters have the entire second floor, but this being a former bank building, the floor plan is less than ideal. They have several rooms, a pre-schooley space for really young kids to be cared for while at least some of the moms get to pray. The elevator allows the Sisters' Iftar Dinners to be easily delivered from the basement.
Having gathered my Iftar break fast dates, I park my butt in the first row, waiting for Maghrib.
Soon enough, the Muezzin makes the Maghrib call to prayer and it's time to break the fast.
We break fast.
Thank the Lord.
Ask of Him.
Perform Maghrib Sunset prayers.
Ask of Him some more.
Then head downstairs for the daily Iftar dinner.
Tonight, I luck out and the line-up ain't that long.
It only takes a few minutes before reaching the multi-purpose room which right now transforms into an Iftar cafeteria for the hour.
This being a downtown masjid, there are always a mix of masjid regulars and randoms.
The regulars are mostly people who live in the area. With the ever-increasing number of condominiums and rentals units, more Muslims are living in the downtown core and making this their home masjid.
Expansion of the masjid is on the Administration's mind of late. More and more randoms are becoming regulars.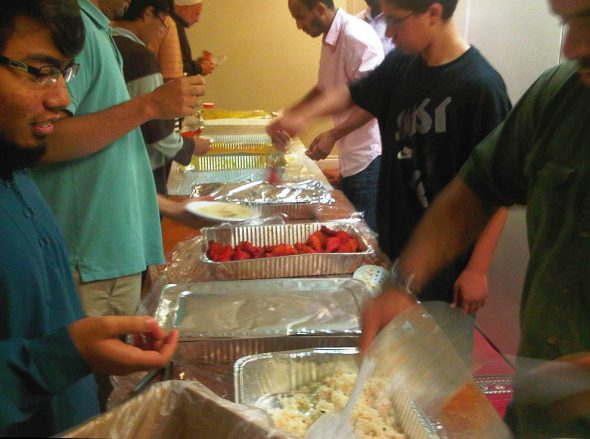 Unlike nearby Sheikh Deedat Centre or Parkdale's Hamza Masjid, here we line up.
After years of Ramadans, the volunteers have the handling and serving of Iftar Dinners down to a science.
The plastic Ramadan roll-out spill sheets reminds one to be thankful to their Lord for the Iftar in green stylized Arabic lettering.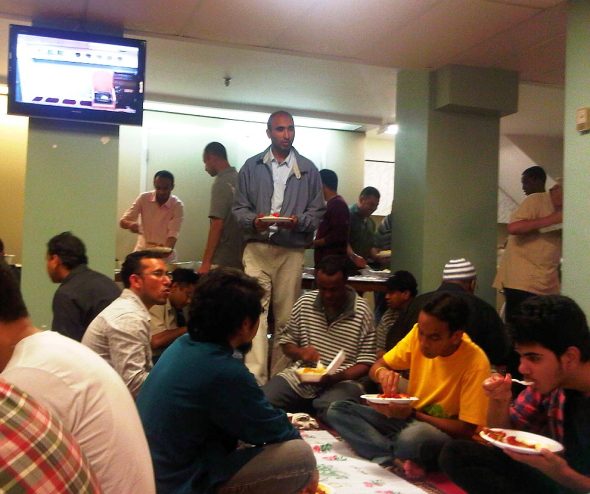 Tonight, it doesn't take long for the servers to announce Seconds are available on a first come first served basis.
I'm one of the first.
My tiny bit of micro-celebrity status kicks in as one brother recognizes me as You're that mayor guy.
He wants an update on things happening in City Hall. I oblige then work on my Iftar dinner.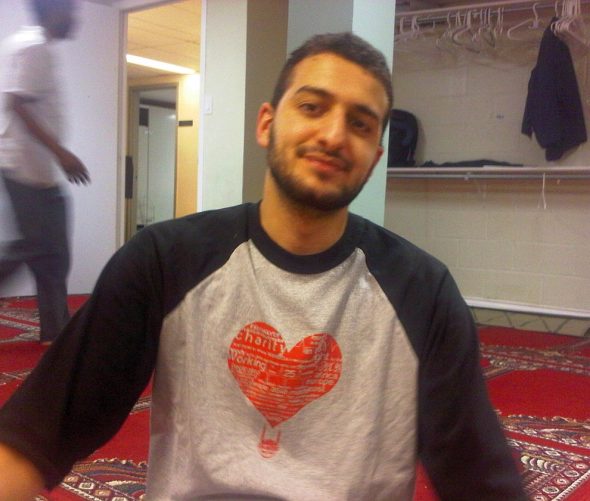 Another Brother, Omar, strikes up a conversation. He's sporting an Islamic Relief  T-Shirt with a heart logo.
Originally from Egypt, he lives more than five blocks east of Masjid Toronto. Omar actually walks past the Sheikh Deedat Centre most evenings to make Iftar here in Masjid Toronto instead. This contradicts what I suggested in an earlier blog post.
In answering why he comes here for Iftar, Omar gave numerous reasons.
Mostly, he just likes it. He likes being here in a bigger space for Ramadan.
And space is becoming an issue.
He brings up the survey the Administration is doing to figure what to do about it. Whether to somehow expand this property, or acquire a second one.
He leans towards the idea of adding another two floors to this building. Thus, expanding the current location by going up.
Mustafa, a younger brother who will end up living with the decisions of the older folks like us prefers the idea of multiple masjid locations around downtown.
When pressed, he too leans towards building up and thinks two additional floors would work.
At the end of the previous Friday's Jumah Khutbah, Brother Tantawy had announced MAC has identified a property at Adelaide and Church Streets for a new masjid.
If there's anything I've learned growing up in Toronto though, Masjids are like computer hard drives, you can never have too big of either.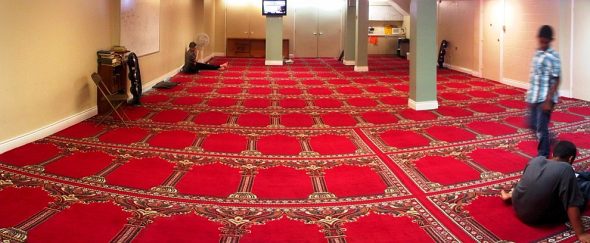 Inside of an hour, Iftar dinner is done and cleaned up.
The cafeteria transforms back into a basement prayer hall.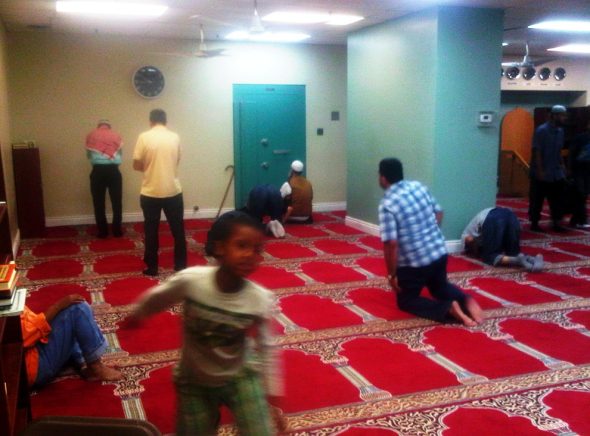 Upstairs, with full bellies the kids run around and the elders perform extra optional prayers.
One positive custom I've noticed over time, is that the kids who at a certain age may be dumped into the sisters' area to manage while the brothers pray undisturbed is flipped upside down here. Somehow, those kids end up in the larger main prayer hall with the grown-ups or in the basement with their friends.
I don't know for sure if the sisters' truly do get a break here and end up not being de facto babysitters during Isha and Tarawih, but it just might be the case.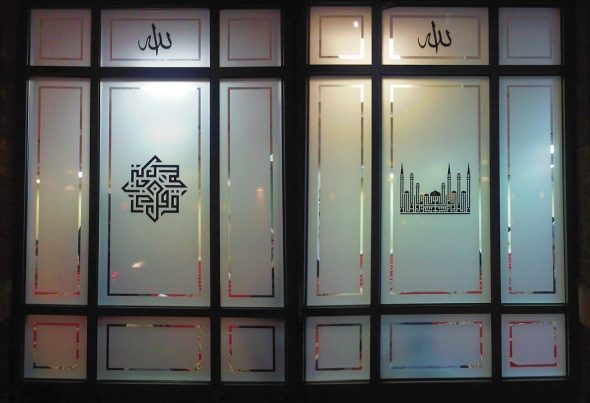 This was originally a bank building. Obviously, it had no architectural appearance as a Muslim place of worship. Beyond signage, creating any sort of outward physical modification would be costly and never mind the paperwork involved.
Masjid Toronto took an innovative approach. The Windows.
Originally, the windows were the same as any office building. We used regular horizontal blinds for privacy and shade. Yet the congregation would often see people peeking in through the glass and blinds to see what was going on inside the prayer hall.
Apex Window Films (@WindowFilmsGuy) was commissioned to create Islamic Decorative Privacy Film.
Apex did a spectacular job. The end result being an Islamic equivalent to stained glass windows in Churches. It also accounts for privacy and solar control.
The frosted windows facing a very busy Dundas Street West intentionally have clear see-through slits to allow passers-by to peek into the Masjid prayer hall.
There is a constant flow of the curious looking in to see what goes on inside. It may be one of the best dawah innovations in the city, encouraging people to look and see for themselves this part of Islam.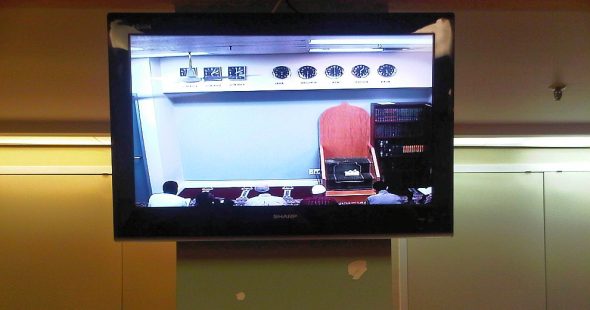 Downstairs, the multi-purpose room which an hour ago was filled with sights, sounds, and smells of Iftar dinner, will soon echo with verses of the Qur'an.
A monitor is turned on to show the Imam leading prayers upstairs.
It's almost Isha prayer time.
The Night call to prayer is made.
Isha and a full twenty rakats follow.
This is my home masjid. I try to attend Masjid Toronto as much as possible.
Because City Hall is just down the street, I find myself here often when Toronto City Council is in session as I observe things going on in there.
The chaos of the municipal arena, the games played by the politicians there, lovingly called The Clamshell due to City Hall's architecture, is often calmed by the tranquility one finds inside Masjid Toronto.
Before calling it a night, something catches my eye on the books for sale table.
It's some sort of game . . . .