Parkdale. A last minute change in plans to make an iftar, any iftar on time within quick biking distance meant the storefront masjid in Parkdale was my best option. All day, I had intended to bike over to the masjid on Rhodes Avenue south of Gerrard Indian Bazaar in the east end. That's now on the to-Iftar list.
Parkdale is one of my childhood neighbourhoods. It's always been a crazy mix of wealthy homeowners, outpatients from the Queen Street Mental Health Centre (literally on the other side of the tracks), small business people trying all sorts of things to make a buck, and a weigh station for immigrants before they migrated to other neighbourhoods. Some decide Parkdale is good enough and they never leave. More recently, hipsters, and the cool factor have somehow invaded and become part of the mix.
In my single digits and until I graduated grade six from nearby Queen Victoria Public School, there were only a handful of Muslim families in Parkdale, we all knew each other. Well known Imam Ahmad Kutty once lived a stone's throw from where I would be breaking my fast tonight.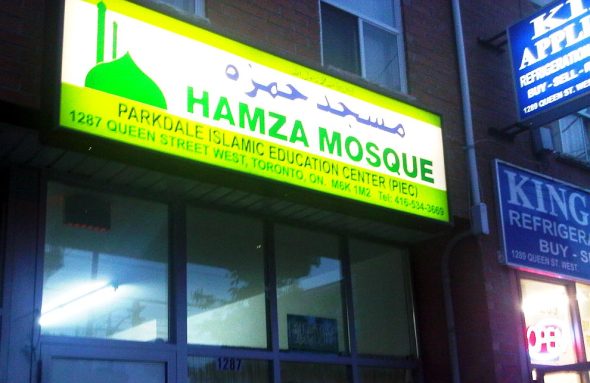 The Hamza Masjid is a rented storefront, nestled in-between an appliance store and a vietnamese-chinese noodle house, it fits right into the eclectic streetscape.
It's been here since at least 1999. Before then, Parkdale Muslims would take a short streetcar ride up Roncesvalles for Friday Prayers in Jami Mosque. But the distance to Jami was always too far to make any of the five daily prayers convenient. I recall one time on a whim, my dad drove us to Jami Mosque for one of the daily prayers and altogether we prayed in a congregation of maybe five or six people.
One such Parkdale person was Sheikh Issa (Issa is the Arabic of Jesus). According to Omar Abdul Ghader, Sheikh Issa was a Muslim immigrant from Uganda who arrived in Toronto in the early eighties and frequented Jami Mosque. He then established Hamza Masjid around 1999.
He was a very quiet man, always with a smile, few words, beaming eyes, and tall in stature. Over the years, I would break Ramadan fast here in his masjid. By that, I mean he established it for everyone, but without Issa, it may never have been established.
As I recall, he simply rented the storefront, and figured out the rest as he went along. One time in the early 2000s donations dried up and so did the water. He hadn't paid the water bill. He thumbtacked the past due bill onto the notice board, and that was that. Everyone could see he wasn't hiding the numbers. Their donations went straight towards the upkeep of the storefront masjid. The water was turned on by my next visit.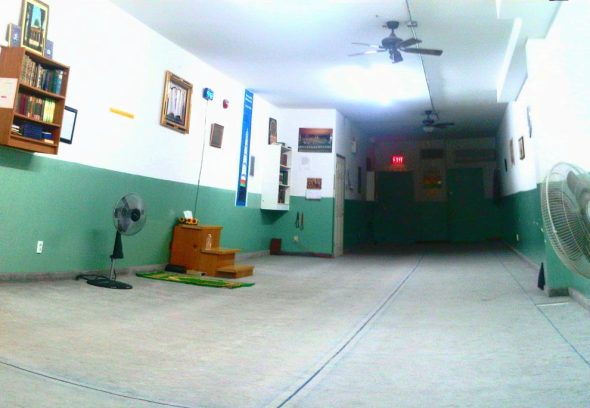 Entering Hamza usually brings on a bowling alley sensation. The width and floor plan of the masjid's main prayer hall only allows for two and half lines. Hence nearly the entire length of the building is used to form the two complete prayer lines.
Being so close to the sunset Iftar time, no one was upstairs. I headed downstairs to join everybody. The basement has a kitchen, a small room separated by half a wall and a half a curtain, and the wudu area for washing up before prayers. The south side of that basement room is the sister's area, with their own entrance. It was crowded, but comfy and everyone always makes space for one more.
Iftar was only a minute or two away now, so we all just sat there waiting for the Adhan, the call to prayer to announce it's okay to bite into that date and break the fast.
Unlike yesterday's date-only iftar at Jami Mosque, tonight's iftar was filled with choices of fruits including watermelon, grape, banana, and juice or milk or soda pop. The Adhan began, it was time break the fast for day 2.
Five Alive juice and a pair of regular sticky dates. Tasty, and a grateful feeling that I ended up here tonight. There was plenty of food being shared and passed around, and that was before the Maghrib prayers were performed. The full Iftar meal was yet to be served.
After praying the sunset prayers upstairs, the Imam invited everyone to come for Iftar in the basement. Logistically, he suggested we all sit down and each row would have a server rather than in past years when everyone lined up. This is an eternal debate in Ramadan dinners, be served or line-up. Tonight was no different.
This wasn't chicken biryani. It was better. Each night, a family or a business have signed up to cook and deliver the evening's worth of Iftar dinners for everyone. Tonight, perhaps in that early Ramadan enthusiasm, someone had randomly, without adding their name to the sign up sheet upstairs, simply delivered extra trays of mixed rice.
Quite unusual, but the plate worked. Several different types of rice were mixed together and that added to enjoying more of the flavours. Thin spiced chicken was in there too.
Including myself, I counted 37 brothers sharing the Iftar meal. Across from me, on the white board, was a message posted yesterday for the first Iftar of Ramadan.
There are no set prayers with which to break fast. Simply being grateful and asking one's Lord for His Mercy and Bounty will do. The break fast prayer my dad taught me was slightly different than the one on the whiteboard across from me.
That's probably a good thing. Once in a while when breaking the fast, in my eagerness for that first bite of food after a day of not eating nor drinking, I've forgotten to make any prayers beyond the simple Bismillah which means In the Name of God Alone. Bismillah is something said by Muslims before taking on any endeavour, or before eating.
Tonight's whiteboard was a good reminder to go beyond Bismillah…
During the meal, the conversation hovered around Muslim scientific discoveries and Coffee. A brother had recently visited the Ontario Science Centre and learned a number of inventions and scientific advances were Arabic or Muslim in origin. I was half paying attention until he shared that the Camera was a Muslim invention. A photo camera? Never thought about that. Despite being a photoblogger and taking photos for as long as I can remember I never looked into when Cameras were invented nor by whom. I'll have to visit the Science Centre and see this exhibit for myself.
It's also the second full day of fasting and grown men struggle with caffeine withdrawal. One brother recalled how he would have a full litre of his grandmother's Turkish coffee before he started his day. A Litre? Of Turkish Coffee! Whoa, that's even too much for me. It sounded like he missed his full litre this morning.
The Imam re-assured everyone that coffee was percolating in the kitchen, and so it was. He announced through a smile as wide as Queen Street, unlike Iftar being served, coffee would be self-serve. Afterwards I enjoyed a good cup.
Being in the kitchen, it reminded me of Sheik Issa. One Ramadan, there was no coffee at all. In my haste I may have said something not exactly wrong, but just pointed out I was surprised there was no coffee. Sheikh Issa invited anyone who wanted a Coffee to the Coffee Time one block away. Only two or three people took him up on the offer. I was one of them that night. Sheikh Issa always seemed happiest when he was able to do stuff like that for others. That's my memory of him tonight. Sharing coffee at the Coffee Time.
Brother Khidr (on the right) however, thinks coffee is as addictive as cigarettes. He laments how sometimes he's needed four or five cups to get through the day. Brother Jan (on the left) at 12, is too young for coffee, and sorta has a mischievious grin as the grown-ups talk caffeine.
Br. Khidr has lived in Parkdale for six years. He randomly volunteers at Hamza Masjid in spurts. Sometimes he's away from here for months, but each year, he's made this his home masjid for Ramadan. He remembers me from past years, and we renew our acquaintance, if not friendship.
At 12, young Brother Jan is beginning his second year of fasting the whole of Ramadan. He lives nearby and will try to spend as much time here as he can during the month. He helps out his dad a lot, who needs help to walk. Because of that, his dad usually prays at home. There aren't many people his age to hang around with at the Masjid. Jan seems to have taken on being older than he really is to get along with the masjid regulars.
I take my coffee upstairs and end up with some quiet time until Isha and Tarawih Prayers.
People have mostly left by now, for some a quick trip home before returning for the night prayer.
During Sheikh Issa's time, this little storefront masjid was exactly what it is now. It was just enough to serve Muslims who lived within walking distance, as well as for others like me who popped in occasionally for daily prayers. The location filled in the gap between numerous masjids in the downtown core, and Jami Mosque to the north-west of Parkdale.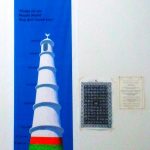 Since 2005, there's been some effort at fundraising to either buy or build a proper masjid building.
The Parkdale Muslim community is made up mostly of labourers and small business people. There aren't the usual doctors or engineers in the area who can drop a good sized cheque to get the fundraising happening. After six years, they have pledges adding up to about a quarter of what's needed for a new building.
The Dundas Street Mosque still being top of mind from the day before, it's easy to recognize that Hamza Masjid may be this area's equivalent, a temporary masjid until a proper larger building is bought or built.
Tarawih prayers, ended at about 11:45 p.m.
During Iftar, the Imam had commented that reading the Qur'an Fast was good during Ramadan. People had things to do in the morning and during the summer hours, it got very late. He compared to how slow the recitation would be at Masjid Toronto, which may end praying Tarawih a half hour later at 12:15 a.m.
I exit Masjid Hamza and notice there are sisters chatting away a few doors over in front of the Parkdale Public Library branch. Before begining the bike ride home, I spotted a yellow bike locked to the utility pole. It's part of the Good Bike Project, placing fully painted single colour bikes around town in random spots to brighten up the city.
Somehow, just outside of Hamza Masjid, this yellow bicycle seemed to belong here, belong in the ever-changing random mix that makes up Parkdale.