The Rockwell Masjid. Bond Street Masjid. Ryerson Campus Masjid. Sheikh Deedat Centre. Downtown Mosque. Whatever you want to call it, this little masjid is convenient.
This second floor prayer spot is located atop the restaurant at 100 Bond Street, a block plus change east of Toronto's wanna-be Times Square, Yonge-Dundas Square, and behind the de-facto Ryerson University campus pub, the Imperial Pub.
I've arrived just as Maghrib is about to start. It's the third day in a row I'm cutting it this close in reaching a masjid to break fast. It's getting to be a bad habit, and during Ramadan, that's saying a lot.
Entering the crowded prayer hall, it only takes a moment before someone offers me a date, while another brother pours me a cup of milk.
Milk and dates, the traditional break fast option. Tasty. But after a fourth day of fasting, what wouldn't be tasty at this point?
About sixty brothers are present and Maghrib prayers are quickly performed.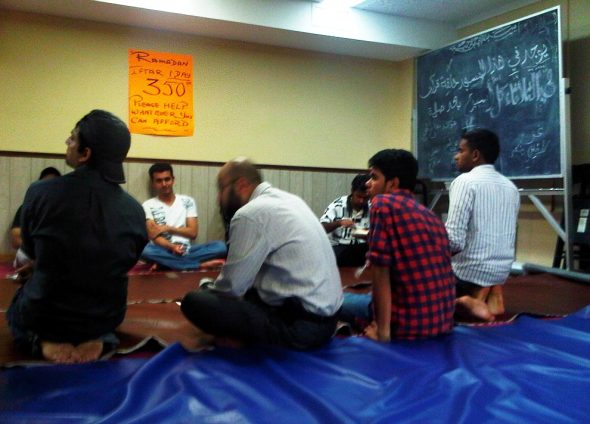 Looking around, I'm amazed at how few people are here. In year's past, when I've broken fast here, the small prayer hall would make a can of sardines blush the way we all squeezed together trying to enjoy our Iftar dinner.
Plenty of space tonight. Unusual.
Usually, about one hundred Muslims turn up to break the fast here and pray Maghrib sunset prayers. Of those, about twenty get take-out Iftar dinners in standard restaurant size styrofoam dinner boxes. People working in the downtown core need to get back to their evening and night shifts.
The low turn-out may also be the fact it's August and the Ryerson University campus is devoid of students. Masjid regulars are working class brothers from the area and the odd sister who turns up.
Sheikh Deedat Centre / Downtown Mosque may only be five quick blocks east of Masjid Toronto, on the other side of Yonge Street, but it's an entirely different vibe in who prays here. There really is a difference depending on which side of Yonge Street you reside. If you live close to Deedat Centre, why would you ever walk past it and go three more blocks to Masjid Toronto?
While reflecting on this, a volunteer server hands me my Ifter dinner plate.
It's a lot of food. As I begin working my way through the plate, the brothers across from me are talking about the masjids they've been hopping to for Iftar this past week.
I hear the brother across from me begin describing these two American Muslims who went around the States last year. I interrupt and yes, it turns out he's talking about the 30 Mosques in 30 States project with Aman Ali and Bassam Tariq. These are the same two who inspired my 30 Masjids trek around Toronto.
The brother across from me is named Asher. He's not blogging his travels. He just thought it was a cool idea to visit 30 masjids, and tonight it was Bond Street's turn.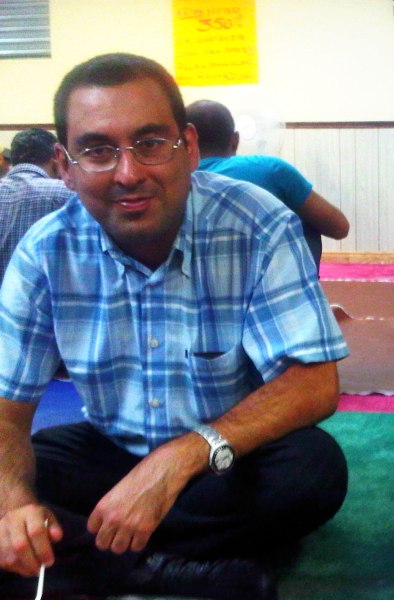 The other brother beside him is named Server, yes, that's his real name, Server.
He'd never heard about Bassam Tariq or Aman Ali. It's the first he's hearing about their 30 Mosques trip.
Brother Server just came up with the idea on his own. He's not blogging it, but every night he is updating his facebook with details of each visit.
It never occurred to him anyone beyond his facebook friends might be interested in following his Ramadan travels.
All three of us begin trading stories of which masjids we've done in the four days of Ramadan so far. Seems we've been missing each other as all three of us have been hopscotching downtown area masjids. I invite Server to submit a guest blog post here and InshAllah, hopefully he does.
By now, most people have left and I decide to go for seconds. Because unexpectedly less people turned up tonight, there is an abundance of food. The brother making up my second plate turns, smiles as he announces, "Here's the next mayor of Toronto" as he hands me my plate. Turns out, he follows me on twitter.
There's only five or six of us here now waiting for Isha prayers. A sister enters the prayer hall asking for a take-out Iftar. She was at Masjid Toronto, but said there were so many sisters, it was so packed, she decided to walk over here instead.
In recent years, Masjid Toronto's Iftars have indeed become busier and busier. I've at times, broken fast there, prayed, then hit up one of the numerous Halal restaurants dotting the downtown core, skipping the masjid Iftar. No such problem here tonight.
This is a musalah, which is what it really is more a proper masjid. The washroom is tiny. As is the sister's prayer room. Which to be fair is the size of a glorified walk-in closet.
The sister's prayer area entrance opens directly in the stair way, clumsy to say the least. I've heard sisters comment how hard it is to hear anything the Imam says through the wall. The wudu facilities though finished, still have a makeshift quality about them.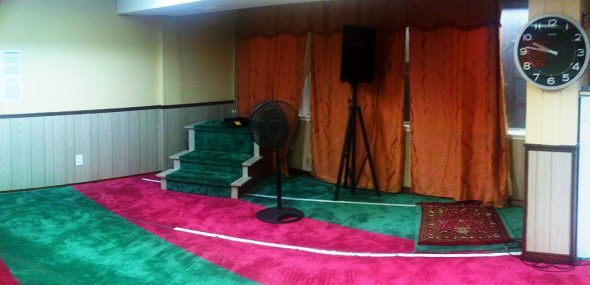 Maybe it was last year, but the prayer liines were taped in a north-eastern direction. There's two ways to Makkah. The direct line on a flat atlas map suggests the Qiblah, the direction to face Makkah for prayers, is slightly south east. If we use a globe, the curvature of the earth means the shortest distance from Toronto to Makkah is actually in a north-eastern direction. You can see both choices here.
The owner of this prayer space is Steve Rockwell. Without his constant effort at keeping some minimum permanent prayer space around Yonge and Dundas, I doubt this place would even exist.
But it is needed.
For the longest time, Steve operated a store at the south-east corner of Yonge and Dundas. He called it The World's Biggest Jean Store. Maybe it was at the time. I don't know. More likely he was playing off of The World's Biggest Bookstore which on Edward Street, was only a block north.
The City of Toronto expropriated his business location, along with the famous Lick's Homeburgers, against their and other business owner's wishes. It ended up being torn down to make way for Yonge-Dundas Square.
Steve then rented the second floor of the north-west corner building at Yonge and Dundas before, in my opinion, due to Islamophobia, he was booted out of there too. Today, it's a GAP clothing store.
By then, around 1994, Sheikh Ahmad Deedat became a mentor of Steve Rockwell, hence the eventual naming of the Downtown Mosque in his teacher's honour.
For about a decade, this tiny place remained the only fixed five times daily prayer location in downtown Toronto. The only masjid in the area.
Steve then migrated to 100 Bond Street. He still sells jeans and urban clothing in the back of this location, but its nothing like the energy of walking into his long-gone three storey World's Biggest Jean Store. He's recently renovated the main floor of this space turning it into a Halal restaurant. It seems busy enough.
It's really hot inside the prayer hall tonight. There's only the one air conditioner and it's overworked. Even with the window open, it's hotter inside than it is outside. I find out they do pray the full twenty rakats here every night. I decide it's too hot for me to do even eight rakats.
I make a quick decision to rush back to my neighbourhood masjid, the Dawah Centre near Bloor and Dufferin for Isha and Tarawih.
Once upon a time, almost the entire outside of this building was plastered with hot yellow signage screaming DOWNTOWN MOSQUE SHEIKH DEEDAT CENTRE.
No longer. Gone are the giant signs. Now, unless you already knew there was a masjid here atop 100 Bond Street, you'd miss it entirely.
For those in the know, be it for any of the five daily prayers or a take-out iftar during Ramadan, it's still convenient.