Jami Mosque. This Islamic Centre of Toronto.
The Mother Mosque (Ommul-Masajid) in the Greater Toronto Area. Located at 56 Boustead Avenue between Roncesvalles Village and High Park in Toronto's west end.
Throughout the 70s, 80s, and even for a time into the 90s, this was the first and largest masjid Muslims would encounter when visiting or living in Toronto.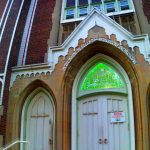 Construction of the building began in 1910 and wasn't completed until 1928. It was the home of the High Park Presbyterian Church. After World War II, the church faced some struggles. The congregation had begun moving out and new adherants were hard to come by. Several area churches pooled their congregations for a while. That delayed the inevitable sale of the church building until 1969.
The Muslim Society of Toronto had secured a building on Dundas Street West, which was Toronto's first masjid, but had outgrown the space. They were looking to purchase a proper building and in February 1969, they bought the Presbyterian Church building with proceeds of the sale from Dundas Street location. The Christian congregation eventually moved to the Swansea side of High Park where they still are today.
Growing up, entering through the front doors was only possible on special occasions. It was locked most of the time. Going to weekend Islamic school, it was always the regular boring back doors or side door. Entering Jami Mosque through these front white doors, even after all these years, still brings on a feeling of cooooool or immediate reverence.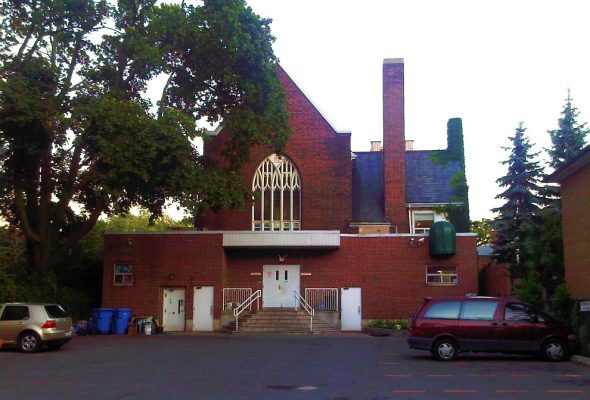 Jami Mosque has its own parking leading up to the rear entrance. There was a time when it was almost always full every night of Ramadan. Finding parking was always a game of round the block until you'd find a spot. With the ever increasing numbers of masjids in nearby driving distance, it's been years since I've seen the lot anywhere close to full. There are no bike rings or dedicated bike parking, but the office manager who is there most days, himself is a cyclist. We just lock bikes to the guard rails or the fence.
Inside Jami Mosque, I counted about 2 dozen brothers present. Sunset wasn't all that far off yet there were so few people waiting to break their fast. I wasn't too surprised. But still felt something was lost in so few being here on this first full day of fasting.
On the south side of the building, above the main entrance, the sister's have their own prayer area. Once as a kid I was asked to fetch something up there and it pretty much looked like the rest of the main prayer hall, a carpeted area with bookselves and a nice view of the men's prayer area.
Opposite to the sister's area on the second floor on the north side of the main prayer hall is an additional meeting space. It was once a library with many hard to find Islamic books. That was then. To my knowledge, the library wasn't maintained at all and simply stopped being functional somewhere in the 90s. Tonight I spotted a small flyer which gives some hope, maybe that will change. With all the talk of the City Administration in potentially shutting down an unknown number of Public Library Branches, the Jami Mosque Library flyer immediately caught my eye.
Hopefully, their book drive bears fruit.
Unexpectedly, I find an old Islamic Horizons magazine from 1987 just sitting there on a shelf in the wall. It's the issue where they profiled the Islamic Housing Co-Op and how people in Toronto were financing their homes without interest bearing mortgages. I would stumble upon that article later in my life and it informed my decision to aim for a career in Islamic (Interest-free) Finance and Islamic Banking.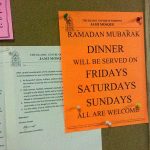 In years past, every night of Ramadan would be filled with people waiting to break their fast. The basement would have elaborately styrofoam plates filled with cut fruits, dates, all sorts of juice and snacks. I recall how hard it was to find a place to sit sometimes. Many friendships were made breaking the fast together while talking and laughing.
Tonight however, I only had the briefest of conversations with a Jami Mosque regular. He recognized me but couldn't place me. After learning I had been praying here since the age of three, that helped him figure out why I was so familiar.
At one point in the late 80s, logistically, the brothers were encouraged to break their fast with a date or two upstairs, pray the Maghrib Salat / Sunset Prayer, then head downstairs to enjoy the full Iftar meal. The stair ways were jammed with people. Not tonight.
These memories have been on mind since late May just over two months ago. I was flying from Dubai into Madinah. Striking up a conversation with Masni, my seat mate from Indonesia, it turned out in 1980 on a whim, he had flown in to Toronto, having arrived not knowing anyone, he asked the airport cab driver to take him to Jami Mosque. It was Ramadan then and in this same place 31 years earlier Masni had broken his fast, I would be breaking mine tonight. Talking with Masni during that flight, it was, well, amazing. We both had been in the same place 31 years earlier, and now we both were sitting beside each other on this plane.
When the Adhan began, marking the time to break the fast, I counted just about two dozen brothers making their way to the table with the three boxes of dates.
Breaking the fast tonight though would be a simple choice of honey dates, or plain dates. I opted for mixing it up and chose a few of both.
After praying maghrib with barely the first line filled, I headed up the street for a proper Iftar meal at Ali Baba's on Dundas Street West.
Skipping the day's special of two sandwiches, opted for a chicken shawarma plate and a can of Vimto.
I first had Vimto when performing the Hajj as a ten year old with my family. The same year Masni has visited Jami Mosque. Until recently, Vimto was almost impossible to find here in Toronto. Seemed appopriate to enjoy it tonight as part of my Iftar break fast meal.
Ali Baba's exchanged the regular radio station background music for a wonderful recitation of the Qur'an at full volume. It was perfect. I ate slowly and really enjoyed this first Iftar of Ramadan 2011. I was still caffeine deprived and a coffee was in order.
Made it back to Jami Mosque just in time for the start of the Isha prayers with Tarawih prayers following. Hafiz Ibrahim Ahmad would be leading tarawih for the entire month of Ramadan.
Jami Mosque, for a time had the largest weekly Friday congregational prayers on the continent, numbering between 3-4 thousand people squeezed inside and overflowing outside onto the sidewalks in this residential neighbourhood.
And perhaps that's the story here, the cycle of growth and decay and then renewal.
I had the same experience when I prayed at the Main Masjid in Sao Paulo, Brazil in May of 2010. When I visited, the Imam there informed me except for a TV film crew, I was the ONLY visitor who had come to pray outside of Friday prayers in a very long time. The rest of the week, in Sao Paulo's largest masjid, only the Imam and one retired muslim who was often just there on his on time, would be praying the five daily prayers.
As a four, five, six, seven, eight year old, I remember the size of the Ramadan Tarawih at about one full line and a few people in the second line, plus me, the only kid.
On Friday and Saturday Ramadan nights, Jami Mosque might then have two full lines and few people in the third plus me and two other kids running around quietly.
Perhaps that's where we've returned, and it's time for these two muslim kids running to catch the prayer to make their own childhood memories of their Ramadan in Jami Mosque.