This is 3047 Dundas Street West as it is today, the first of Ramadan 1432 also the first day of August 2011.
This is also the little known historic location of Toronto's first masjid, The Dundas Street Mosque. Most recently it was a picture frame shop, however this afternoon it was found worse for wear having been closed for some time.
In 1974 my family arrived in Toronto from the U.K. Growing up as a kid praying, hanging out, and attending weekend Islamic school at Jami Mosque, often I'd hear the grown-ups mention this old Dundas Street storefront location. It never occured to me to ask exactly where it was. I always assumed it was nearby Jami Mosque, down the street, around the corner on Roncesvalles Avenue or immediately across from Roncy on the Dundas Street side of the weird Y shape intersection.
I wanted to visit it on this first day of Ramadan, partly for this blog post, partly just to see it. I made some time and biked over.
The Dundas Street Mosque location is a few blocks west of Keele Street in a recently rejuvenated west end neighbourhood known as The Junction. Then as today, it is a busy corridor for both pedestrian and vehicle traffic.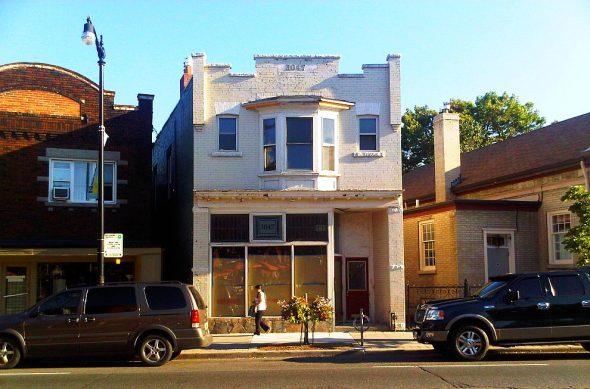 In 1957, Rajjab Assim, an Albanian Muslim, with help from other Muslims in the city, established the Muslim Society of Toronto. The Society organized religious gatherings and events either in people's homes or in rental facilities.
By then, no longer were the faithful primarily of Eastern European heritage, some having arrived as early as 1911. With a change in immigration rules, Muslims from around the world began arriving and changing the make-up of Toronto's Muslim community. The Muslim Society of Toronto was a reflection of that new multi-national flavour. It took the place of the earlier Albanian Muslim Society (founded in 1952) in organizing events and rental facilities.
By 1961, it was apparent it would make more sense to buy a building than to keep renting locations, such as the Club Kingsway, for Eid Celebrations. Until the building's purchase, Sunday Islamic school were held in people's homes, and there was of course no fixed prayer hall. 3047 Dundas Street was originally a leather shop. It was purchased with a down payment of $10,000 and the rest on mortgage.
Women were key in nurturing the nascent Muslim community. Alia Hogben, Solnaz Shahin and Talat Muinuddin were instrumental in that nurturing. They organized and cooked dinners, often enough to feed upwards of 100 people.
Elders who are still with us today recall fondly those dinners, and the struggles with transforming this building into Toronto's First Islamic Centre.
Notably Malcolm X, visited the Dundas Street Mosque, a month or two before he was assassinated in New York City:
Surprisingly, even though they now owned their own building, Friday congregational Jumah Prayers at first were not held. Muslims were too far spread out around the Greater Toronto Area at the time. It was too hard for people and their families to drive down and back on their Friday lunch hours. That changed however and the needs of the growing community required a larger space.
Eventually, proceeds from the sale of the Dundas Street Mosque, went towards the purchase of a Presbyterian Church at 56 Boustead Ave in February 1969. That church became Jami Mosque and is still often assumed to be Toronto's first Masjid.
In 2009, an effort to save this forgotten history was begun. MosqueOne.com is an online Oral History of Toronto's First Mosque.
With the building recently vacated and run down, perhaps it's time to make an effort to turn 3047 Dundas Street West into a living piece of Toronto's history.
A museum or at the very least an historic plaque belongs here stating this building was once The Dundas Street Mosque, Toronto's First Masjid.