If you want to see Double Eye Tee, Islamic Institute of Toronto, find where the sidewalk ends . . .

. . . because that's where IIT begins.
Like TARIC on the opposite side of the city, this too is a commuter masjid. The congregation arrives by car, public transit, the odd bike, yet because of its remoteness, hardly anyone arrives on foot.

The Islamic Institute of Toronto takes up eight acres at 1630 Neilson Road, north of Finch Avenue East, making this the city's most north-eastern located Masjid. IIT is within walking distance of Rouge Park, North America's largest urban national park. A few minutes east, you'll find the Toronto Zoo.
IIT's community services are many. Here's an incomplete snapshot:
Full-time day school with Ontario-qualified teachers and features a full Ontario curriculum and relevant Islam-related components
AskTheScholar.com receives and answers questions about Islam from all around the world
Friday night study circle session that clarifies Muslim roles and responsibilities
Innovative Just for Girls class that helps young Muslim women find their Islamic footing in mainstream Canadian society
Two of the most widely recognized and respected Imams in Canada are Resident Islamic Scholars at IIT, Shaikh Ahmad Kutty (listed among The 500 Most Influential Muslims in the World, ed. by Professor John Esposito & Professor Ibrahim Kalin of Georgetown University) and Shaikh Abdool Hamid, graduate of Madinah University.
It's Saturday night. IIT is hosting the first of four Ramadan Lectures and Iftars. It's a tradition that began even before they had a building of their own. People come from all over Scarborough as well as nearby Markham in York Region.
The gym, the only space able to accommodate large numbers of people, fills up. Quickly.
It's not Iftar food alone that has drawn fast breakers here, it's also spiritual food . . .
Reflections on Fasting in the Month of Patience — Sheikh Abdullah Hakim Quick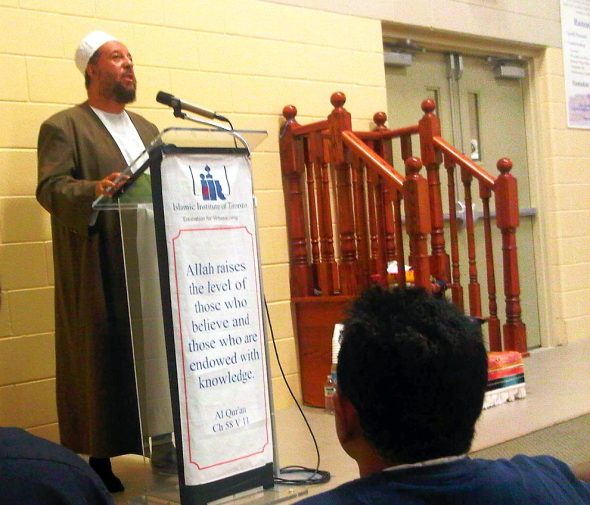 I had intended again to break fast at the second oldest masjid in Toronto, but when I dialed up Islam.ca and saw Abdullah Hakim would be speaking at the Double Eye Tee tonight, for the third time this Ramadan, I nixed those plans.
Was it worth switching up late in the day to hear this lecture in person? Fortunately, IIT live streams then archives their events.
Watch for yourself and you may find precious Ramadan minutes are well spent.
After the lecture, youth volunteers rapidly fanned out through the congregation handing out dates plus cups and bottles of water.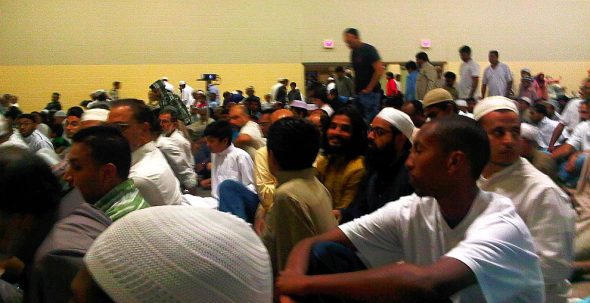 It's moments before sunset, and as many as 1,200 Muslims have taken up every possible sitting space in the gym. We're waiting for the call to prayer.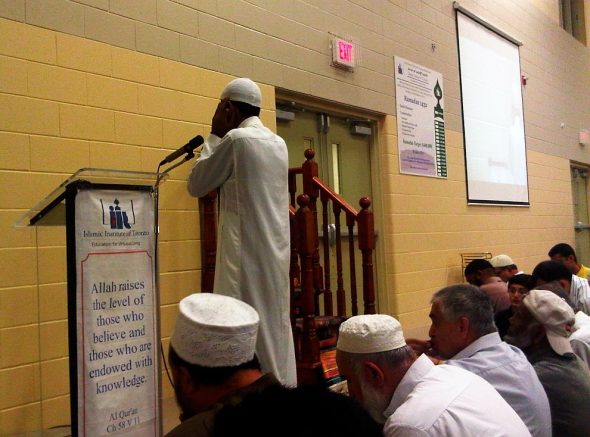 Adhan al-Maghrib. The call to sunset prayer signifying the time to break fast.
Lucked out tonight, big time! Why? If you've never had a Medjool Date, you need to find Muslims before Ramadan is done and ask for some… stat!
This being the first Saturday of Ramadan this year, a reminder that brothers will be having Iftar outside, leaving sisters the run of the gym indoors. Smart move. The gym is indeed packed.
Dr. Abdullah Hakim Quick, was Imam of Jami Mosque in the 1980s. He is a well known Author, Scholar and Historian with a focus on Islam and Muslims in the Americas before Columbus.
It takes a while for the brothers to clear the gym. The Lecture was about the Month of Patience and immediately, I find myself taking that to heart literally. I've left my footwear near the main entrance, I'll be near the back of the line.
This was new. Large Iftar dinner tents. There were so many brothers here enjoying their Iftar dinners, people were sitting anywhere they could to find a spot, even sitting in their own cars in the overflowing parking lots.

Like opening the fast outside TARIC the night before, it was a different Iftar experience being outside of the IIT building. With overcast skies, we weren't under the stars, but it wasn't raining. The atmosphere was electric.
Everything about tonight's Masjid Food was just up a notch from the usual. A full chicken leg and KFC style salad. As better restaurant reviews often end with I would eat here again, if I wasn't doing 30 different Masjids in 30 days, I'd break fast here again.
During my meal, I notice a West African looking brother walk by in front of me, then, I heard Mandarin. Without thinking, I turn my head and look.
It's his wife calling him. She's a full hijabi Chinese sister and the African brother is her husband. The kid in the stroller, well, everyone says babies are cute. This kid was different. She was beyond cute. If it's possible that a baby can be beautiful, this kid was it. Her multi-racial background will likely keep people guessing her heritage for the remainder of her life. And her little big brother? The playground kids better not even think of teasing his little sister.
But listening to Fluent Mandarin from an African brother speaking with his Chinese wife, that floored me. I felt like an idiot for staring, they must get these stares a lot. Looking away, I continue downing my dinner.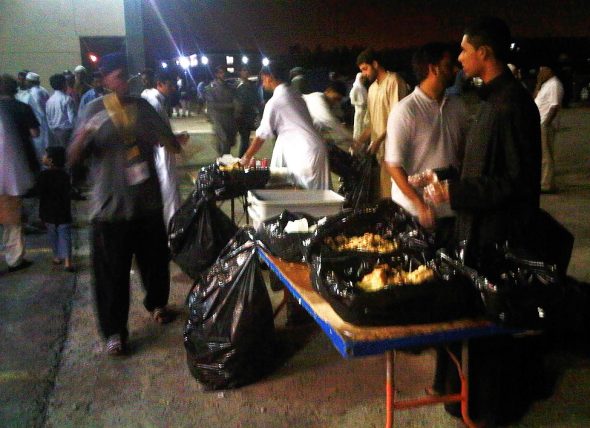 Youth volunteers were running two recycle and compost stations like clockwork. Nothing was tossed in the trash. Everything was separated at source. This level of care was a first for me. Hopefully every other masjid hosting big iftar dinners steals this idea.
With this many people, you always meet someone you know or who's known you. Tonight, I was addressed as The Alim brother.
In my early to mid-twenties, I ran the Canadian operations of ISL Software. Back in the days of 5 and 1/4  inch floppy disks and MS-DOS, around the time of Windows 3.11, I sold Islamic Software. People still remember me for that. We built a successful, profitable category of Islamic software when everyone thought we were crazy. No one would buy religious software, we were repeatedly told. We answered back with the battlecry of youth, Oh yes they will, you'll see!
The name of the software was The Alim. I was the brother who brought it to Canada. Much of the 17,000 pages of Islamic Literature in English you find on the internet, was cut and pasted from our software. How do we know? every so often, the identical spelling or grammar errors may turn up online. 😉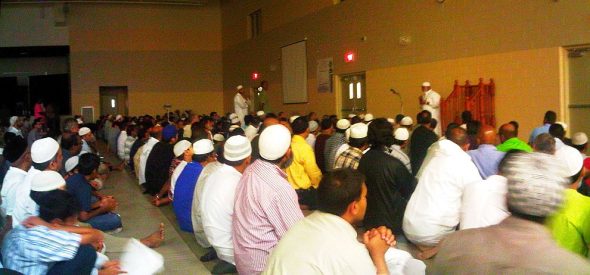 We've prayed Isha, and Shaikh Ahmad Kutty is encouraging everyone to stay for the full twenty rakats of Tarawih, Eight rakats is nothing he says.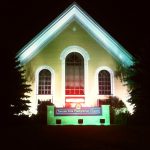 I end up praying more than eight but less than twenty rakats. I end up with something. Time to begin the commute home.
On my way to the transit stop, I wait to cross at the Finch and Neilson intersection.
I'm waiting for the light to change, standing in front of The Toronto Free Presbyterian Church.
It's where the sidewalk begins.