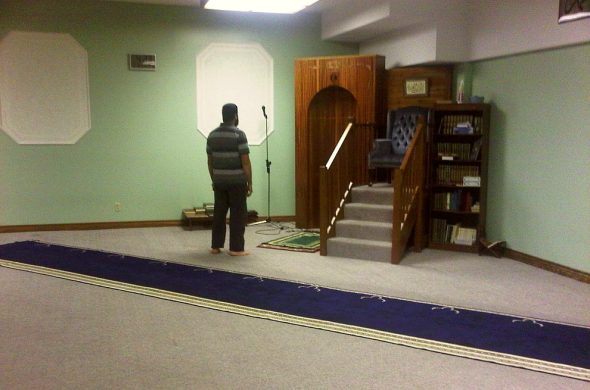 Before leaving London for Chatham, there was one Masjid I had yet to visit.
The Bosnian Canadian Islamic Centre is located at 41 Holborn Avenue.
I gather many people just call it the Holborn Mosque, which is also how to find it on the internet: HolbornMosque.com.

Because people leave things to the last minute, my final prayer during this 30 Masjids Ontario in the London area would be Fajr before I caught my ride to Chatham.
It's a reasonable sized neighbourhood masjid.
The open concept suggests there is no barrier for the sisters who pray behind the men. A few Islamic art objects adorn the walls, but nothing so overwhelming as to distract from reflecting on one's relationship with their Creator.
If I am not mistaken, this masjid was founded in 1997, making this its 16th Ramadan.
By the time the Iqama is called, the entire first line is filled. Mostly with older Muslim men. Not all of them Bosnian from their appearances. This masjid certainly had me feeling I was in Toronto, or make that, South Etobicoke for a moment.
Every year, I strive to visit the Bosnian Islamic Centre in Etobicoke at least once during Ramadan. If I can't make it there this year, perhaps this morning's Fajr prayer can be my 2013 substitute?
My sense is, this Masjid's neighbourhood servicing and ethnic identity is a complete contrast to the London Muslim Mosque's Centralizing Function and Cosmopolitan Identity.
I wanted to learn more about the Holborn Mosque, but with Fajr prayer completed, it was time to close up shop.
Sometimes you find yourself in another part of the city and simply need to pop in, pray, and pop out.
In London, The Holborn Mosque is where you can do that.