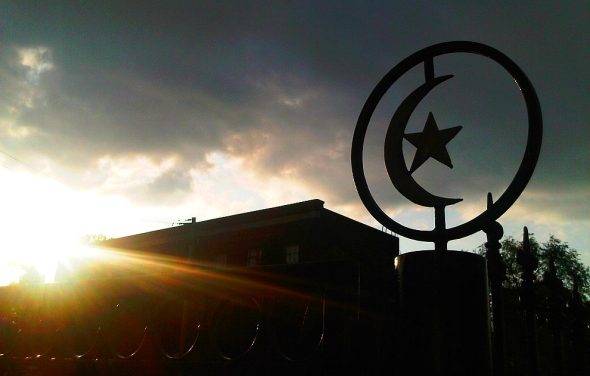 Tonight is my annual Ramadan pilgrimage to South Etobicoke.
Every Ramadan, it's worthwhile making the effort to pencil in at least one night of Tarawih prayer in this masjid. The Bosnian Islamic Centre is at 75 Birmingham Street. It was previously known as the Croatian Islamic Centre.
This year, for 30 Masjids, I arrived before the sun had set, intending to pray my late afternoon Asr Prayer as well as Isha and Tarawih, with Iftar and Maghrib inbetween.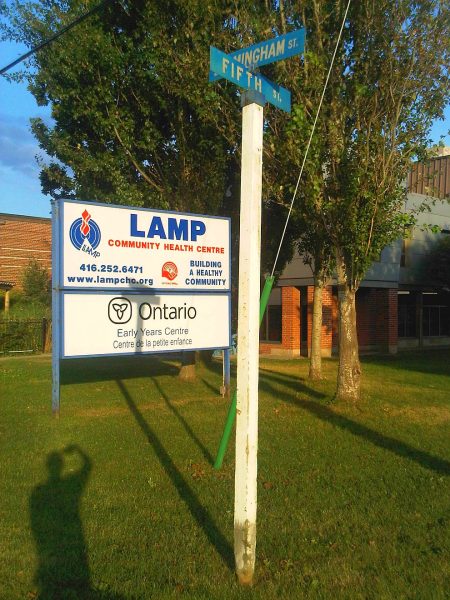 The Bosnian Islamic Centre takes up the south west corner of Birmingham and Fifth streets in Etobicoke Lakeshore.
Across the street is LAMP Community Health Centre, whose social service programming has become something of a quiet inspiration to many neighbourhood efforts across the city.
On the opposite corner facing the masjid, the Toronto Police Academy, trains the future of Toronto's finest.
Immediately north, one of the original Telephone Exchange Central Office buildings has been repurposed into office units. An historic plaque outside reminds pedestrians this was once quite the happening intersection.
The architecture of this masjid is gentle and it blends into the surrounding residential neighbourhood and light industrial/commercial feel of the area.
A Baptist Church stood here when Croatian Muslims purchased the building in 1976 looking for a masjid to call their own.
The former Baptist Church became one of only three masjids in the Greater Toronto Area back then, joining Jami Mosque, and the Islamic Foundation's original 182 Rhodes Avenue building.
In 1984-1985, a decision was made to replace the church building with something more suitable.
They rebuilt the Croatian Islamic Centre from the ground up on the same site. No longer being a church building meant all the basic needs of a masjid could be included in the redesign.
If the minaret was not there, one could hardly guess this was a Muslim place of worship.
The minaret is unique.
It's the only one in Canada built in the Ottoman style.
That might be why, as a historian, I always have a special reverence each time I visit and see it in person.
One of the amenities that Church buildings don't have are wudu facilities.
Here, the faucets are motion sensor activated making washing up before prayer a bit easier. Sometimes you need a moment or two to find that sweet spot where the water won't hiccup, stopping and re-starting constantly. Yet that also doubles as a reminder to conserve water.
After my Asr prayers, it is quiet. The Imam and three brothers who were reading Qur'an in a study circle have left the prayer hall. They turn off the lights…

Yet, there is Light.
Plenty of it.
The verse from the Qur'an known as Ayat an-Nur, the Verse of Light or the Sign of Light immediately enters my mind.
Allah is the Light of the heavens and the earth.

The parable of His Light is a niche wherein is a lamp—

the lamp is in a glass, the glass as it were a glittering star—

lit from a blessed olive tree,

neither eastern nor western,

whose oil almost lights up,

though fire should not touch it.

Light upon light.

Allah guides to His Light whomever He wishes.

Allah draws parables for mankind,

and Allah has knowledge of all things.
It's not lost on me that the Community Health Centre on the other side of Fifth Street is known as LAMP.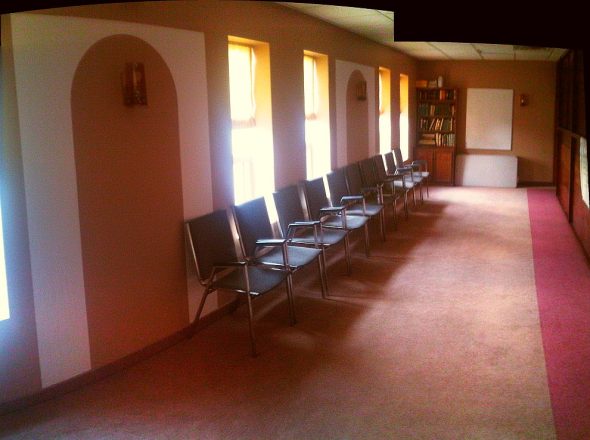 This is one of those rare moments, where there are no sisters present. And this is what the sister's prayer space looks like.
During Islamic School time on weekends, this area becomes a co-ed classroom. Nowadays, many more Islamic schools than not, split up boys and girls into separate class rooms. Jami Mosque and Croatian Islamic Centre did not.
The first summer of this new masjid, the administration organized a summer camp. Parents from all over Southern Ontario sent their kids to be with fellow Muslims for a few weeks. It was the '70s and one of the hottest television shows was The Partridge Family. Upon arriving at camp, I couldn't believe it but there was Danny, the red headed problem child from the TV show.
He was Muslim????
He was at my summer camp? Of course. It all made sense, why wouldn't Danny be at Muslim Camp if he was Muslim.
For the rest of the summer, I called him Movie Star. For the rest of the summer he called Hey Kid.
It was also the summer I began learning how to swim.
Praying in this Masjid, always, uniquely brings me back those memories. It's a large part of why I aim to pray at least once here each Ramadan.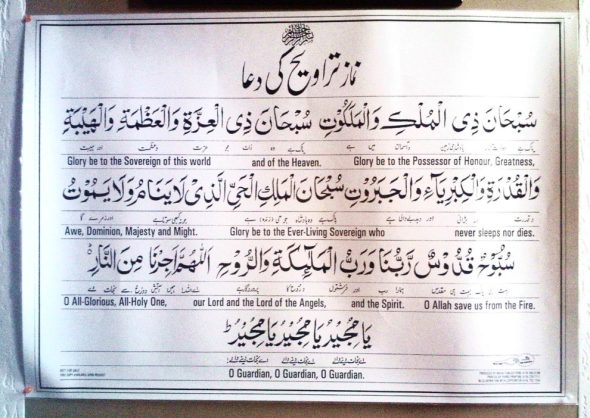 Another one of these giant posters… you see them around GTA masjids. Maybe twenty five years ago, this prayer was photocopied and handed out in TARIC masjid. It was meant as dua to be read inbetween Tarawih rakats.
Over time, worshippers in TARIC would chant this supplication aloud in unison after every four rakats during Tarawih prayers. As people began spending Ramadan in other masjids, they brought along this handout and began spreading this supplication.
Eventually, wouldn't you know it, someone decided to print it up in giant poster format and share them for free with any Tarawih location that asked for one.
It's not part of Tarawih prayers, but it has become known as part of some Toronto Tarawihs.
Not everyone likes this one to two minute group chanting. One senior Imam was so turned off by it, when I asked him why he avoided one particular masjid during Ramadan, he said he didn't like the ' Blah Blah Blah ' inbetween rakats.
The poster is up, but no one reads it aloud in the Bosnian Islamic Centre. If anyone did, it's silent and personal. Strange thing is though, after so many years of hearing it, I can almost recite it by heart.
For Iftar, there are croissants on the table alongside styrofoam boxes filled with dates.
If any of the origin legends of why croissants came about are true, it is deeply ironic that I am waiting to break fast with them in an Ottoman influence designed masjid.
About a dozen brothers have arrived for Iftar. There will be no Iftar dinner after Maghrib prayers. Unlike previous years, so few people come for Maghrib during Ramadan, and with only a couple of volunteers, it's not quite worth that much effort.
Most people live close by. They break fast at home with family and come later for Isha and Tarawih. There are no grand weekend Iftar Dinners here either.
This is a true neighbourhood masjid in almost every sense of the word. The congregation is a mix of Bosnians, Somalis, Pakistanis, Indians, Arabs. No single ethnicity forms the bulk of the congregation.
On the bulletin board, a flyer for Royal Falafel a few blocks away is enough to sell me on going there for Iftar Dinner.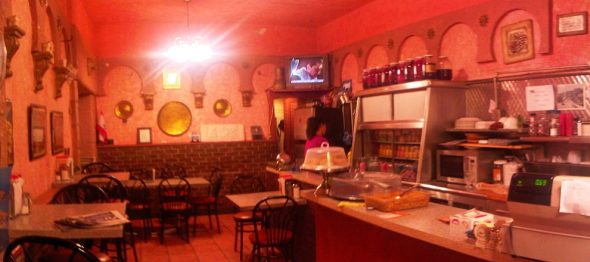 It's a wonderful discovery.
The daily special is sold out, but the owner offers me a chicken shawarma sandwich at the same price.
I had often passed this location noticing it, but never entered. The decor inside holds true to Lebanon as does the menu. There's an ambiance that is elusive in the too-many-to-count falafel joints which now dot downtown.
Isha will be at 10:30 p.m.
With plenty of time til then, I wander the neighbourhood some, it's very quiet. That's Etobicoke Lakeshore at night.
Quiet.
More lamps.
Inside, it's a little bit past 10 p.m. and the prayer hall is very slowly filling up.
By the time the Adhan is called, perhaps 150 people have arrived.
The Imam leads Tarawih with very short suras and we're done before midnight.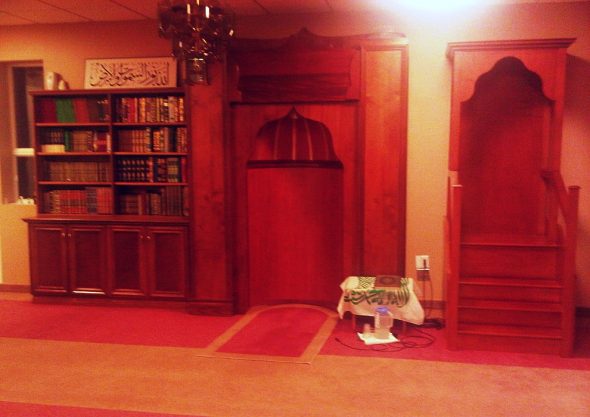 This mihrab was the first REAL Mihrab I had ever seen in any Toronto masjid. Keeping in mind they could have designed it into the architecture of the building, instead, this beautiful wooden prayer niche was installed sometime after the new masjid was built. It wasn't there right away, as I remember being surprised seeing it suddenly appear one day.
During the time BIC was called the Croatian Islamic Centre, before the alternating pink and beige carpeting was installed, the floor was filled with magnificient Turkish rugs. Soft, fluffy, colourful. All overlapped one another on the edge so as not expose the floor.
It was always my only real chance to pray on giant oriental rugs. Outside of the few fancy carpet stores in Toronto, here was the only place I remember seeing them growing up. I always contrasted it with Jami Mosque's rough almost straw like hardened dark red and black patterned carpets.
Around the time the civil war broke out in Yugoslavia, this previously never asked question of why the masjid was called Croatian came up. There were heated debates and eventually the sign was changed and it became known as the Bosnian Islamic Centre.
But why was it called Croatian Islamic Centre in the first place? During and after World War II, many Muslims who were Bosnian in origin fought the Communists in Croatia. When the Communists rose to power, out of personal safety some of them fled to Canada winding up in the Greater Toronto Area as political refugees. That informed their collective decision to self-identify as Croatian Muslims rather than Bosnian Muslims. Hence the Islamic Centre's original name.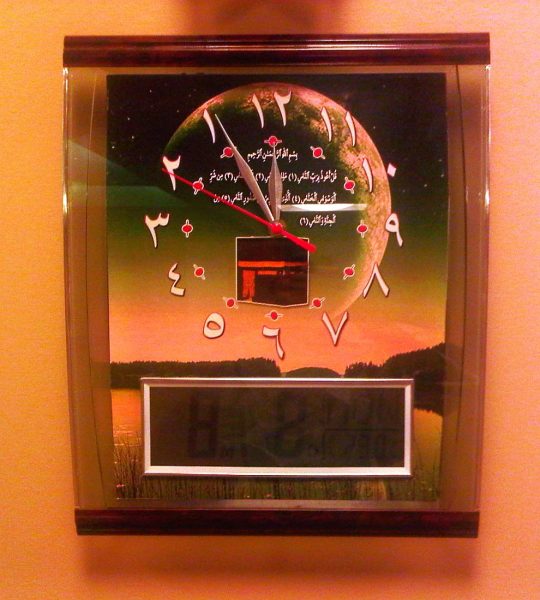 This is a wall clock literally with Arabic Numerals. The hands move counter-clockwise, but that doesn't mean much because the Arabic numbers on this clock go from right to left, so it's truly clockwise.

In the early 1990s, a Muslim inventor had created these Digital Prayer Times clocks. He asked me to help him market it as he saw my success in selling The Alim software. I gave him some pointers, but couldn't take him on as a client or business partner at the time.
He made each one of these by hand, one at a time.
In this era of flat panel screens with everchanging sliding information, it's nice to see these around town still working, still informing the faithful of the five daily prayer times.
On the bike ride home, I choose the Martin Goodman Trail because it's cooler by the lake.
Reaching Sunnyside Pool, I stop and wonder… and send out a tweet:
Hmmmm.... Is it sooooo wrong to want to jump the fence+skinny dip after #Ramadan Tarawih? It's so humid!!! http://twitpic.com/639v5h
Maybe now's a good time to put those Muslim Summer camp swimming lessons to good use on this hot and humid Ramadan night…