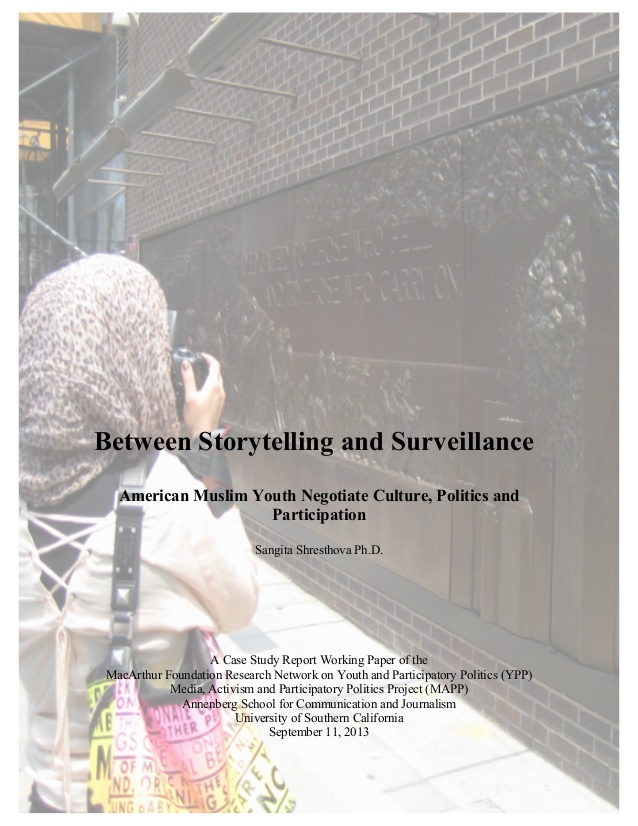 This morning, in preparing to possibly begin blogging something in the 30 MORE category leading up to Hajj 2013, a working Research Paper popped up…
Sangita Shresthova, Ph. D.
And, there's a one line mention of 30Masjids ( WooHoo! ) on page 69:


"In Toronto, Himy Syed's 30Masjids transitioned into a personal faith blog. With the exception of BF@N [Breakfast at Night], all the projects ended after one year (mostly 2011), which may have been their intended duration."
That's not entirely accurate.
Has 30Masjids.ca transitioned into a personal faith blog? Initially, that answer was no. I stopped blogging on Eid al Fitr at Ramadan 2011's end. Then picked it up again the following two Ramadans.
However, in 2012 and early 2013, I had in fact posted a random post-Ramadan Personal Faith entry or two, mostly because I did not know where else among all my various online presences those specific stories belonged.
Certainly, this recent Ramadan 2013, 30Masjids went around The Province of Ontario sharing Ramadan stories, both mine and others'.
Reading the Storytelling section in the research paper, especially between pages 65 and 75 has helped me better understand what 30Masjids actually is.
In describing the Other grassroots Ramadan Blogs inspired by 30Mosques.com, the paper highlights how they each did something different:
Cumulatively, they together all help create an alternative American Muslim narrative than what is commonly imagined by the wider American community.
Further, the controversy created by Lowe's corporation when they pulled their television advertising on the Dearborn, Michigan focused All American Muslim Reality Show provided yet another element in that overall narrative.
And yet, in 30Masjids.ca, ALL of those separate approaches above are found in the story telling blog entries here. Including something directly commenting on the Lowes controversy with Canadian Tire stepping up and doing the opposite of Lowes.
What I realize this morning, is that, this blog in its own small way, has provided an all-in-one-stop Alternative Canadian Muslim Narrative using the various independent successful storytelling techniques found in the multi-stop American Muslim Ramadan blogs/websites listed above as well as others.
30Masjids in its three years of Ramadan storytelling has employed…
Photo-only posts
Video-only entries
Strongly invited and encouraged Guest Blogging, especially from women writers
Stories of individual people
Stories of different Muslim Communities
History of different Muslim Neighbourhoods and their Masjid's origin stories
Personal Daily Ramadan experiences
An overall anecdotal recent History of Toronto's and Ontario's Muslims
Give the Research Paper a good read.
It's time well spent with insights well revealed.
Here's some of what Henry Jenkins blogged about the paper shortly after it released in mid-September 2013, followed by background on the Paper's Author…
The new report … centers on activists and community networks affiliated with the Muslim Youth Group (MYG) at the Islamic Center in Southern California and the Young Leaders Summits program at the Muslim Public Affairs Council (MPAC), but Shresthova casts a larger net, describing a range of participatory projects through which American Muslims have sought to reshape the ways they are represented through mainstream and grassroots media.

While she is attentive to the new possibilities for voice that these youth have found through new media, she also stresses the substantial risks they face as a consequence of both formal surveillance by governmental agencies (as part of the new security establishment whose scope becomes more alarmingly clear with each new revelation) and informally through the chastising responses they received from older Muslims about the ways they represent their personal and religious identities. As a consequence, the communities she describes here constitute precarious publics, ones that can be empowering or can put participants at risk, perhaps both at the same time.

As we've been doing this research, our research team was struck, for example, by the "chilling effect" these youths experienced in the aftermath of the Boston Bombings, as the participants felt a renewed risk of retaliation on the basis of the color of their skin, their national origins, or their faith. We hope you will share our sense that it is urgent for us to develop a deeper understanding of what it means to be an American Muslim and how these youths are battling against prejudices that have surfaced with greater intensity over the decade plus since September 11.
About the Author…
Sangita Shresthova

's work focuses on the intersection between popular culture, performance, new media, politics, and globalization. She is the Research Director of Henry Jenkins' Media, Activism & Participatory Politics (MAPP) project. Based at the University of Southern California, MAPP explores innovative youth-driven media-centric civic engagement and studies youth experiences through groups and communities that include Invisible Children, the Harry Potter Alliance, and American Muslim youth networks. Sangita holds a Ph.D. from UCLA's Department of World Arts and Cultures and MSc. degrees from MIT and LSE. Bridging between dance, media and her Czech/Nepali heritage, Sangita is also the founder of Bollynatyam's Global Bollywood Dance Project. (

www.bollynatyam.com

).