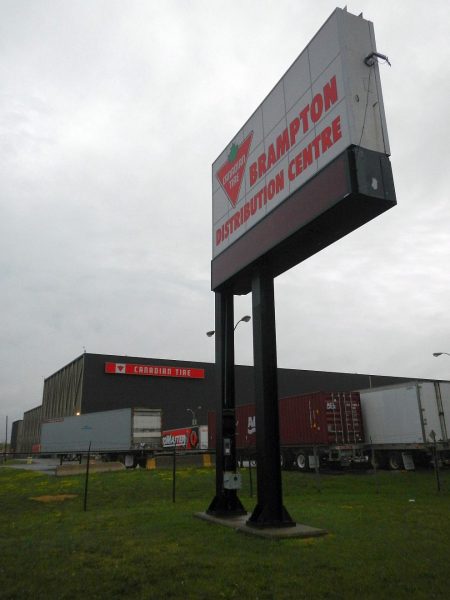 It is 3:17 a.m. early Friday Morning, August 10 2012.
It is wholly appropriate I am typing this note of thanks sitting inside a Masjid a few blocks north of Canadian Tire's Distribution Centre on Steeles Avenue in Brampton.
I biked to Brampton, Ontario from Parkdale in Downtown Toronto yesterday, on the new bike provided by Canadian Tire after the original 30 Masjids Bike was stolen.
I was returning to Toronto from Masjid An-Noor in St Catharines via Coach Canada's MegaBus service on Sunday August 5.
At noon on the same day, I would be meeting Kim Saunders from Canadian Tire at their Lakeshore and Leslie Location to secure a new 30 Masjids Bike.
However, Kathryn who I know another area of my life, Labyrinth Making, emailed me the following…
Himy,

Walking the dog this morning, I came across a metallic orange Norco Scorcher – with the number 22 on it.  High seat, which made me think it might be yours.

There was also a $20 bill stuck between the back wheel and the column.

Where I found it as long been a curiosity to me for there's a cage of bike's which looks like a bike graveyard.

…

This bike has an old lock, which has been tampered with, but still used.  Bring a hack saw or the police.

Good luck.  Hope it's yours.  I will continue to phone the only phone number I have for you.

Kathryn
Before I could accept a new bike from Canadian Tire, I had a responsibility to investigate whether if indeed, this was my stolen bicycle Kathryn had spotted.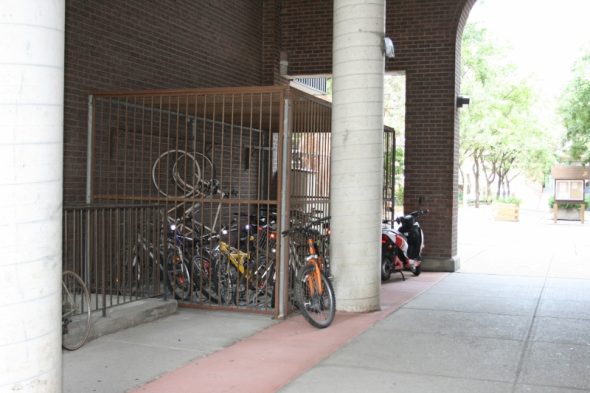 Following her directions, I found the bike cage. Upon quick inspection, the bike indeed was similar, but was not the one.
I then walked over to the Canadian Tire location arriving a few minutes late.
I showed Kim Saunders, who up til then I had only spoken and exchanged messages with, Kathryn's email on my Blackberry.
Mixed Feelings right there.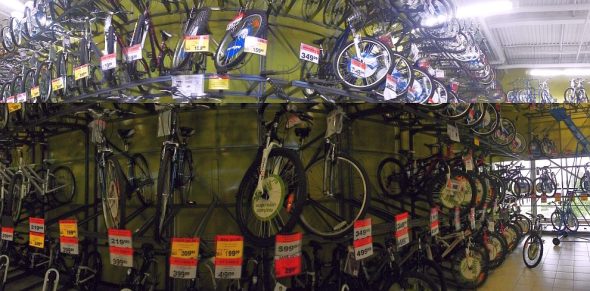 Kim introduced me to the Store's on duty Manager.
His name is Naeem.
Yep, he's Muslim. He too was fasting.
Naeem asked me a few questions and immediately identified and presented me with an aluminum Schwinn Hydra.
That was it. I didn't need to see any other bikes. This was the NEW 30 Masjids Bicycle.
I cannot begin to convey how much I appreciate this gesture on behalf of Canadian Tire.
This brief blog post ain't enough.
But Dear Canadian Tire, THANK YOU ! ! !
Having left Canadian Tire's Lakeshore and Leslie Location, I biked past Masjid Omar bin Khattab on Parliament Street.
There was a poster glued to a utility pole. It was a reward poster for a stolen bike.
:-/
I emailed Kathryn informing her Canadian Tire had replaced my stolen bike and rescued 30 Masjids from having a Metropass Ending.
Kathryn deserves the last word,
Thank you for your note.  I am very glad you now have a new bike for your project HiMY, and speaking of this, we are enjoying your blog very much.

Now what to do with the $20 I found with the bike that is not yours!

I could donate it to your favourite Masjid or to your project.

I could donate it to the Labyrinth Community Network as a thank you from all of us for meeting you.

I could put it back where I found it, assuming the owner of that bicycle dropped it inadvertently.

But no.

I'm going to spend it at Canadian Tire on a new roll of duct tape, which I need.

I hope the higher spirits will approve.

See you later,

Kathryn