From ISEB, Islamic Society of East Bay, Community E-Mail List :
Dear Brothers and Sisters Asslam Alaikum Wa Rahmatullah Wa Barkatahu

On the day of 2nd of Rabiut Thani 1434 (February 12, 2013) Sr Mohsina Khatoon who was a resident of Fremont and the grandmother of Br Mohsin Hassan and Br Tashfeen Ashraf passed away.

May Allah (SWT) have mercy on her soul and accept our prayers and good deeds and grant her Jannat-ul-Firdaws.  May Allah (SWT) grant patience to her family.

* Salatul Janaza will be held tomorrow Wednesday, February 13, 2013 after Salat ul Zuhar at 1:00 PM.

Place: ISEB 33330 Peace Terrace Fremont, CA. 94555

* Burial will be immediately after Janazah prayers at Five Pillars Cemetery, 1761 Laughlin Road, Livermore Ca, 94550.

Jazakallah
I have been here for almost a month.
"Here" is the San  Francisco Bay Area, namely Fremont, Milpitas, and San Jose California, where my Grandmother lay in a hospital bed for the past four weeks.
She passed away peacefully this morning at Tahajjud time, before Fajr.
This morning, my uncle, and two cousin brothers visited the ISEB in Fremont to confirm arrangements and sign the necessary paperwork for my Grandmother's Janaza / Funeral service on Wednesday afternoon after Dhuhr Prayers.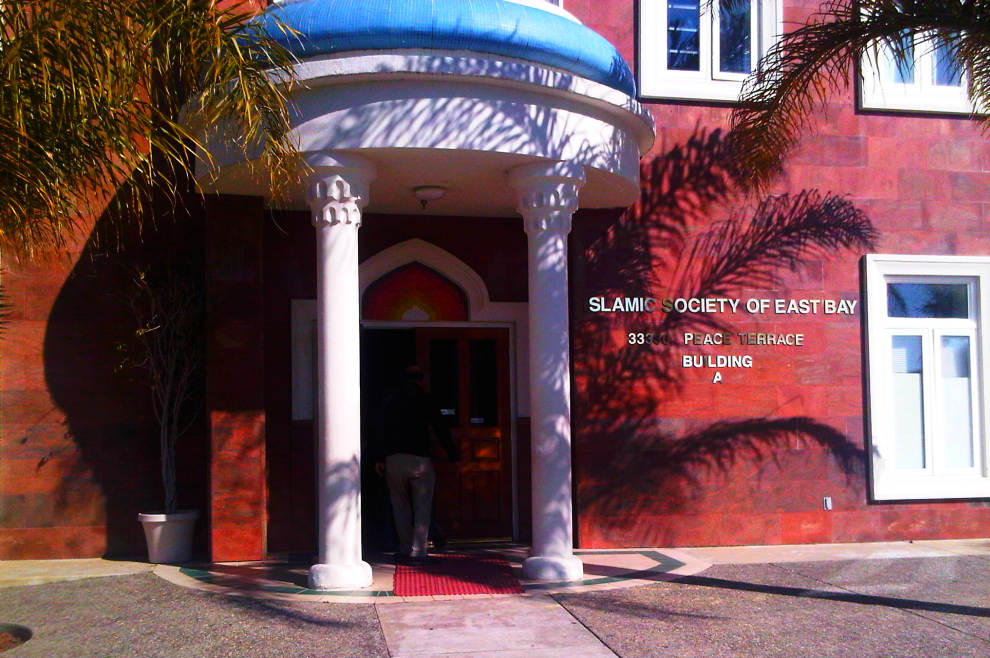 Inside the Masjid's office, The Imam made everything burden-free.
It was simply a straightforward matter of filling out a few forms, confirming a few details, a whole lot of signatures, then sending an authorization fax.
Imam Siraj of the ISEB answered all our questions patiently; made all the phone calls required to transfer my Grandmother's body from the Regional Medical Center of San Jose to the Islamic Society of East Bay's on site Mortuary.
This took all of but a few minutes.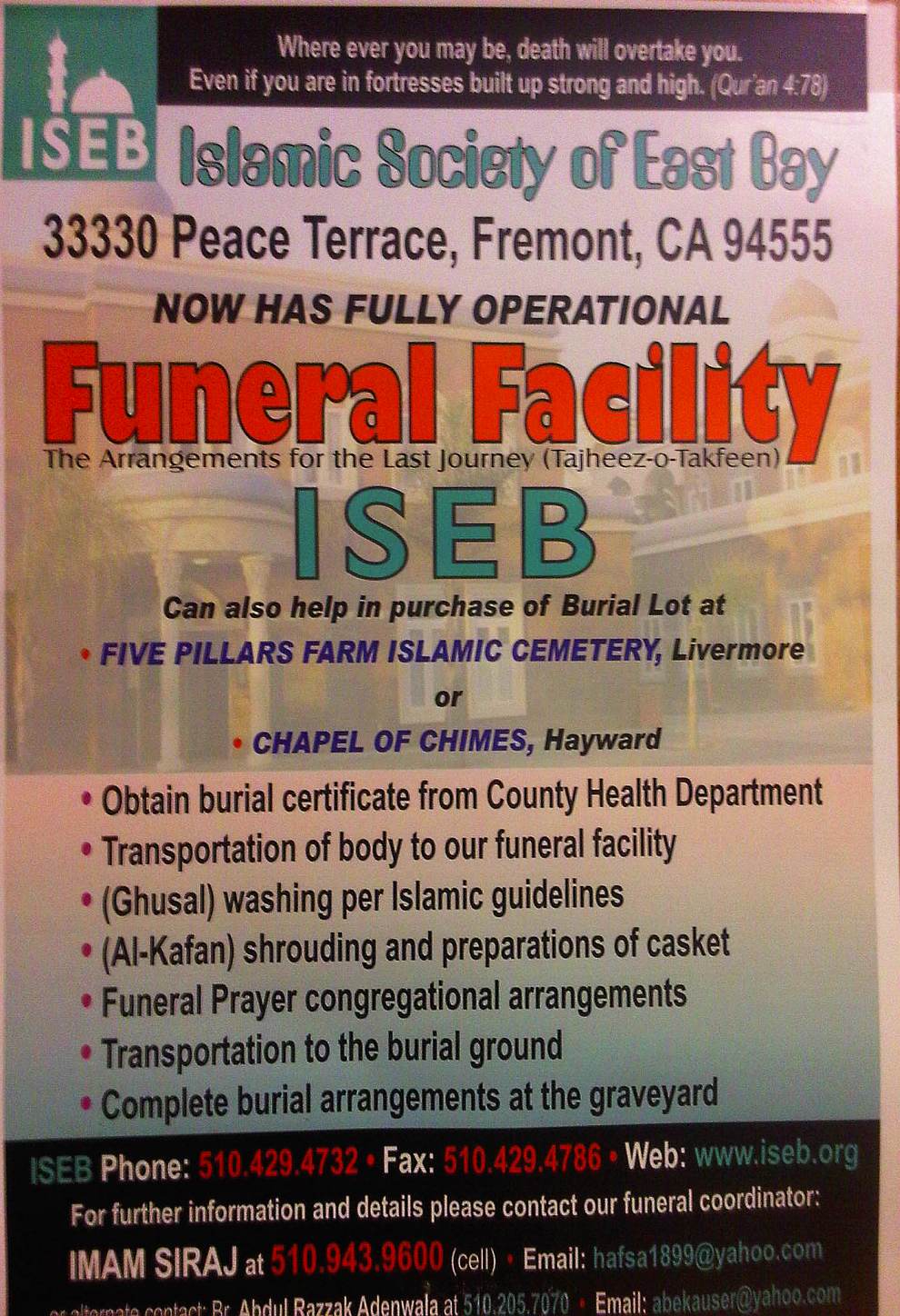 The Imam then suggested we should see the funeral facilities, my uncle and cousin were a bit hesitant at first, but perhaps the Imam knew from experience that families in our situation benefit from seeing it beforehand.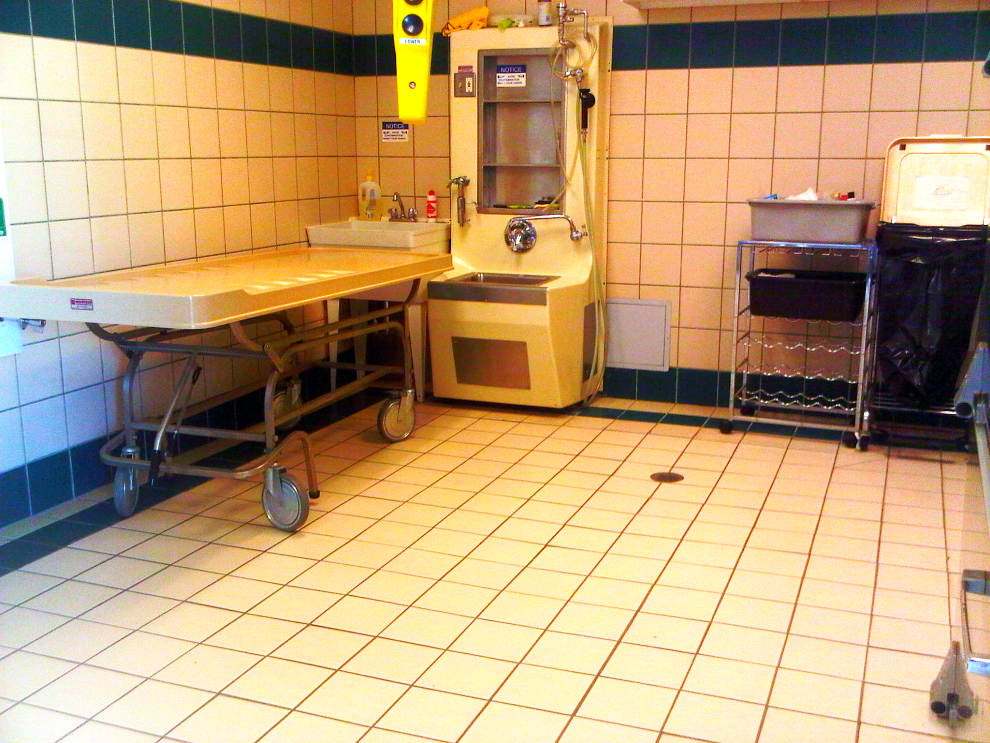 Seeing this room did bring a peace of mind and peace in my heart.
Thoughts of Masjid Khalid Bin al Walid's Funeral Facilities back in Etobicoke came to mind.
The difference being, at Khalid Masjid, I was observing and writing about it as an observer for this blog.
Today, I was seeing Funeral Facilities where my own Grandmother's body will be washed by my Mom and Aunt and Cousin-Sisters preparing for the burial.
The Masjid has a courtyard in-between the Prayer Hall building proper and the Peace Academy Building where the mortuary is housed.
Something very peaceful about walking these few steps under these blue and white colours earlier…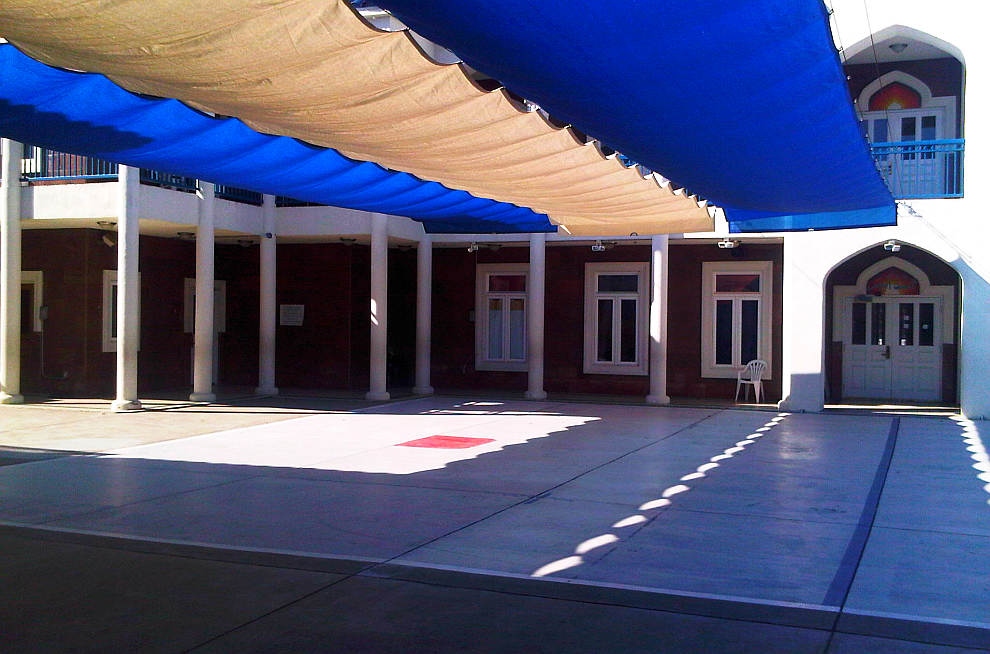 Here are my Uncle and two Cousin Brothers shortly before we left the Masjid.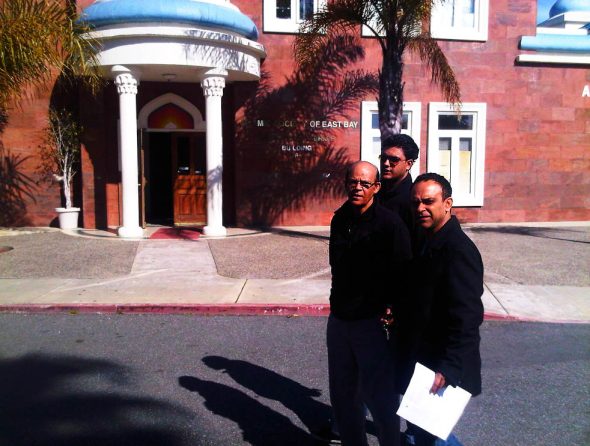 All three have been very strong and composed thus far. May Allah, God-Alone, keep it so.
InshAllah.
---