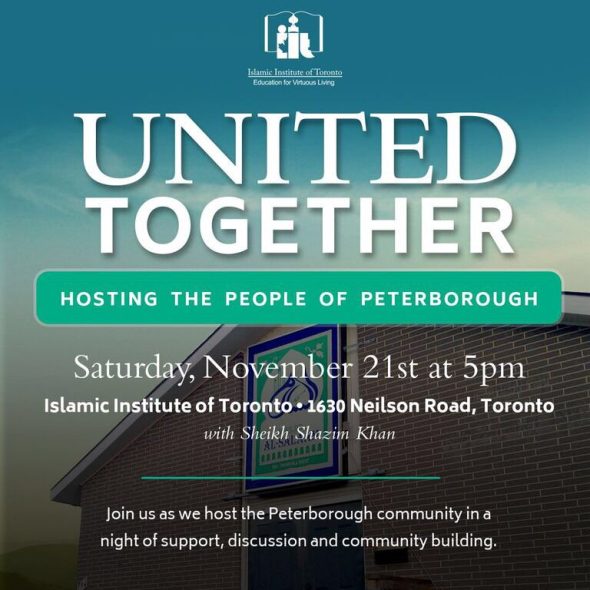 RT @IIT1630 United Together – IIT hosts People of #Peterborough in show of solidarity, Sat 5 pm pic.twitter.com/x66jYIrc5m #scarbTO #PtboMosque

— HïMY SYeD (@30masjids) November 19, 2015
On Saturday evening, The Islamic Institute of Toronto hosted The People of Peterborough for a night of Support, Discussion and Community Building.
The multi-faith event was a show of Canadian solidarity against the Hate Crime of Arson at Kawartha Muslim Religious Association's Masjid Al-Salaam in Peterborough.
A representative cross-section of the wider Canadian community turned out as you may see from their images and words live-tweeted during the event…
United Together has commenced. Welcome to guests and dignitaries. Reps from Jewish & Christian communities. pic.twitter.com/DjCgarvRkX

— IIT (@IIT1630) November 21, 2015
Among those present were Jennifer Reid representing the Jewish Community Centre of Peterborough / Beth Israel Synagogue and the Unitarian Fellowship of Peterborough.
Afterwards, she facebooked,
"We attended the event last night… It was a great evening of community-building, friendship and dialogue. Thank-you so much IIT!"
We will continue to ensure that the Islam that we have come to love is not tarnished by a few. @FareedAmin

— IIT (@IIT1630) November 21, 2015
Tonight is a celebration of Canada, of Islam & of those who believe in the inclusive nature of Canada. pic.twitter.com/eTVMKEQgzs

— IIT (@IIT1630) November 21, 2015
It is so important that we come together as people of different faiths to come together in sincerity. @hakimquick pic.twitter.com/8vARveUi8d

— IIT (@IIT1630) November 21, 2015
Muslim community caught between violent extremists and a right wing backlash. The solution is to be together. pic.twitter.com/vw3uiM4PWL

— IIT (@IIT1630) November 21, 2015
As human beings we have an obligation to promote good and kindness. Sh. Shazim Khan Imam of @CityPtbo mosque

— IIT (@IIT1630) November 21, 2015
@CityPtbo is a good example to follow. We say thank you to all the people of Peterborough. Shaikh Shazim Khan. pic.twitter.com/UY9ZIttAnS

— IIT (@IIT1630) November 21, 2015
I feel honoured that Masjid al Salam accepted our invitation to hold their Friday prayers at United church. Pastor pic.twitter.com/15VHFhT5GF

— IIT (@IIT1630) November 21, 2015
Violence is always a failure of imagination – to find ways in which we can be with others in respect, love and peace. United Church pastor

— IIT (@IIT1630) November 21, 2015
Rabbi of Synagogue in @CityPtbo speaking at IIT – board members unanimously agreed to share space for Muslims. pic.twitter.com/UxOrfg15Ne

— IIT (@IIT1630) November 21, 2015
It's a pleasure to see the diversity of this room- representing the diversity of Canada. @Shaun_Chen pic.twitter.com/goiGlVTtiz

— IIT (@IIT1630) November 21, 2015
MP Gary Anandasangaree addressing IIT "committed to ensure that those fleeing violence are given an opportunity" pic.twitter.com/Oq3OARKCT8

— IIT (@IIT1630) November 21, 2015
"Tonight's event is a good example of the Canada that we know" @BadatYusuf pic.twitter.com/Df9vyoSQbG

— IIT (@IIT1630) November 21, 2015
"Let's make the voice of peace louder than the voice of hate" @BadatYusuf pic.twitter.com/MP5W4AkHCg

— IIT (@IIT1630) November 21, 2015
Kenzu Abdullah expresses thanks to everyone who showed overwhelming support to masjid al Salam. @CityPtbo pic.twitter.com/GvpPkAM5sR

— IIT (@IIT1630) November 21, 2015
United Together! Pleased to join @IIT1630 as they host the #Peterborugh community following arson of its mosque pic.twitter.com/DoXGmXPZZI

— Gary Anandasangaree (@gary_srp) November 21, 2015
IIT is pleased to provide a small donation of $5000 to the Kawartha Muslim Religious Association pic.twitter.com/QPUigVjzzd

— IIT (@IIT1630) November 21, 2015
Peterborough community hosted in Scarborough @IIT1630 Many faiths leaders here to show solidarity aftr mosque attack pic.twitter.com/RBdrp8pTb2

— Zubair Patel (@Zubee_P) November 21, 2015
Multi-faith leaders welcome Peterborough friends, standing against violence & for peace @IIT1630 @gary_srp #ScarbTO pic.twitter.com/SdxwVIcCFR

— Shaun Chen (@Shaun_Chen) November 21, 2015
Community leaders hosted at @IIT1630 to show their support for the Peterborough hate crime. pic.twitter.com/GGePGyHWiy

— Hassan (@BallAintLife101) November 22, 2015
Reps frmJewish & Christian communities at I. I. T. #CommunityEngagment @DPSU_TPS @ronboyceDPSU @InspectorDave50 pic.twitter.com/CEGVx3jiz1

— P.C J. Habibullah (@JHABIBII) November 21, 2015
Inspt @davidsvickers spking with Muslim community at I. I. T. #CommunityEngagment. pic.twitter.com/8vaA2T8TYV

— P.C J. Habibullah (@JHABIBII) November 21, 2015
Great #Communityengagment at Islamic Institute of Toronto. @InspectorDave50 @TPS_MCC @ronboyceDPSU @DPSU_TPS pic.twitter.com/zTWKhk1a99

— P.C J. Habibullah (@JHABIBII) November 21, 2015
Pleasure to hear from community leaders at I. I. T #CommunityEngagment. @BadatYusuf @InspectorDave50 @ronboyceDPSU pic.twitter.com/mgXVIRVyPr

— P.C J. Habibullah (@JHABIBII) November 22, 2015
"Thanks to all who attended this program in support of the Muslim community in Peterborough. Shaikh Shazim Khan summed up the feeling perfectly when he said that as human beings we are called upon to promote good and kindness and to reject hate.

He thanked the communities of Peterborough and Toronto for their overwhelming acts of kindness and support."

— Islamic Institute of Toronto (IIT), November 21 2015