Yonge Street. It's believed to be the longest street in the world. Every city has a street like this. The main drag, the main north-south thoroughfare. The dividing line between east and west.
After weeks of humidity and sunshine, it was finally raining in the city, all day. Approaching maghrib time, a light mist remained suspended in the air. I decided for a second day to forgo breaking fast at the Rhodes Avenue masjid in the East End with its longer and wetter bike ride to reach it.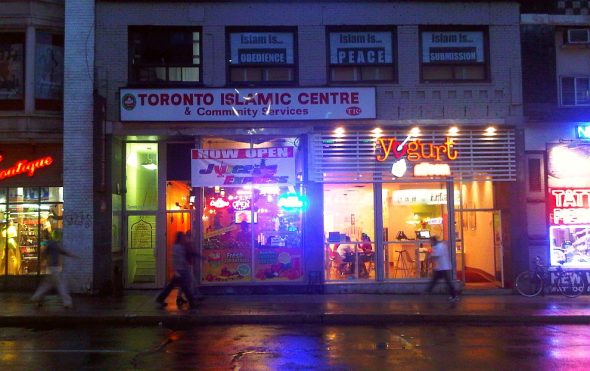 The Toronto Islamic Centre rents an entire second floor above juice and yogurt stores just north of the Yonge and Wellesley street intersection. TIC makes neighbours on its north wall with the largest sex shop in Toronto, aptly named Seduction, and a tattoo parlour along its south wall, with its large crazy designer motorcycle in the window. I always seem to notice that motorcycle with blue and white skulls painted on it whenever walking up Yonge Street.
The entrance is inviting enough but a bit hard to spot if one is walking south on Yonge Street. I've found myself sometimes advising people to look for the giant sex shop and the door is just beside it. That always brings on an of course the masjid is next door to that expression on the person asking for directions.
The Yonge Street location is also only two blocks over from the gay village. A month ago, the gay pride parade passed by here for the entire afternoon. This masjid also falls within the sometimes referred to Yongesterdam district.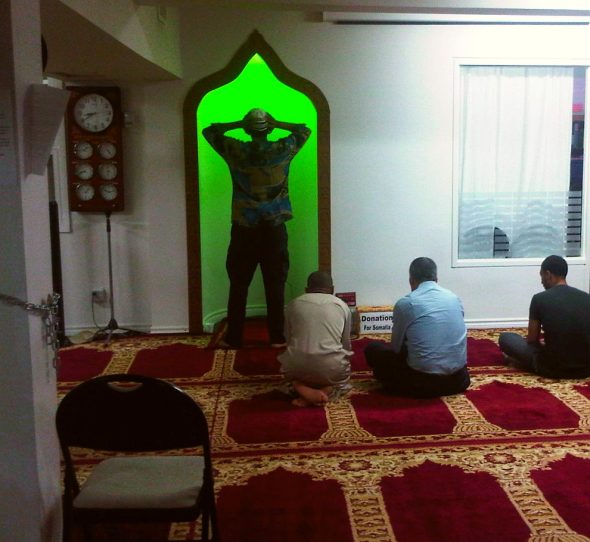 Once upstairs, Mustafa who volunteers and says the adhan at different downtown masjids, was about to make the call to prayer, announcing it was time to break the fast. For the second time in two days, I arrived just a moment or two before maghrib sunset time.
There was a line-up for to dates and milk to break the fast. Someone offered me a couple of dates, and that was good enough for tonight.
I bit into the first one so fast, I almost forgot to get a picture for the blog.
Maybe 50 to 60 brothers were present. A number of sisters with young ones were also in the back.
Like clockwork, after the prayers, disposable plastic is rolled out transforming the carpeted prayer floor into a picnic-like iftar set up. Servers bring out fully filled plates and serve the dinners one by one. A short brother is handing food filled iftar plates over the divider to the sisters. I found it funny but betrayed my urge to smile at witnessing this.
I feel like striking up a good conversation, but with the state of the world, the nearest chat in progress is all about Syria and for right now, I'd rather tune it out. I'll wait for something happier, some talk about things closer to home.
Others are in a rush to scarf down their iftars, I take my time. Salad, rice, chicken. A brother is eager for everyone to have a spoon scoop of his garlic sauce. I pass. Don't want to offend my neighbours who'll pray with me for the better part of an hour later tonight, or tomorrow. I often wonder about that, why eat garlic during Ramadan, when you'll be so close to so many people for so many days?
Still working on my first plate while others have begun their second.
A brother grabs everyone's attention and asks, "Will either the owner of a taxi or a porsche, please move their car? The owner of a taxi or porsche? You're blocking as SUV and the brother needs to leave."
The Toronto Islamic Centre is blessed with that rare abundance in downtown commercial rentals, free parking included in the back.
During Iftar, noticing people enter and leave, I'm reminded as many people enter the masjid from the rear fire escape as they do via the stairs up from Yonge Street.
Maybe ten or fifteen years ago, you could pretty much guarantee that whichever masjid you ended up at on any given day in Ramadan for Maghrib, you'd get an iftar dinner. The numbers of masjids scattered around town with the numbers of people sponsoring dinners through the holy month of fasting balanced itself out.
There are perhaps 100 masjids now in the Greater Toronto Area, many are filled primarily for Friday Jumah Prayers, and on weekends through Ramadan. The weekdays not so much.
This is the second year of TIC's existence. They opened in April/May of 2010 and a community quickly formed and made their home here. The closest masjids were the two near the mostly commerical Yonge and Dundas intersection about a 12-15 minute walk south of here. Once TIC opened, the many Muslims who live in this more residential area around Yonge south of Bloor Street have found it much more convenient. They advertise their location as being closer to the cachet of Yonge and Bloor, but really, TIC is a few shop doors immediately north of Wellesley Street.
As an ever increasing number of condos go up around downtown, it's likely a few more TIC-like masjids will pop up to serve the growing numbers of Muslims living downtown.
This masjid however, was begun with dawah as its essence. Dawah may mean invitation or clarification of Islam for those who don't know. With knowledge comes understanding, or hopefully at the very least, tolerance.
Unlike other half-hearted efforts at maintaining a Library, The Toronto Islamic Centre does indeed have a true Islamic Reference Library. It takes up the entire south wall, and even passes my litmus test of having volumes on Islamic Banking and interest-free Islamic Finance.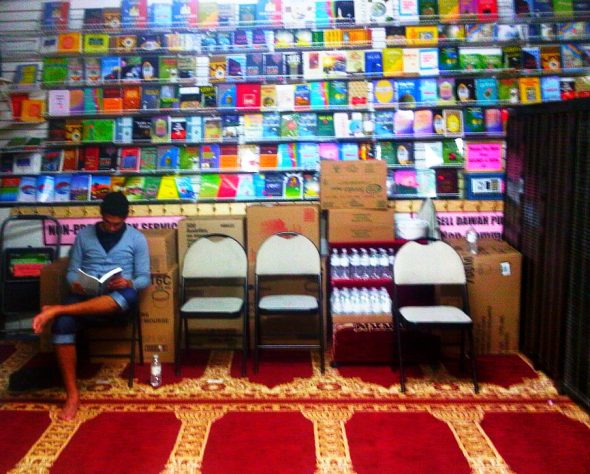 The entire west wall, the back wall of the masjid, has row upon row of Islamic books for sale at cost. What might sell up the street in the big box Indigo bookstore for 15 or 20 bucks, you can pick up here for three to five bucks. The wall of books extends into the sister's area. Many of them for sale are children's books, which is a good thing. Growing up, it was a rare treat to discover an Islamic children's book, actually any Islamic book in Toronto. It's totally different nowadays.
One of the numerous french speaking African brothers had earlier shared some tea with me, but I still craved caffeine. As did pretty much everyone.
Being a slow eater tonight, almost the entire congregation had left for a coffee run. Still a half hour til Isha. It was my turn to join them.

In-between Isha prayers and the start of Tarawih, one of the volunteers spoke. I expected the usual fundraising pitch that almost every masjid does this time of year. Instead, the brother held up a giftwrapped box, and suggested as many non-Muslims are aware it's Ramadan time, it might be appropriate to give them a gift. In it are DVDs, a translation of the Qur'an, and basic information about Islam.
Still waiting for the other fundraising shoe to drop. It never did. We began Tarawih.
Totally the opposite Tarawih experience from last night. The recitation was so sweet to the ear, it was easy to lose track of time. Only when a few people began leaving did I look up and realize it was 11:45 p.m. and we had only done eight rakats.
I was looking forward to another 12 rakats of that beautiful rhythmic Qur'an recitation. Wasn't tired at all. I've found a good recitation will somehow charge you up, energize you. Tonight was one such instance.
It was actually disappointing they only did eight rakats. It's been a while since I felt that way.
After Witr prayers, I ended up enjoying the conversation I was yearning for during Iftar. About a dozen of us hung around for an hour. I learned the masjid is pretty much open 24/7 for the month of Ramadan. Nothing is scheduled overnight until the last ten days of the month.
And they have open (free) WiFi. Too many masjids have closed WiFi and I end up working elsewhere. Good to know I can come here and work.
Almost everyone's left now and I should head home. Because it was raining I had worn a jacket. In my left pocket, two world traveling pocketgnomes were with me.
Chico Mouse and A Girl Name Leroy. They're usually with me when I travel around the globe. They've even been to Makkah and Madinah. Tonight, they're marvelling at the softness of the carpet. Being a new masjid, the carpet still has that new fluffy feeling. Amazing considering every spot in this prayer hall has already been prayed upon thousands of times.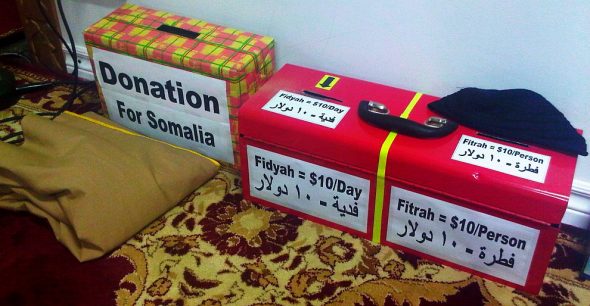 The famine in Somalia is on people's minds as we have an abundance of food here in Toronto. We have so much, and take so much for granted. Right now, there are people who have no food to break their fast. If they even have the will to fast. That's part of the point in fasting, to feel as those who have no choice as they have no food are feeling.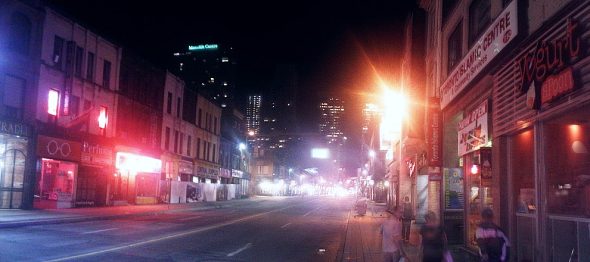 Last year, I was occupied with the municipal election, and didn't really to get to know this masjid, even though I broke my fast here a number of times.
I was always curious how masjid regulars felt about having a masjid right beside a sex shop?
During the hour long group conversation, one of the sheikhs answered my comment this way, "This is Toronto, if anyone has a problem with that, they don't belong here."
In the Blansdowne neighbourhood, the Bloor Lansdowne Christian Fellowship shares a wall with the Paradise Strip Club.
Yeah.
This is Toronto.
Having a masjid in-between a tattoo parlour and an adult sex store ain't that strange at all. It's exactly where it needs to be.