I cherish the times spent within the masjid my family and I go to.
Masjid Qurtabah is our mosque of choice. Therefore I was naturally jubilant when it was reviewed as one of the 30 masjids by Himy Syed.
The jubilation soon faded as I noticed that the key features of Masjid Qurtabah were overlooked.
Ramadan is a special time. It gives us all a chance to bond and reinforce our relationship with Allah (God).  During Ramadan, I find that my bonding with the Muslim community gets stronger.
Weekend Iftars give us an opportunity to gather around a greater purpose.   Sharing in feelings of hunger, thirst and increased consciousness of Allah, there is a clear sense of kinship we all feel.
It is a comfortingly familiar scene with the aunties dishing out Salams with immense fervour, the uncles discussing the iftar menu and the young ones chasing each other between prayer rows.
Masjid Qurtabah feels like my own for various reasons. The main one being that I share a very warm relationship with the people.
The Ramadan gatherings give us a chance to catch up on a year's worth of news, share laughs and food.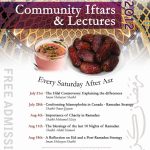 There is a pre iftar lecture every Saturday and it deals with a topic essential for one's growth in terms of Islam and Ramadan.
Masjid Qurtabah comes under the umbrella of a not for profit organisation called North American Muslim Foundation.
It is a pioneer in initiating community empowerment programs such as the seniors program, Orphan Sponsorship Program, a Food Bank, relief aid work around the world and from what I have heard through the pipelines, they are revamping and reintroducing a matrimonial service called Muslim Mates.
Today's lecture was on The Blessings of the Last 10 Days of Ramadan by Sheikh Abdul Hameed.
It helped me reflect on how far along we have come and the amount of effort we need to put into our worship and not limit it to the "30 days".
Due to the number of attendees, all iftars are kept within the banquet hall area attached to the masjid.
Iftar consisted of fresh samosas, dates and the desi iftar staple – Rooh Afza.
Post Maghrib salah the dinner was served.
The quantity was generous and allowed for seconds.
Tarawih followed dinner.
There are 20 rakahs performed for Tarawih and while it may seem like a minor detail, they keep water bottles available for all attendees.
As we strive to become better people each day, the same holds true for this mosque.
It will continue to develop and grow with its congregation.
Masjid Qurtabah is a hidden gem within the Scarborough area.
I see only great things ahead for Masjid Qurtabah and look forward to growing together with my beloved mosque.