Next stop, North Bay.
With so few buses running regular schedules through North Bay, Ontario, staying any longer than the few hours in-between Greyhound's two daily east-west trips, meant putting in two full days here.
This would be the shortest 30Masjids stop this Ramadan.

Arriving at the Ontario Northlands Terminal was wonderful. It's open 24 hours. There is free Wi-Fi. It's clean. Bright. The vending machines do not require taking out a second mortgage for coffee and snacks. MashAllah.
Ontario Northlands bus Terminal 'feels' like an airport. Excellent facility. I'm now en foot to North Bay Masjid. #30Days #RamadanReflection

— HiMY SYeD (@HiMYSYeD) July 29, 2013
@HiMYSYeD I love that terminal. Great local art on the upper walls. #northbay

— Stephanie Butler (@writingquirky) July 29, 2013
Reached North Bay Mosque. 1 of only 6 Masjids in Northern #Ontario! #RamadanReflection #30Days http://t.co/eGHTpyqB53

— HiMY SYeD (@HiMYSYeD) July 29, 2013
I walked quick enough from the Ontario Northlands Bus Terminal to actually make it on time for Dhuhr, the afternoon prayer time.
It was closed.
The North Bay Masjid is located in a residential area not too far from Downtown at 423 McPhail Street.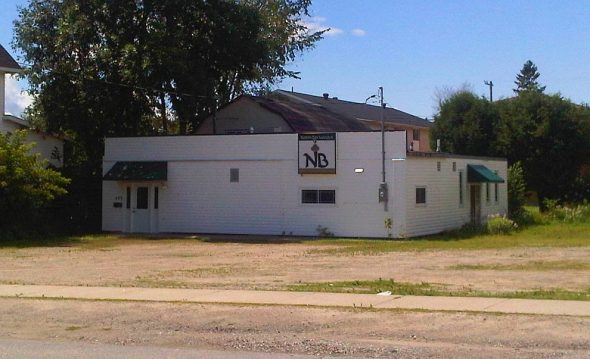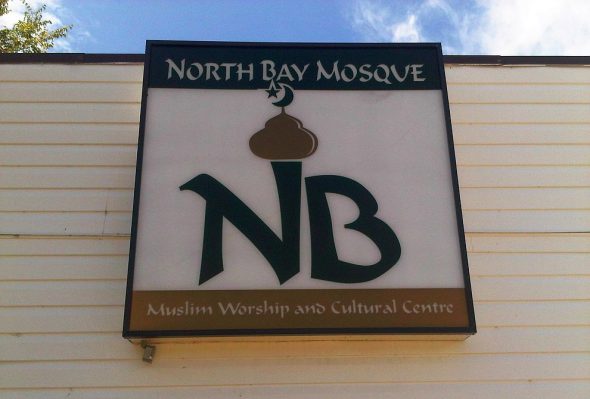 There have been Muslims in North Bay for at least 40 years, but it wasn't until recently that there have even been 40 Muslim families in Town. But 40 was enough to make this masjid, one of only perhaps 6 in Northern Ontario, a reality.
It was opened in October 26 2008.
Here's what then Mayor and now MPP, Vic Fedeli, said at the opening,
It is indeed a great honour, and a great privilege to stand with you today to open the doors to our community's first Mosque.

This is new ground for our community. I'm sure it makes people as curious as when the first Italian Catholic Church opened up on Douglas Street, or the first Synagogue opened up here 50 years ago.

But like other places of worship, Mosques exist for communal prayer. Inevitably, it will become a centre of community life; a place where people can come together and share ideas, aspirations, and feelings. I have seen the energy and vitality of this congregation over the years, whether at World Religion Day or the Eid dinner, and what a wonderful community it is.

I was born and raised in this city, and I went to a Catholic school. I thought I knew it all until I went to my wife's Church for a wedding. I was probably 35 years old at the time. I looked around and said to my wife, "Where are the confessionals?" She fell apart laughing. Later, she explained to me that Catholics are they only faith that receive absolution; her team has to live with their sins. Then she said, "I thought you told me you studied world religion." Then it dawned on me … to the priests that taught me for 5 years, world religion meant studying Catholicism in China, Catholicism in South Africa, Catholicism in the Middle East, and so on!

So here we are at the opening of our community's Mosque. But we're not just opening doors today … we're opening minds. I am looking forward to learning from our friends; for an insight into how Muslims live in this country, what their day-to-day lives entail, and what kind of practices they have. We all want to know these things, because knowledge is the key to understanding. And understanding is the key to peace.

Please let me finish by congratulating everyone involved for all that you are doing. This is a great leap of faith, a faith that we are all looking forward to learning more about. And I shall continue to take the closest personal interest in this exciting step.

May your God bless you.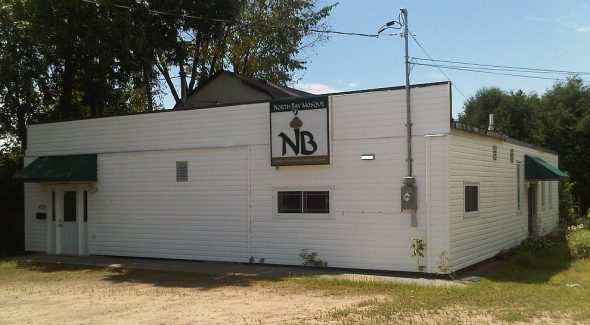 The building was a former welding shop. It took one full year of renovations to turn it into a masjid.
The story is not much different the Toronto's First Masjid. Muslims would meet and pray and share holiday meals in each others' houses until they outgrew that and truly need a fixed prayer space.
This is the Sons of Jacob Synagogue. North Bay's Only Synagogue.
In 2007, a burst water pipe caused $150,000.00 worth of damage. The local Anglican and Catholic communities donated money towards the repairs.
North Bay's Muslims invited their cousins in faith to conduct Jewish Religious services inside the new Masjid until the repairs were done. The Entire North Bay religious community pulled together to help one of their own. Muslims included.
If some Muslims have a hard time getting through the days of Ramadan surrounded by people eating, one can only imagine the temptation towards eating treif by members of North Bay's Jewish Community with this fish joint next door to the Synagogue.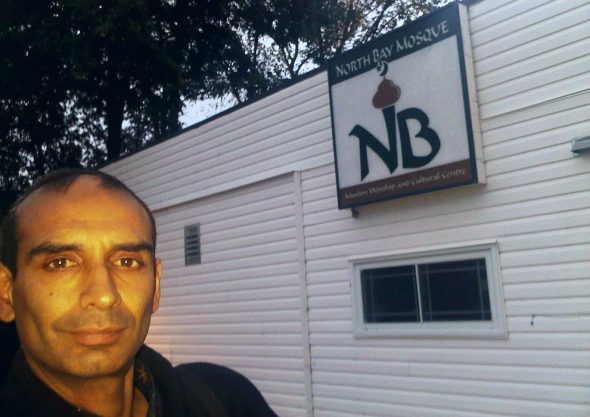 I walked around town for a bit. It's very different than the one Industry town of Sudbury. Local Muslims apparently only pray Jumah here on Fridays. It's closed the rest of the time.
As Sunset arrived according to local time, I broke my fast with some of the dates I bought at City Meat Market in The Soo. I stood in the parking lot. A neighbour to the Masjid walking by informed me she only ever sees people here on Fridays and sometimes on weekends.
For now then, this is not a commuter masjid. It is not open for any of the five daily prayers.
I hit up Tim Hortons a couple of blocks away for Iftar.
I swing by one last time just in case there might be someone here for Isha or Taraweeh.
There isn't.
Returned to the Ontario Northlands Terminal with plenty of time to make the bus to Ottawa.