For our interview, SooToday Reporter and Photojournalist Ken Armstrong drives us from the Islamic Association of Sault Ste Marie on the outskirts of town where we met, to Tandoori Gardan on Queen Street East in Downtown.
Tandoori Gardan is Sault Ste Marie's First and Only Halal Food Restaurant.
It's directly across the street from Smokey's BBQ Pit & Patio. A rib joint.

Sarah, the wait staff on shift, visits our table and fills our glasses with water. She brings menus.
And that menu is impressive. I am fasting, and decide to STOP looking at all the choices.
How long til sunset again?
I ask to meet the owner, Khurshid Khan. He's out on an errand but will return shortly.
Ken turns on the voice recorder and we begin our interview for SooToday.
As we wind down, Khurshid arrives, introduces himself.
It's now my turn to ask questions and be the reporter…
This restaurant only opened 20 days ago!
Khurshid Khan and his wife were the chefs at the Husky North, a truck stop with restaurant and a convenience store on Great Northern Road. The truck stop owners were originally from India and wanted Indian Food on the menu.
Khan was invited by the Husky North owners to move to Sault Ste Marie and help create a menu. A slower pace of life compared to Toronto also helped seal the deal to move north. That was 2010.
He quickly built a loyal following of local people who enjoyed good Indian Food.
From the sounds of it, when Husky suddenly closed down in early June, just last month, a number of his customers were in shock. Where would they get their regular fix of Indian Food now?
A couple of those customers materially encouraged him to start his own restaurant. The owners of the 663 Queen Street East Building where his restaurant is now, also encouraged him to open as soon as possible.
Amazing when you think about it for a moment. Less than two months ago, he was a chef in a Truck Stop, today he has his own restaurant, serving up the same menu to the same customers.
One thing Khurshid had wanted to do but couldn't before, was serve Halal Food.
Or at least have the option for those that want it.
His faith is a personal matter. He tells me he's known about the Musallah out on MacDonald Avenue, but he has never visited nor prayed there. He prays at home.
But Food is another matter altogether.
It bothered him there were few to no Halal food choices in Sault Ste Marie. Until very recently, the best local Muslims could do were pre-packaged maple Lodge Halal hot dogs and chicken slices found on a few grocery shelves.
Now that he had his own restaurant, he finally had the freedom to do change that.
From his experience he knew maybe 10 percent of people might ask for Halal items on his menu, and of that, maybe only two percent are hard-core Halal or nothing kinds of customers.
Halal meat from his suppliers would cost him more than regular meat.
Nevertheless, he committed to having those items on his menu.
But it wasn't exactly easy, and still isn't.
The logistics of getting Halal meat from the Toronto area delivered in small quantities to a new restaurant in a city in Northern Ontario on a daily basis is challenging.
The first 12 days of Ramadan, his supplier was reliable and delivered Halal beef, chicken, and lamb daily.
But his supplier slowed down the deliveries and began making excuses.
For a day here and there in the past week, he's had no Halal meat delivered at all.
His frustration is palpable. There are just not that many Muslims in this town, yet he has committed to meeting their needs, especially during Ramadan.
He tells me most of his Muslim customers show up around 8 p.m. to order take-out. Many are International students living in the Residence building a few doors down. Tandoori Gardan has become the go-to choice for their Iftar Dinners.
Khurshid has to source new local halal meat suppliers. And Quickly.
He's found some possibilities, one of those is the local butcher down the street. I decide to visit.
Walking into City Meat Market, has a slight Honest Ed's grocery section feel to it.
The placing of the Maple Lodge Halal hot dogs, chicken strips and slices in the quantities shelved suggests he may have a lot of regular Muslim customers.
His prices aren't that off the mark when compared to the same food being sold in non-Muslim-owned stores back in Toronto.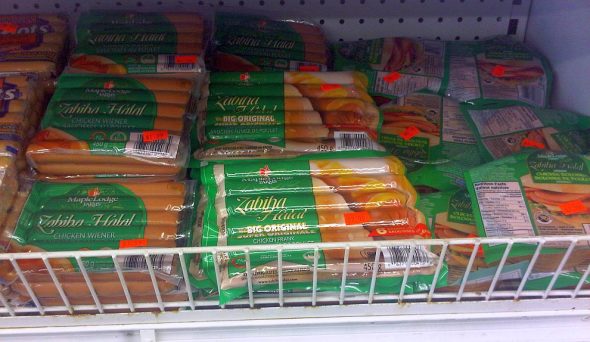 Balogna is one thing. Fresh Halal Chicken and Lamb is the game-changer.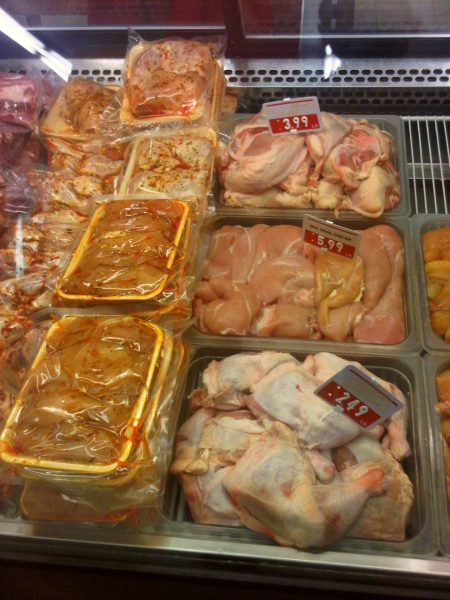 The Butcher, John Bruni, tells me he has a lot of Muslim customers.
When I ask him how many? He says thousands!
Ever the optimist, I would like to take him at his word, but Sault Ste Maire ain't that big, and I know better.
I share with him about blogging the story on Tandoori Gardan, and John's face lights up even more than it was before.
He's very happy he might be able to help the restaurant keep halal on the menu. Because he orders Halal meat from the same supplier in larger quantities for retail customers, he feels he can safely guarantee to Khurshid a daily supply of Halal Lamb, Beef and Chicken. But nothing's quite final yet.
John begins to share a bit of the history of City Meat Market.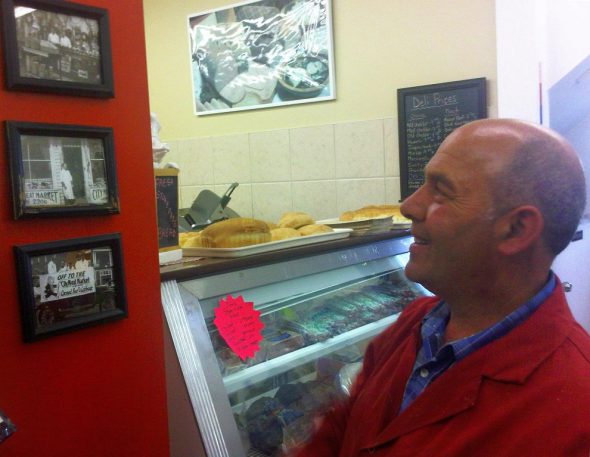 Honest Ed's in Toronto has walls filled with photographs of people and memories long gone.
John Bruni shows me three photographs from 1910 or so. The year this Butcher Shop was founded.
It has had three locations around this intersection. John incidentally is the third owner of the business.
John points out to me in this photograph, a century ago phone numbers in Sault Ste Marie were only four digits: "City Meat Market Phone 2200".
I'm not in the market for meat today, but I do need some dates. Not expecting City Meat Market to carry them, but John surprises me and points out that he does. Great! Sold.
I can be his customer today.
Crossing Queen Street and looking back, I see a Ghost Ad on the brick wall with the name of City Meat Market's previous iteration, Hussey Fournier Meat Co. Ltd. at the previous location a few doors over.
There's plenty of time until 8 p.m. when I intend to return to Tandoori Gardan for my Iftar Dinner take-out. Time enough to explore this downtown area on foot.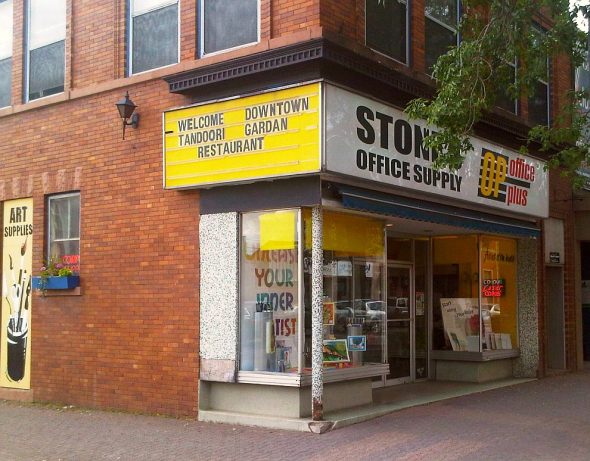 One can easily spot this welcome message from a block or more away. It's on Queen Street East.
Welcome Downtown

Tandoori Gardan

Restaurant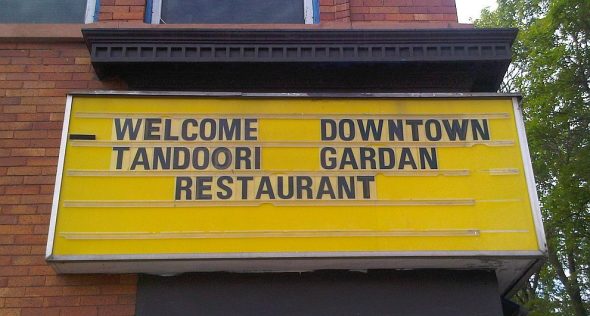 These few words certainly add to my perception of that small town feeling with everyone supporting one another in Sault Ste Marie.
Akin to how John Bruni sincerely wants to help Khurshid's new restaurant succeed when it comes to Keeping Halal items on the menu.
Ken had earlier informed me CTV had shut down their Sault Ste Marie television station and news broadcasts. A few reporters remain in town, but their reporting now reduced to a few minutes, if that, broadcast nightly on CTV from their station in Sudbury.
The CTV building, like that Meat Market ghost ad are still here.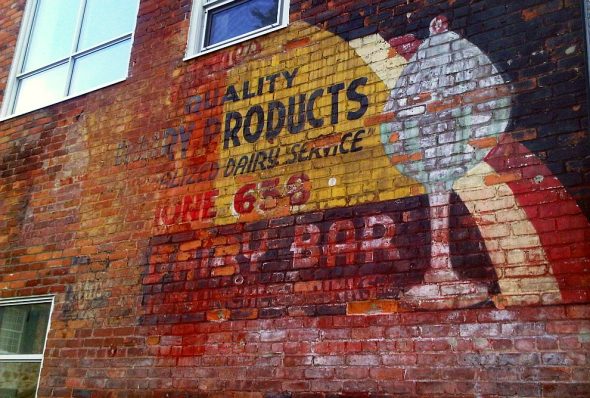 I begin heading back to Tandoori Garden. I spot another Ghost Ad. This time with a three digit phone number, "638".
Reflecting on how slowly things change in Sault Ste Marie, Tandoori Gardan may also be here, serving up Halal Indian and Canadian Food a century from now.
I wonder how many digits phone numbers will have by then?