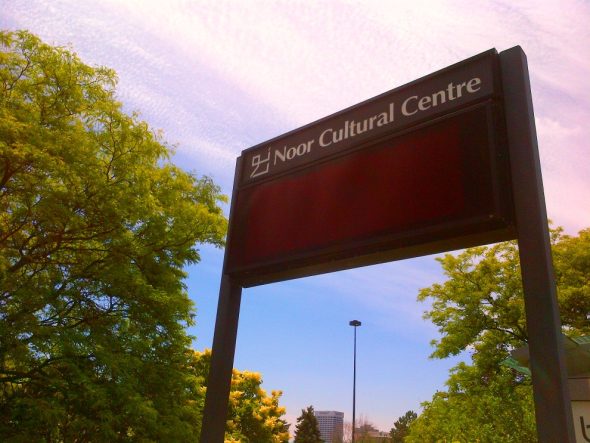 The first Jumah of Ramadan is often packed with people no matter where you go to pray on this First Friday of the Holy Month.
A fresh enthusiasm among some who may usually skip Friday Prayers during the rest of the year finds them in prayer halls once again.
Partly to skip the crowds at my usual downtown Toronto Friday Prayer locations but mostly because it's walking distance from my current home, I opted to attend Jumah in the Noor Cultural Centre in Don Mills.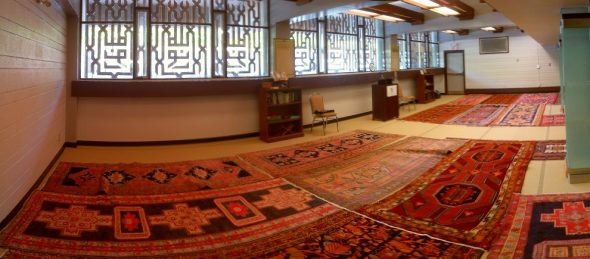 Noor Cultural Centre isn't a regular masjid in the sense that it only hosts the weekly Jumah prayers. The usual start time is 1:30 p.m.
Unless there is a special event happening upstairs in the auditorium, none of the other five daily prayers are scheduled here.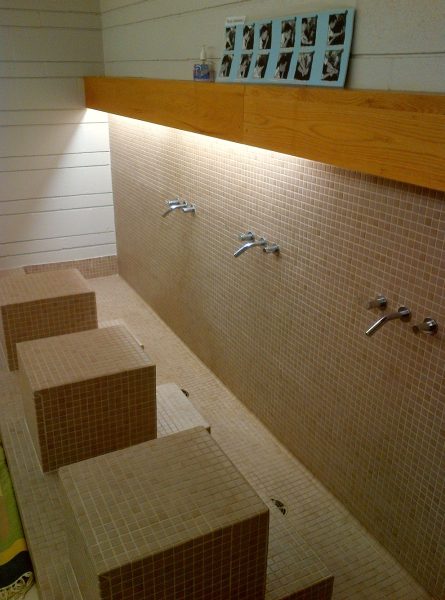 In brother's Wudu area, this How-to-do-Wudu card immediately caught my eye.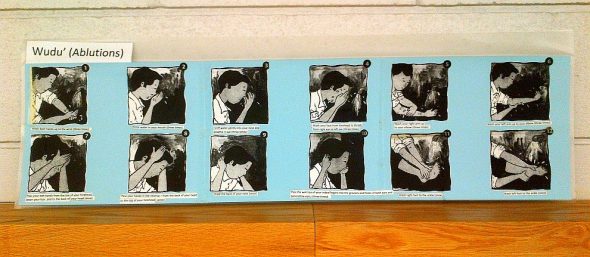 Noor is a place where newer or returning Muslims may find their way to. Consequently, people may sometimes be shy to ask how to properly wash and prepare for prayers. Hence this instruction card.
I arrived early enough to have my choice of spot in the first row.
While waiting for the Jumah Khutbah / Friday Sermon to start, the Islamic Calligraphy in the Prayer Hall Window Panes had me puzzled.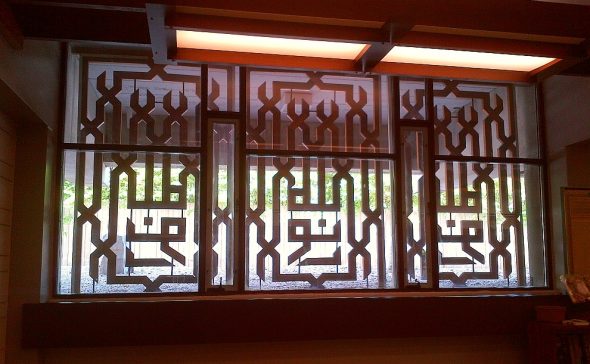 I couldn't exactly make out what the Arabic words were immediately.
Took several moments until I could see "Noor" spelled out with "Allah" above it. However it was only the centre panel that was readable from my vantage point.
The remaining two panels were the exact same wood design, only turned 180 degrees. If one were standing outside looking in, only then could one read it properly.
The Jumah Qhutbah was only 20 minutes long. As one would expect, the opening of the Sermon gave an overview of Ramadan with encouragement in how to make the most of it.
The second part of the Qhutbah highlighted the responsibility of Muslim Canadians to engage with the Truth and Reconciliation Commission.
Being from Guyana, the Imam relayed his experience.
It happened that when the British brought over Indentured Servants from India into the Caribbean, they were informed that the aboriginal population were "Savages". It was in meeting and speaking directly with Guyana's Indigenous population did the Imam's ancestors realize the truth.
The Imam reminded us, if we did not know already, how for seven generations, Aboriginal children were kidnapped from their parents and placed with strangers who may have abused them while claiming to raise them.
He also mentioned Noor had once invited an Aboriginal Leader to address the congregation before the formal Jumah Khutbah began. That's certainly something other congregations should be inspired by and perhaps do as well.
To my knowledge, Noor Cultural Centre is the only Jumah Prayer in Toronto where Men and Women pray side by side. There is empty carpet-free aisle of about a meter wide in-between the sisters and the brothers.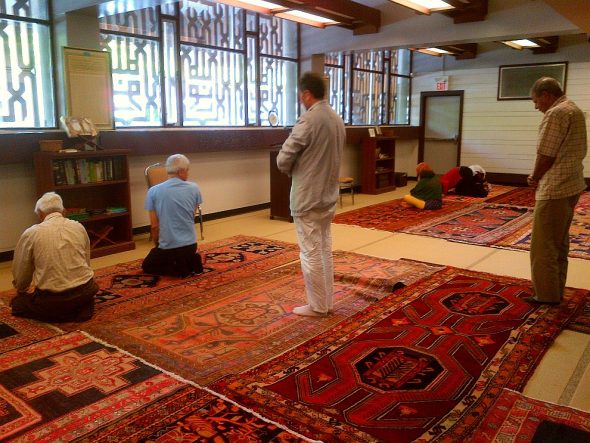 It's not really that big a deal. The novelty wears off pretty quick.
Indonesia is currently the Largest Muslim Populated Country in the World. Their biggest city Jakarta hosts the Country's largest prayer hall. There, men and women pray side by side.
Here is what it looks like inside Masjid Istiqlal…
( Istiqlal is an Arabic word meaning Independence )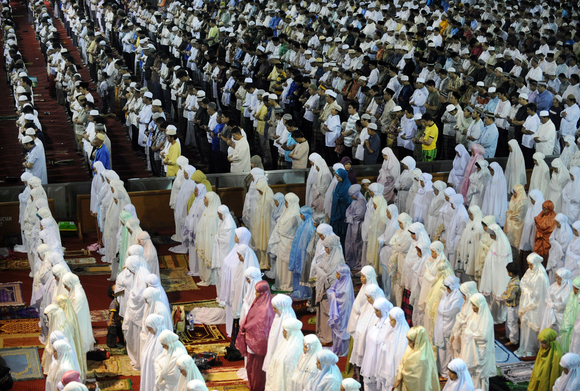 Ramadan means most Islamic Organizations have special programming, Noor is no different.
So far, here's what's happening at Noor Cultural Centre.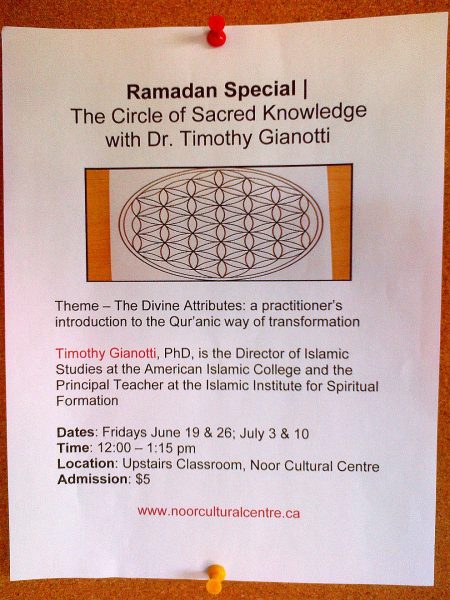 Circle of Sacred Knowledge with Timothy Gianotti, PhD

For the four Fridays in Ramadan, Dr. Timothy Gianotti will lead this workshop prior to 1:30 pm Jummah prayers.

Theme – The Divine Attributes: a practitioner's introduction to the Qur'anic way of transformation.

Timothy Gianotti, PhD, is the Director of Islamic Studies at the American Islamic College and the Principal Teacher at the Islamic Institute for Spiritual Formation.

Dates: Fridays June 19 & 26; July 3 & 10
Time: 12:00 – 1:15 pm
Location: Upstairs Classroom, Noor Cultural Centre
Cost: $5.00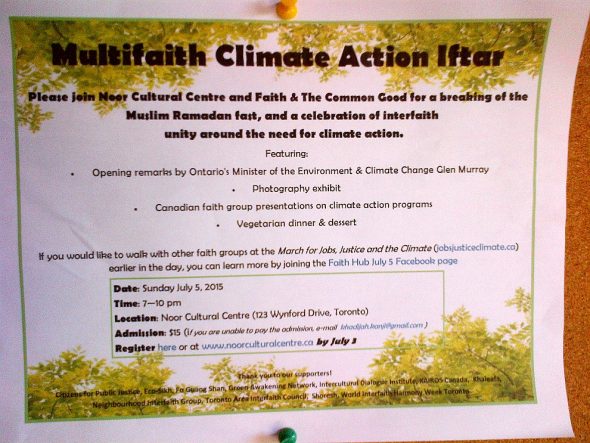 Multifaith Climate Action Iftar

Please join Faith & The Common Good and Noor Cultural Centre for a breaking of the Muslim Ramadan fast, and a celebration of interfaith unity around the need for climate action.

Featuring:

Opening remarks by Minister of the Environment & Climate Change, the Hon. Glen Murray
Photography exhibit
Canadian faith group presentations on climate action programs
Find out ways you can contribute towards the fight against climate change
Vegetarian dinner & dessert

Date: Sunday July 5, 2015
Time: 7 – 10 pm
Location: Auditorium, Noor Cultural Centre
Tickets: General – $15; Children (7 and under) – $5
Click here to register (deadline: Friday July 3, 5 pm)