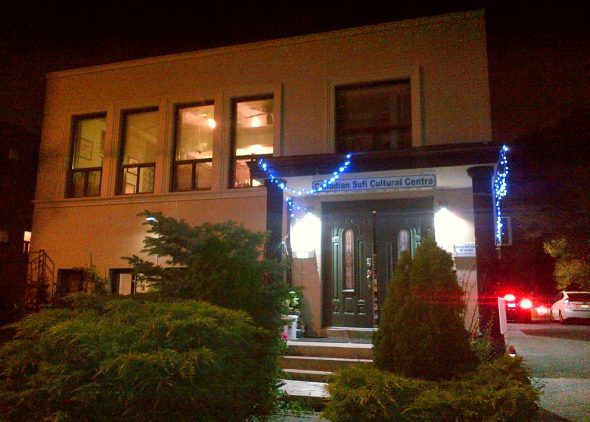 On this first night of Ramadan 2015, I had broken Fast and prayed Salat al Maghrib inside the Bosnian Islamic Centre.
BIC had Iftar Plates but not Iftar Dinner Plates. For that, I made the short walk down Birmingham Street from BIC at No. 75 to the Canadian Sufi Cultural Centre at No. 270.
Having attended recent pre-Ramadan Saturday Evenings at the Centre, I learned that just for this one Thursday, they would providing Iftar to welcome the first night of Ramadan.
I arrived after they had performed Maghrib and joined an intimate gathering of perhaps a dozen and a half people already at the dinner table.
As usual, the food was very tasty, in the way that only Delicious Turkish Food can be.
The Dhikr of thankfulness, a collective chanting of verses of gratefulness from the Qur'an, mid-meal is always a part of the experience here. It's something to look forward to and something I find missing now and then when I break my fast elsewhere.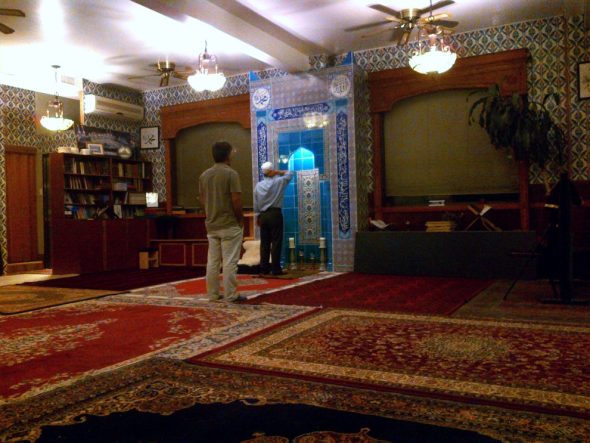 The Jerrahis, The Sufi Order which makes up the Canadian Sufi Cultural Centre, will be hosting Public Community Iftars every Friday and Saturday Evening.
#Ramadan iftaar, namaz & teraveeh at our centre every Fri & Sat nt. All are always welcome! 270Birmingham St #Toronto pic.twitter.com/oNwktuSUyP

— Jerrahi Sufi Canada (@JerrahiCanada) June 20, 2015
Isha and Tarawih will follow beginning at 10:40 p.m.
Tarawih is done Ottoman Style with a mix of 2 and 4 Rakats until the Iman leading the prayers reaches 20.
You should arrive on Friday around 8:30 p.m.
If you intend to join their Saturday program, arrive before 7:30 p.m. to benefit from the full experience.
But what if, for some reason or another, you just can't make it out to South Etobicoke to see the Whirling Dervishes this Ramadan?
Well then, here's a sample recorded during Doors Open Toronto last month…
Each evening ends around Midnight with sweets, Turkish tea, plus slices of fruit. And then the trip home.