It's something past 3 a.m. but before the dawn deadline when we must stop eating and drinking.
My ride, the Greyhound bus, has made a 15 minute rest stop at a Tim Horton's near Parry Sound, Ontario.
Perfect time to pick up a Timmie's. It will be my sahoor for this day of fasting and travel from Toronto to Sault Ste Marie via Sudbury in Northern Ontario.
The plan is to reach the Islamic Association of Sault Ste Marie with plenty of time to make Dhuhr, Afternoon, Prayers. …that's IF the masjid or musallah is even open at that time. We'll see.
You KNOW you're no longer in Southern Ontario, when roadside signs start saying, "We Buy USED GUNS".
Sudbury is the main Greyhound Bus Transit point in this part of Northern Ontario. There is often an hour or so layover while the buses get a once over and are cleaned and refueled.
We pass by numerous distance remaining signs during the four hours on board the bus. I kept missing the moment to snap a photograph until we were just an hour or so outside of The Soo.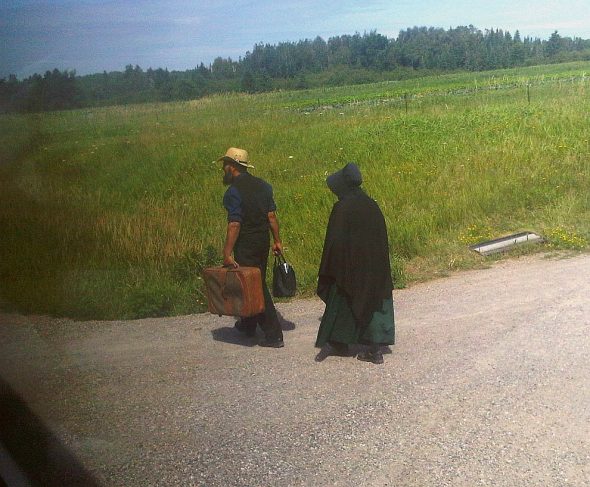 In Canada, Muslim Men are not the only ones who sport long beards nor are Muslim Women the only ones who cover their hair when in public.
This Mennonite couple boarded the bus outside of The Soo. They ended up sitting diagonally across the aisle from me.
For the remainder of the trip, as most everyone else was absorbed in their handhelds, tablets, and smartphones, the Mennonite lady was in her own world opening and reading several handwritten letters.
This stretch of Highway 17B, the Trans-Canada Highway, passes through First Nations' territory.
The Greyhound Station in Sault Ste Marie is located in the Howard Johnson hotel on the East Side of town. We have arrived ahead of time. I quickly check the schedule.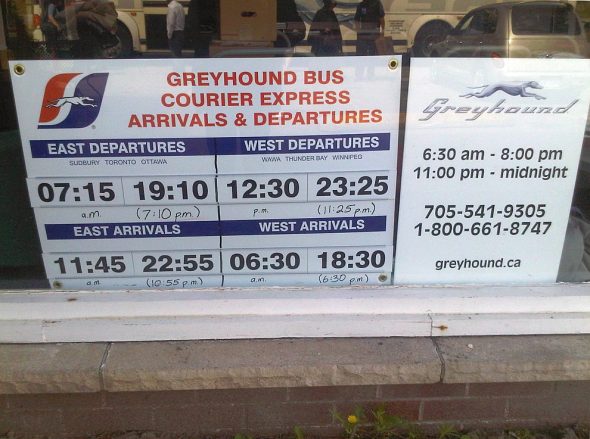 677 MacDonald Avenue is a little bit more than one kilometer away from the Greyhound station at HoJo's. In this one instance, I will not complain about this Transit Station being on the outskirts of town. It's in walking distance to the Islamic Association of Sault Ste Marie's Masjid.
I had to walk almost completely around the industrial block before spotting the unit in which the IASSM is located.
It's closed. As Dhuhr time came and went, no one came.
Peeking through the front windows, I see messages stating this Musallah is open daily for early morning dawn prayers and again nightly from shortly before sunset til approximately midnight, when Nightly Taraweeh prayers are performed and completed.
Dhuhr and Asr prayers are not performed here.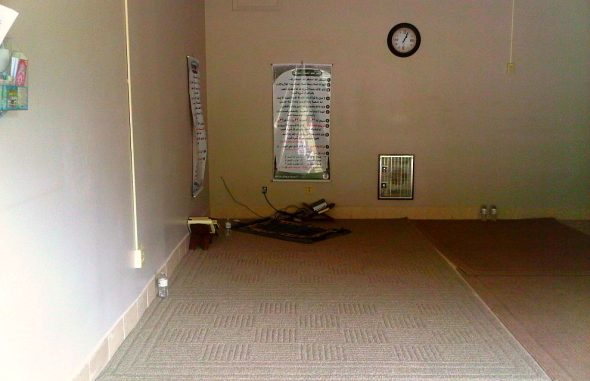 In the bigger centres of the Province of Ontario, Masjids are open for all five daily prayers.
But we're far away from that here. This musallah is open for Fajr and Maghrib and then Isha, and of course it's open for Jumah prayers on Friday Afternoon.
During the trip up, about the time I was drinking that Tim Horton's coffee in Parry Sound, I received an email from Ken Armstrong about possibly interviewing me for a short news item about 30 Masjids in 30 Days for SooToday.com
I asked Ken to meet me in front of the Islamic Association of Sault Ste Marie for 2:45 p.m.
He's on time.
He needs a photograph of me to accompany his story. I suggest me standing in front of the IASSM perhaps directly underneath the banner.
Ken has a better idea. But first asks me if I want to see anything in Sault Ste Marie before we drive to his better idea for a photo shoot location. I mention Tandoori Garden, and Ken's face lights up.
It's a just opened Indian Cuisine restaurant on Queen Street in Downtown Sault Ste Marie.
It's also the First Ever Halal Food restaurant in this part of Ontario.
We hop into his car and begin heading downtown…