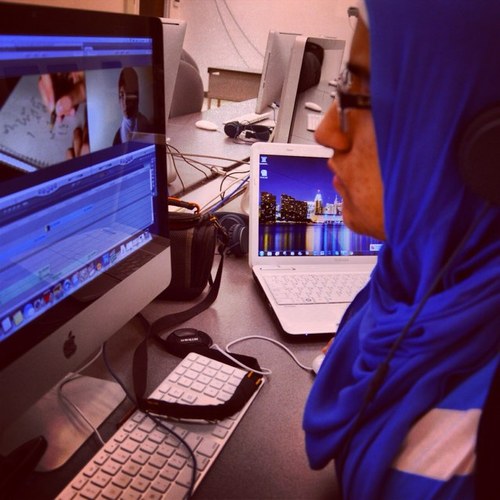 Earlier today, I received the following email from Sister Nuha Elalem (@NuhaElalem), who with Asil Moussa, made the film Muslims of Windsor.
Salam!

My name is Nuha Elalem and I just wanted to thank you for including our "Muslims of Windsor" film in your blog.

Asil and I worked very hard on it and when I heard you were interviewing her about it, I was very excited.

Hope all your future endeavors end in happiness and success, inshaAllah.

Best regards,

Nuha
I emailed Nuha a few follow-up questions. She was kind enough to share some thoughts on being a young female filmmaker…
What that process was like for you?
If anything, I want to share that this experience has been one of the most eye-opening experiences in my life.
You know how some people take up part-time jobs to get a real-life experience?
Or get an internship for the same reasons?
Well, the making of this documentary showed us that despite all the paradigms within our society, especially the Muslims society, that sometimes limit young creative minds…you can do anything if you keep your intentions pure and stand up for yourself.
What does the film mean to you now that it's done?
Speaking as someone who was always pressured to do something that wasn't "artistic", the making of this documentary showed Asil and me that we can and will (with God's will) pursue our dream jobs and achieve our goals.
And this is because we are so blessed to have so much support from our community, the Windsor Muslims community.
Despite the fact that we are just two amateur hijabi film makers who aren't even through with our university studies, we were able to accomplish something that people of our religion and culture and age do not usually accomplish, probably mainly because of society's pressure on youth like us to do something more "normal" and "safe".
It's an absolute blessing to be able to do any of what we can do – and to that, all I can do is praise Allah for it.
The full interview with Asil Moussa will be is posted separately and linked to from here.