Omar and Jenny are standing in Trinity-Bellwoods Farmers' Market.
It's Tuesday, Asr time. Time for their weekly grocery shopping trip. They are gathering organic ingredients for tonight's Iftar.
They've invited me to break fast with them and stay for Iftar Dinner.
It will be the first home cooked meal, and the first time during this 30 Masjids journey around town,  I won't be inside a Greater Toronto Area masjid for Maghrib.
Markets are close to both Omar and Jenny's hearts.
They met in one, Kensington Market, eight years ago.
Jenny knew Omar was Muslim. Everyone in Kensington Market does. For Omar, his faith is his identity.
Jenny admired his unapologetic nature for being who he was right off the bat. This was at a time when being Muslim in public had a question mark about it due to current events south of the border.
It wasn't Omar that brought Jenny to Islam. It was her neighbour.
Jenny's lives beside a Muslim woman. Jenny's heritage is Irish-English-Scottish-Blackfoot. Her neighbour is an African Woman from Burundi.
Her neighbour became a good friend and answered all her questions about Islam even teaching her how to pray.
And it was HOW Jenny prays that helped Omar fall in love with Jenny.
Here was this white Kensington Market chick who chooses Islam as her religion on her own then prays out loud, in English.
Not Arabic.
Omar, who hails from Eritrea and has made Toronto his home for more than twenty years, had never seen anyone pray like this.
And Jenny prays like this five times a day.
That sealed it for Omar. Courtship time was over.
Omar and Jenny did a halal hook-up and decided to kickstart a family.
Omar's huge extended family has embraced Jenny. Omar's mom is in town from overseas for the birth of her newest grandchild. She loves her newest daughter-in-law.
Jenny picks up a large organic coffee. Because of the pregnancy, she's not fasting this Ramadan.
Jenny is very pregnant.
The baby is due in a few days, InshAllah.
Omar and Jenny know it's a boy they're bringing into the world. They've already decided on a name.
Baby Luqman.
That's why I couldn't say no when they invited me for Iftar tonight.
With Baby Luqman on the way, perhaps in a few hours or a few days, this might be the only time they can have me over before the end of Ramadan.
Being Farners' Market regulars, Omar and Jenny have become friends with pretty much everyone.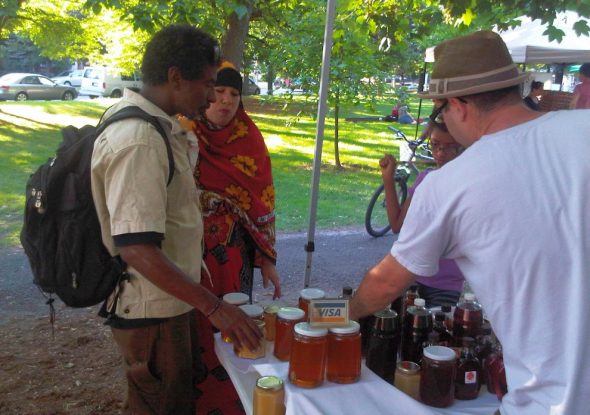 For Omar, it's less about haggling over price than it is a discussion about the quality of honey.
And yet, the quality of our city is also on Omar's mind.
If Farmers Feed Cities, then Farmers' Markets feed neighbourhoods.
Omar's neighbourhood market is under threat.

Trinity-Bellwoods Farmers' Market in this neighbourhood and the Toronto Farmers' Market Network city wide are organizing to prevent usurious market fees which may outprice these small family farmers from the urban communities they have become a part of.
Being a farmer is hard enough. Do they need additional pressure from The City?
An online petition addressed to Toronto Mayor Rob Ford makes their case.
This wasn't the first time however that Omar, a Community Organizer, finds himself on the opposite side with The City.
In 2009, he was injured due to The City's negligence.
Omar was out of commission for months and months into a new year.
He lost employment for more than a year as a result. The City has admitted fault.
Yet for two years running, City lawyers keep stringing him along, delaying his rightful settlement claim.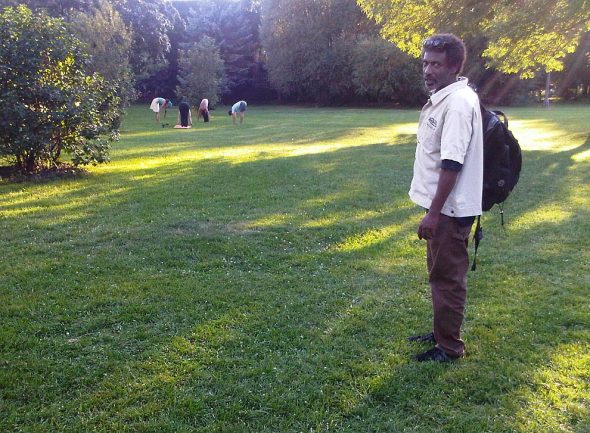 Omar and Jenny spot a friend doing yoga in the park.
Jenny shares her view that Muslim prayers done five times a day are yoga-like, with its similar benefits to body and mind.
Entering the apartment, Omar instinctively dials up Qur'an videos on Youtube and we begin listening.
Omar's bachelor pad has been in flux for the better part of a year.
He'd been transforming it getting it ready for the baby. The baby's room is almost ready.
Maghrib is approaching and Iftar too is also almost ready.
For the second time in as many nights, half an hour before sunset time, I am able to listen to Ezz E. Gad's Reflections on Islam Ramadan radio program.
Because Omar lives on the fourth floor looking south over Stanley Park and Fort York, the distant scratchy signal from CJRN AM 710 in Niagara Falls comes in much less scratchy today.
Adhan al Maghrib is broadcast according to Toronto local sunset time, signaling Omar and I to break fast.
Omar and Jenny both prepared and served Iftar Dinner.
This English-Irish-Scottish-Blackfoot-Eritrean kid of theirs will indeed be well looked after when it comes time for his breaking of the Ramadan Fast down the road.
During Iftar Dinner, I ask Jenny how she arrived at Islam and how Omar came into the picture.
Jenny explains she was struggling with a Question at the time.
Was God real? Or was God not real?
With Omar's help, Jenny no longer struggles finding the Answers.
---
Short URL: http://30Masjids.ca/omar-and-jenny