Earlier in May of this year, I was biking along Dundas Street West in The Junction Neighbourhood in West End Toronto.
It was Victoria Day, a holiday in Canada. Consequently many retail outlets were closed. Ones which remained open, stood out and were easily spotted, even from a distance.
One such address was 3047 Dundas Street West.
Site of Toronto's First Masjid — The Dundas Street Mosque.
It was the also the First Masjid we blogged about last year.
Unlike then, this year it's open.
It's in the process of being transformed into a wine-bar.
Yeah, I know. Irony.
Toronto's FIRST Masjid is set to become a Purveyor of Alcohol, which is of course, forbidden within Islam.
Look at it this way, with a fully renovated restaurant, everyone will be able to actually enter the building which was once the Dundas Street Mosque, and enjoy breaking bread — only doing so with Orange Juice rather than fermented Grape Juice and we're all good. 😉
3047 Dundas Street West was #Toronto's FIRST Masjid [ http://t.co/ovrANGje ]. #TOheritage #Ramadan http://t.co/w6MtmoEy
I mentioned the significance of this building to Sonia D'Agostino. She is Local City Councillor Sarah Doucette (@DoucetteWard13)'s Executive Assistant. I asked Sonia how to go about installing an official Heritage Toronto historic plaque near the address.
Sonia outlined how if we squeeze timelines and get every design work and approval necessary, it might, just might be possible to get a plaque installed in time for Ramadan 2013.
InshAllah and some fundraising and hard word to that!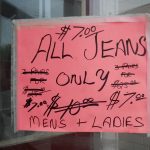 For the here and now though, I needed a new pair of pants.
On Thursday, the day before the first possible day of Ramadan, I again biked to The Junction.
Until restaurant renovations begin in earnest, the building is a deep discount outlet for jackets, jeans, and pants.
Five minutes and seven dollars later, I had my Ramadan Jeans.
Seven bucks. No tax.
Hard to beat that.
If this is how Ramadan begins this year, already feel it's going to be a good one!
---
Slideshow | INSIDE Toronto's First Masjid — Dundas Street Mosque
---