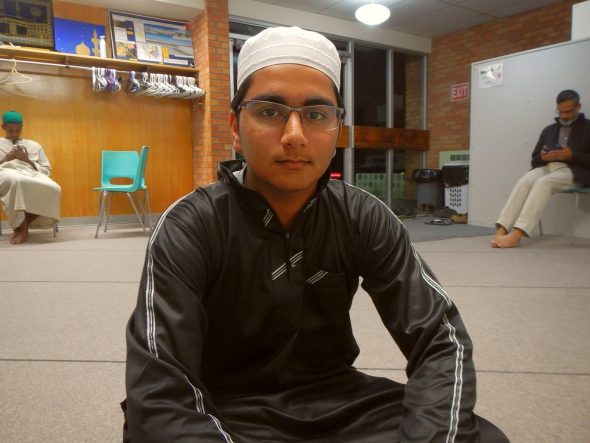 After Iftar and before Isha, I randomly sit down on the main floor of Islamic Association of Saskatchewan, Regina.
Nearby are a couple of young brothers. One of them is Labbaik.
Originally from Toronto, Labbaik has lived in Regina since he was nine. Today, he's 15.
Labbaik ended up in Regina, because his dad wanted to sponsor his uncle into Canada, and found it would be easier to do so from Saskatchewan, rather than from Toronto.
The familiy then moved from Ontario to Saskatchewan to take advantage of the generous Provincial sponsorship/nominee program at the time. It has since tightened up.
At 15, Labbaik has already memorized the entire Qur'an. Making him Hafiz of Qur'an.
I ask him about tonight's Taraweeh, and he tells me it's 20 rakats (units) of prayer, they don't stop at eight rakats.
This will be a first for me this entire Ramadan.
From my first Taraweeh in St. John's, Newfoundland back on Night 0, until Winnipeg, Taraweeh prayers have been Eight Rakats.
Rationale at each of my previous stops has been the late start times for Isha Prayer, anywhere from 10:30 p.m. to something past 11 p.m., coupled with the very early Fajr, Dawn, prayer times, at this time of year.
Last year Labbaik accidentally, as I put a word on the way he was explaining it, ended up leading Taraweeh a time or two during Ramadan 2015.
It's not that straightforward leading Taraweeh. One has to know how to pace the recitation for the ease of the people praying behind them, and when and where to break when it comes to reciting long chapters of the Qur'an.
Labbaik knows he needs to learn all those things too to be a successful Taraweeh Prayer Leader.
Memorizing the entire Qur'an is one thing. Leading Taraweeh is that plus a few more things.
This is his first year officially  leading Taraweeh.
Shortly, Labbaik will be leading us all in either 4 or maybe only 2 of tonight's 20 Rakats of Taraweeh prayer.
Asking if Labbaik remembers anything about Toronto, he does, but not too much, he was 9 after all.
From what he does remember, he feels Regina is better than Toronto from a Muslim Point of View.
He explains how he appreciates the Regina Huda Islamic School they have here, though he himself attends Public School.
When his Public School is out, and he can pray Friday Jumah Prayers at this Masjid, he sees people overflowing into the parking lot to pray at times. This even with "2" scheduled Jumah Prayers.
Every year the Muslim population in Regina is growing and growing, he states.
He tells me there may be 12,000 Muslim here today, up from 7,000 when his family arrived in Town.
He has to go get ready shortly for Salat al-Isha, The Night Prayer, soon, so our short conversation needs to wrap up. I ask him whether now that his uncle is Successfully Sponsored, if he wants to move back to Toronto?
He still feels Regina is better than Toronto for Muslim Canadians. He wants to stay in Regina.
Labbaik sums it all up by saying, "I want to finish High School."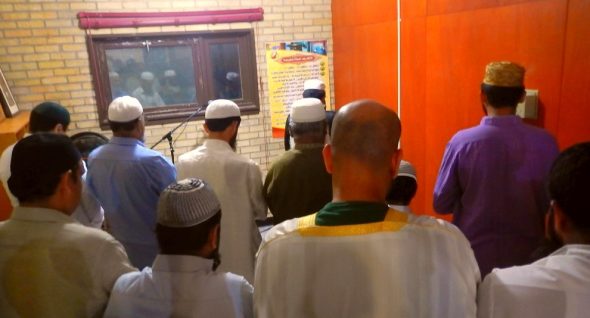 In this masjid they have Tag-Team-Taraweeh, where they give turns to different people to lead 2 or 4 rakats at a time.
When I mentioned Tag-Team-Taraweeh to Labbaik earlier in the evening, it was a term he had not heard before.
Similarly, tonight would be my first night of 20 Rakats of listening to Qur'an Recitation during Taraweeh Ramadan 2016.
Later on, I am praying Taraweeh and out in front, Labbaik, at age 15 is the prayer leader for these Rakats.
Tonight, Labbaik would lead Rakat numbers 15 and 16 out of the 20.