Day 11 of 30 Canadian Masjids in 30 Days is a Travel Day.
Began by boarding MaritimeBus in Saint John, New Brunswick after Fajr, Dawn Prayers, and arriving by Asr, Late Afternoon Prayer time, in Québec City/Sainte-Foy.
Originally Day 10 was Fredericton overnight from Iftar until Fajr.
Instead extended my stay in Saint John, NB, by one day upon learning of the new Musalah at 370 Somerset Street.
Giving a day here, taking a day there, all in keeping a flexible schedule of three days for and in each Canadian Province.
InshAllah.
First Ten Days of #Ramadan

Nfld
Nova Scotia
PEI
New Brunswickhttps://t.co/9tEmRrd2tR

Next?

Québec!#cdnmuslims pic.twitter.com/DgOgGmCFga

— HïMY SYeD (@30masjids) June 16, 2016
Quick 5 minute stop in #Florenceville #NB…

Town has a Covered Bridge!

&

Back on the Bus pic.twitter.com/BsBVWFNtxR

— HïMY SYeD (@30masjids) June 16, 2016
20 minutes in #Edmundston #NB…

Smokestack and a Dairy Queen.

That's it from "Downtown" pic.twitter.com/G9LpvoAati

— HïMY SYeD (@30masjids) June 16, 2016
Soon at #NewBrunswick / #Quebec Border.

In #QuebecCity tonight, InshAllah.

Any Recommendations where to do #Iftar ?

— HïMY SYeD (@30masjids) June 16, 2016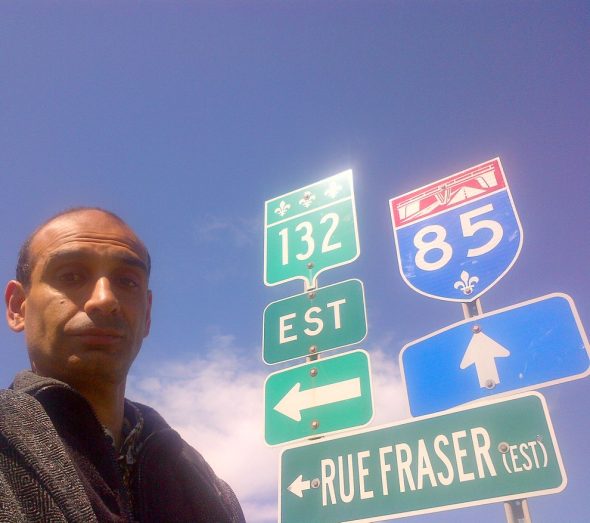 Crossed #NewBrunswick border into #Quebec

& jumped BACK in Time from Atlantic to Eastern Daylight Time

:-/#Iftar is now 1 MORE Hour away

— HïMY SYeD (@30masjids) June 16, 2016
Hopped off bus in Village of Ste-Foy, outside #QuebecCity.

Walking to Centre Culturel Islamique de Quebec for #Iftar

— HïMY SYeD (@30masjids) June 16, 2016
Earlier: Photog'd Daily Prayers according to #QuebecCity Local Time; Did #Iftar;…#TimHortons!|#ramadan #cdnmuslims pic.twitter.com/zmM42yhyJe

— HïMY SYeD (@30masjids) June 17, 2016
Night 12: 30 Canadian Masjids in 30 Days #Ramadan, has me in #QuebecCity (Ste-Foy) considering skipping #ThunderBay? https://t.co/E7qM0VLkjI

— HïMY SYeD (@30masjids) June 17, 2016