Masjid Toronto. At Adelaide. At 84 1/2 Adelaide Street East in fact.
This is Toronto's newest Masjid. It's been in the works for two years. This Ramadan all that planning, fundraising, and programming will bear fruit.
Masjid Toronto at Adelaide is located across the street from St James Park. The same park which became semi-famous for being the location of Occupy Toronto.
It is a few minute's stroll east of the Financial District. Thus it is very convenient for the countless number of Muslims who work in the Downtown Core.
In lieu of stained glass, this second downtown location managed by MAC, the Muslim Association of Canada, welcomes worshipers and greets guests with the same Decorative Privacy Film dreamed up by Apex Window Films found on Masjid Toronto's windows over on Dundas Street West.
I arrived a few minutes before the scheduled time for Isha prayers.
The number of worshipers on this first night of Ramadan 2013 were few. The Greater Toronto Area is experiencing a wicked storm and flooding on this night. Power is out for hundreds of thousands and commuters are still stranded on public transit at the same time as we are praying. The storm likely has kept people away tonight.
Perhaps three sisters at most are behind the newly crafted wooden barriers at the far end from me. Maybe 30 or so brothers line up beside me to pray.
The brand new beautifully carved wooden dividers are see through and on wheels(!).
These partitions are very easy to move, allowing for flexible space requirements by Sisters who elsewhere end up being stuck behind a fixed partition wall.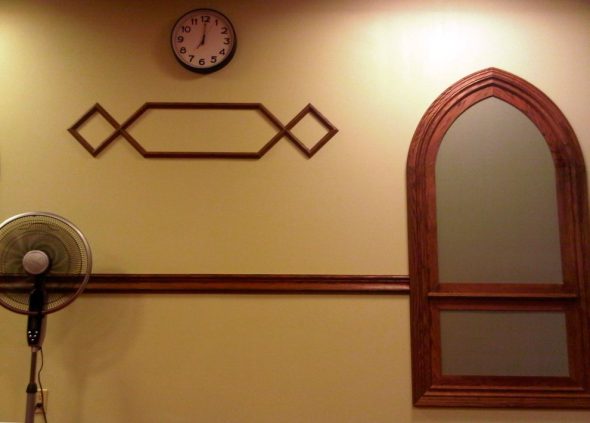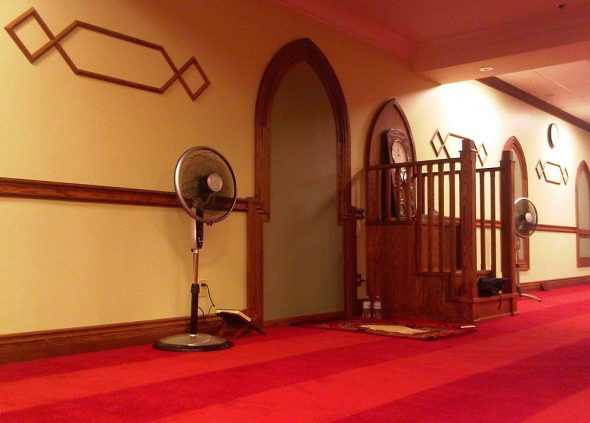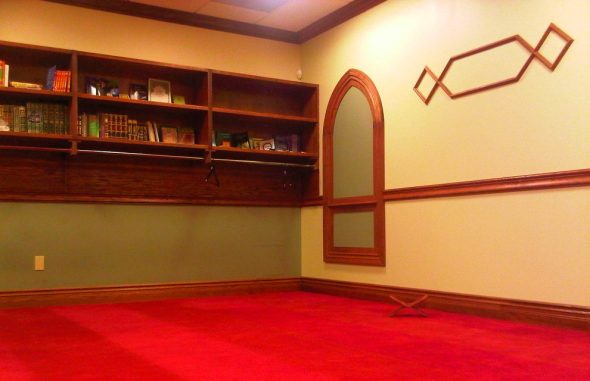 If there is a design motif that can be summed up in one word about Masjid Toronto at Adelaide, it's this:
Wood.
Wood is found everywhere within this new Masjid. It almost gives one a sense of being in one's own home.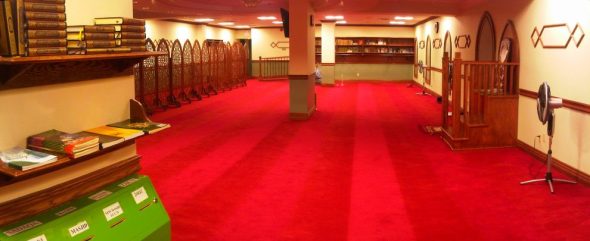 For the month of Ramadan, Masjid Toronto at Adelaide will NOT serve Iftar Dinner, that's still happening over at 168 Dundas Street West every evening.
Adelaide will however have plenty of dates and water available at Sunset each night with which to break the daily fast.
After Isha, tag-team Taraweeh took place over 8 long rakats from 11 p.m. to just before midnight. I was so tired on this first night of Ramadan 2013, I think I dozed off a moment or two while standing in the prayer line! I will however adjust and get used to these late summer night Taraweeh prayers.
Meanwhile Muslims in Toronto's Financial District have already gotten used to Toronto's Newest Masjid.
Masjid Toronto at Adelaide.
---
Masjid Toronto @ Adelaide is now open for business (read: prayer)! http://t.co/2q1h8kQej1 (intersection: Adelaide-Church) #toronto #mosque

— Huda Idrees (@hidrees) July 10, 2013
RT @hidrees Masjid Toronto @ Adelaide is now open for business (read: prayer)! http://t.co/nTDI9SBUTS (intersection: Adelaide-Church)

— HiMY SYeD (@HiMYSYeD) July 10, 2013
@hidrees 30Masjids by Bike was the past two years. This year it's Greyhound around Ontario as distances between cities'd make biking onerous

— HiMY SYeD (@HiMYSYeD) July 14, 2013
@HiMYSYeD That's still pretty sustainable! Kudos to you for taking the initiative!

— Huda Idrees (@hidrees) July 14, 2013