The following is a quick rambling mash-up somewhere in-between an interview, my questions, Aasiya's answers, and our overall conversation. Aasiya and I met for a few minutes during her afternoon break, where she works in Toronto as an Outdoor Professional…

Meet Aasiya Hussain – Environmental Steward
What is that exactly?
An Environmental Steward is someone who not only conserves and protects this planet, but also helps people do the same by mobilizing and inspiring them through tangible means.
Aasiya has been engaged in environmental stewardship and conservation for as long as she can remember.  As a tangible, her efforts include coordinating the Great Canadian Shoreline Cleanup in Rouge Park, an annual national direct-action conservation event for which she also received an award.
And the Canadian Shoreline needs to be cleaned up because…
"Water connects us all.  Yet it isn't always available, pristine, or potable.  Among our challenges is shoreline litter polluting our shared waters and environment, threatening ecological health, and harming wildlife that may become entangled in it or mistake it for food. With Canada having the longest shoreline in the world, 20% of the world's freshwater, 7% of the world's renewable freshwater supply, and breathtakingly beautiful and essential natural capital, it behooves us to cherish these blessings, go litterless, and join a shoreline cleanup.  Shoreline cleanups are important because they're a tangible means to mitigate pollution, reduce threats to wildlife and ecological health, and reconnect people with nature to help keep our shared waters sustainable." explained Aasiya.
What is the significance of sustainability in Islam?
"Islam was green when the world was blue and yellow.  Environmental ethics and sustainability are inherent in its teachings.  It places a sacred trust on humanity as caretakers of this Earth – to engage in stewardship and conservation, live sustainably and ethically, and reflect upon nature. These concepts are also common among various faith groups, cultures, and ideologies." answered Aasiya.
This is reflected in the increasing numbers of people joining the green movement.
Recently, 90 people from diverse backgrounds turned out in Rouge Park for the Shoreline Cleanup.  This translates into a record breaking number of participants for this Shoreline Cleanup.
How should Muslims respond?
First, be cognizant of our relationship with water, nature, and how our consumer choices impact our shared world.  E.g.:
"1. Have you considered cherishing our shared waters and incorporating sustainability at home, work, in the community, and the masjid?  Or sharing the L'eau-ve™ with a green gift that gives back to the world?
2.  When we reconnect with nature, we're more inclined to cherish it.  So, let's explore the great outdoors in ways that tread lightly on the planet and nurture the same in children to raise tomorrow's environmental stewards today.
3. Become water champions. Join conservation initiatives and mobilize others to go green and make our shared waters healthy, clean, accessible, and sustainable for all." – Aasiya Hussain.

Consider, how many times have we gone to a masjid.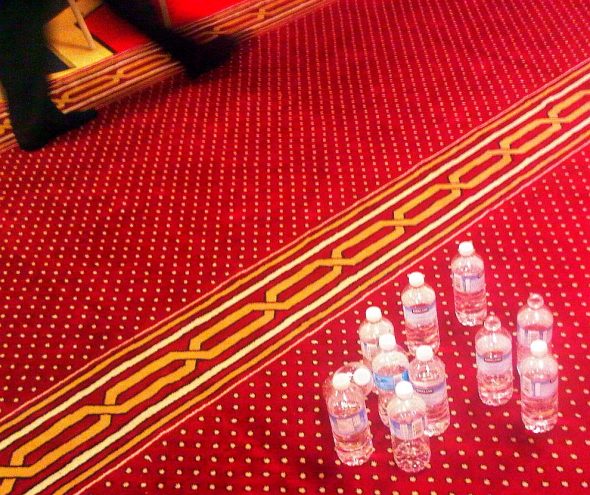 Aasiya asks:
"Why not consider bringing our own reusable water bottles?  Or going litterless for iftar programs?  It's as easy as bringing our own reusable dishware and encouraging hosts to ask participants to do the same.  Thus saving the environment, resources and money that would have been used for disposable items and packaging.
And…  ever considered how long we are running our taps?"
As Muslims, many of us make ablution 5 times a day.  How much water did The Prophet (pbuh) use for wudu?  Under 1L.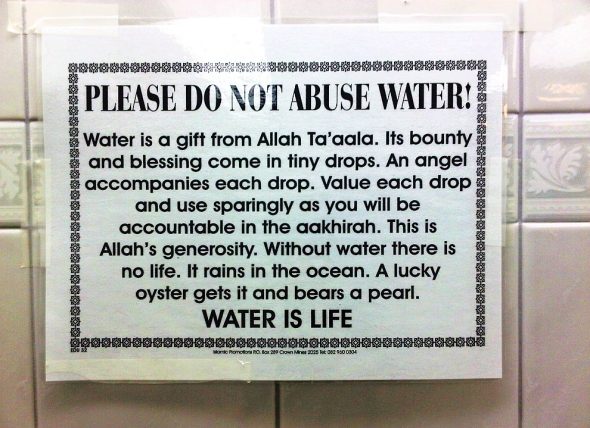 Yet, "for every minute we allow the tap to run, we lose about 7L of water.  That's about the size of one bucket of water fetched by women and children across great distances around the world.", explained Aasiya.
Aasiya experienced this firsthand while doing a stint in watershed management in the foothills of the Himalayas.  While there, she fetched water and carried it on her head as people have done for generations.  Her work includes addressing water scarcity, conservation, and contamination, and in doing so she's found that these issues aren't restricted to just one part of the world.  "It's clear that these issues aren't endemic to remote villages overseas, but are also found within Canada's backyard.", said Aasiya.
A recent Hamilton Spectator article goes into great detail listing water woes faced by Canada's First Nations.
"It's also clear that we can create positive change by becoming water champions, supporting conservation, and voting with our wallets by choosing ethical and sustainable products that give back to the world", added Aasiya.  These were among the many reasons that pushed Aasiya to create Ecohesian Inc. and share the L'eau-ve™ – inspired by her love for water and making conservation and sustainability flourish.
Aasiya Hussain – Socio-Environmental Entrepreneur
After our interview, I asked Aasiya to display some of Ecohesian's recent sustainable Eid Card designs.  She obliged and explained that "each one is designed to minimize your water, carbon, and ecological footprints, while saving trees, diverting waste from landfills, and giving back to the world."
Proceeds from the sale of Ecohesian's products fund their environmental stewardship, conservation, and sustainability efforts – including their Great Canadian Shoreline Cleanup.  Among these products are the Eid gifts and greeting cards pictured above.
Her advice for any young Muslim woman wanting to work in Sustainability?
"Go for it! Remove the shackles of 'what ifs' and what those limitations mean for reaching your potential. Seek guidance and training, collaborate with those striving to do good, harness the talents you've been gifted, and let this radiate with humility to inspire the world."
Aasiya is online at Ecohesian.ca, tweeting via @Ecohesian, and with a page in The Book of Faces.
@30masjids @HiMYSYeD #EidMubarak & TYSM for sharing the L'eau-ve™! http://t.co/R4v1BjSowO | #Eco #Amaanah #Sustainable #Eid #Ramadan #water

— Ecohesian Inc. (@Ecohesian) August 9, 2013