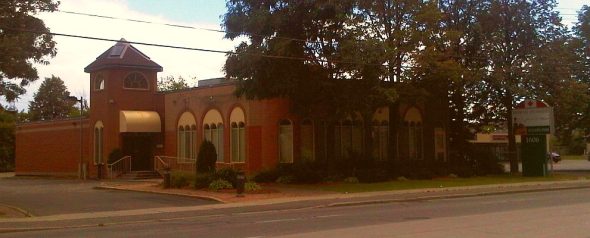 Having prayed Dhuhr in the Ottawa Islamic Centre, I began walking towards the South Keys neighbourhood in Ottawa South towards Assalam Muslim Association.
En route, I spotted the Imam Ali (AS) Masjid.

I haven't visited a Jaffari Fiqh masjid this year… somehow I just didn't.
It being quite a bit past Dhuhr, the masjid was closed. In Jaffari Fiqh, the time for Asr prayers begins very shortly after Dhuhr prayers are performed.
Understandably, the masjid was closed until Maghrib / Sunset tonight.
If it was open, I would certainly have entered and at least prayed two rakats before continuing, or I might have stayed until Iftar and Maghrib making Itikaaf here.
There are on Twitter (@ImamAliMasjid) and the Book of Faces.
ImamAliMasjid.ca is their website.
They are at 1606 Walkley Road in Ottawa South.