It's the late afternoon of Friday August 17, 2012.
Day 29 of 30 Masjids in 30 Days in the Greater Toronto Area.
I've parked my bike in front of Masjid Al-Ameen, The Islamic Centre of Clarington in Courtice.
At 60 KM from Downtown Toronto, this is the Eastern-Most masjid in the GTA.
Masjid Al-Ameen is new. It opened in 2010 and was previously a church.
There are about 150 Muslim families in the area. With more affordable house prices on this eastern end of the GTA, that number is steadily increasing.
Iftar has seen about 25 people break fast on week days with triple that during Weekend Iftars.
The masjid sits on 2 acres of land. The administration has intended to make this place of prayer family friendly. Basketball net as well a kiddie playground tube slide is set up in the open area outside.
The services are all in English. The congregation is a mix of Arabs, Indo-Pakistanis and new Muslims.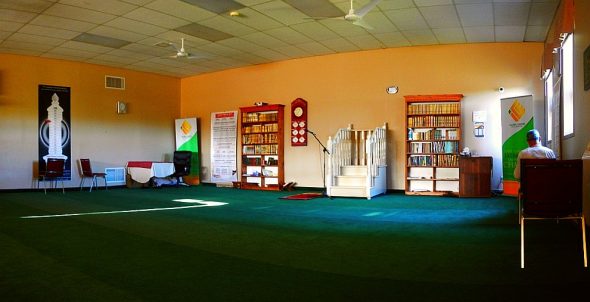 Plenty of Parking. This is important as it is a commuter masjid. This is the last masjid along Highway 401, before Belleville.
Also, Clarington Park is short hop from here. Families enjoying the day in nature can easily read their prayers here as the masjid is very reachable.
They have chosen to do everything at a professional level.
It shows in the official logo of the masjid which was outsourced to a professional design agency.
This is a growing masjid with a growing community. They are both off to great start.