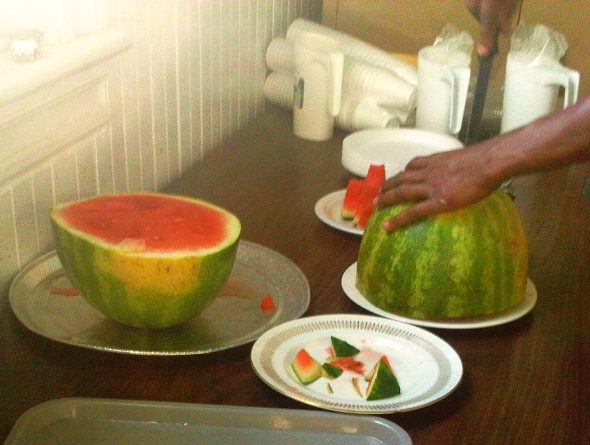 I'm tired.
The past few days of continuous walking between prayer spots has me beat.
I had intended tonight to properly re-visit the Assunnah Muslim Association in Ottawa South, or cross the border again into Quebec and break fast in the Masjid I just learned about which is in Hull/Gatineau.
My body has rights over me and it is telling me to park my butt here inside the Islam Care Centre after performing Asr, the late afternoon prayer. So be it.
I'm not up to interviewing anyone right now. For tonight then, a worshiper first and observer second on this Day 23 of Ramadan.
But now I got a new problem…
I'm sitting here for the next few hours… observing all this food. :-/
Someone brought brownies… Just Sayin'
Holding a date with my left hand only for this blackberry photograph. Muslims are strongly urged to hold and eat their food with the right hand.
Which is what I did as Adhan Al Maghrib / The Sunset Call to Prayer echoed inside the Islam Care Centre moments later.
The Muezzin performs Adhan al Maghrib.
The gathered break their fast.
Some 60+ brothers upstairs. Any number of sisters downstairs, perhaps a dozen, maybe less.
Beside me are these plastic bread trays. I have watched for the past many minutes how Iftar Dinner plates, one by one, were created and carefully placed in each tray until tray space was filled.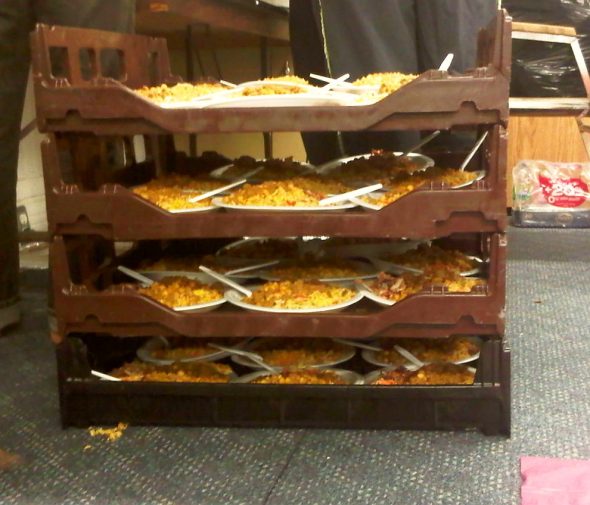 A new empty bread tray was stacked atop the one already holding Iftar Dinner Plates, and the process repeats until about 60 dinners are ready.
There is a genius in the Simplexity found in this way of creating and as we'll see, in the serving of the Iftar Dinners this way.
I stand up and snap a quick peek at the Iftar Dinner plate creation/sorting area. Again, there is a Simplexity which betrays what the eye is seeing.
But first, it's time to pray the Sunset prayer, Maghrib.
With the main prayer hall filled to only half its Friday Jumah Prayer Capacity, there is space enough to pray and leave the bulk of the Iftar finger foods where there lay.
Once Prayers are done, most everyone returns to their previous sitting spots.
Then it happened.
I look at the clock, note the time.
A brother brings the Bread Tray, now filled with Iftar Dinner plates ready for the taking.
The seated people quickly distribute the plates from Bread Tray to brothers one or two removed sitting beside them.
I am in Iftar Dinner Logistics Observing Shock.
I can not ever recall seeing an entire room completely served their Iftar Dinners within only two to three minutes. AND This isn't a fluke. It's not something for small Iftars, this approach and process can SCALE!
I look back up at the wall clock.
Everyone's been served their Iftar Dinners.
No overlap of people eating while others are waiting, which at times can make both parties uncomfortable.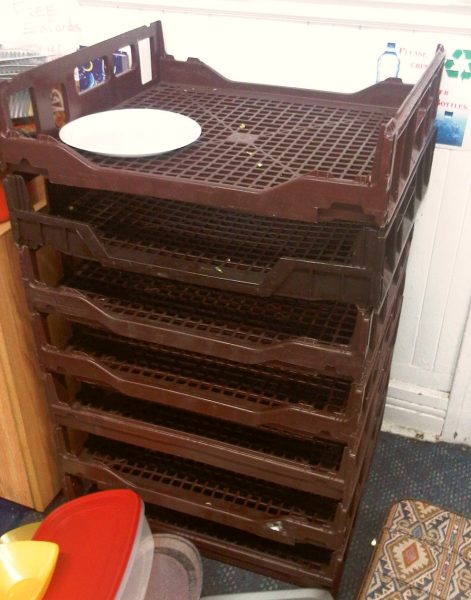 Having visited all those Masjids around Toronto, my mind wonders why no one there ever came up with this idea or something like it?
Perhaps IMO in Etobicoke?
They serve upwards of 2,000 at time, but, they still need time to do it. I have experienced that uneasy overlap between served and waiting while breaking fast at IMO.
A Brother and I walk outside together afterwards, he's a first timer for Iftar here. Both he and I are surprised that we both are so amazed at tonight's Iftar Logistics.
His name is Mustapha. He is from Nigeria. He tells me he can't wait to be back home and use this idea to serve Iftar there.
Wait-a-minute!
I tell Mustapha that Nigeria is the largest Muslim populated African country and he's never seen this way of serving Iftar food before?
His experience has been that rich businesspeople underwrite the food all right, but they just roll out food mats all over the place, on the sidewalks, into the streets, before sunset and serve the plates one by one.
He confides in me that one of his ambitions has been to make a lot of money, and come Ramadan, to serve Free Iftars to any number of people in his hometown in Nigeria.
And now he really knows how to do it.
Apparently, he's been studying how Iftars are served in larger numbers. We compare notes so-to-speak, and he encourages me to visit the Assunnah Muslim Association to see them serve 300 on any Ramadan weeknight. AMA was my original stop for tonight.
Had I gone there, I would have missed meeting Mustapha. He heads off for the night. He too seems beat.
Afterwards, I realize I had seen something like this Iftar idea before, in better Banquet Halls. However, people didn't re-serve the plate to the people beside them. That's the Iftar Dinner Serving Game Changer.
Not for the first time then, this Ramadan, am I seeing Muslims Moneyballing something to improve a process.
In the West Windsor Musallah, there were two very good ideas I'd never seen before which could benefit any Muslim place of prayer.
This way of serving Iftar Dinners is now the third very good idea.
Please do steal this idea so everyone along the chain can begin accumulating additional brownie points for the hereafter!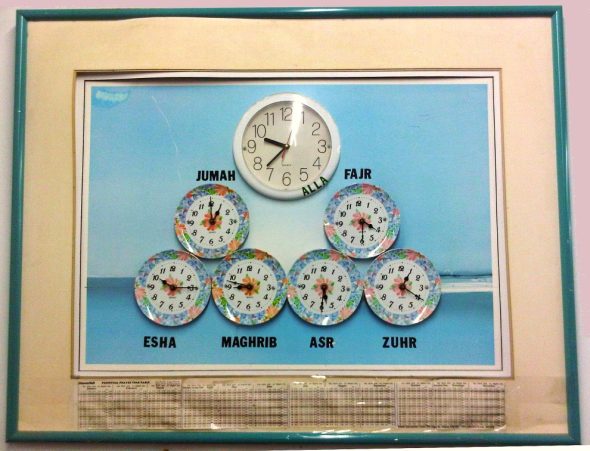 Adhan al Isha, the Night Call to Prayer is performed.
We pray Isha followed by eight Rakats of Taraweeh.
We are in the last ten nights of Ramadan. A number of brothers remain inside the masjid part of the Islam Care Centre overnight until Dawn.
I among them.  Itikaaf.
But I need rest and fall asleep until 2:30 a.m. and the start of Qiyam-ul-Layl, the traditional Middle-to -in the Night optional prayer.
That will be another eight rakats.
We eat a healthy Suhoor, the pre-dawn meal before each day's fasting. It was drawn from mix of last night's leftovers and new stuff brought in this morning.
God-Alone bless the Brother who brought the Crepes for Suhoor, that was over the top!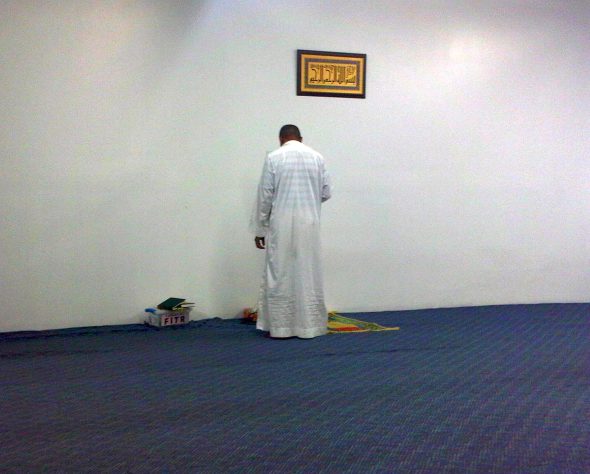 Adhan al Fajr. The Dawn Call to Prayer.
Day 24 of Ramadan begins.