Upon entering the Dixon Musallah Prayer Hall, on the P1 Level underneath 340 Dixon Road, you see the following…
Make "Wudoo" At Home

Thanks
Dixon Road is Famous.
In Toronto, and Somalia.
Thousands of Muslims of Somali origin live in this area. Many of them in the apartment buildings along this stretch of Dixon Road.
For at least ten years, this small prayer room has served them as well as any other Muslims who needed to pray. It's open for prayers to everyone, though mostly the door itself remains locked throughout the day.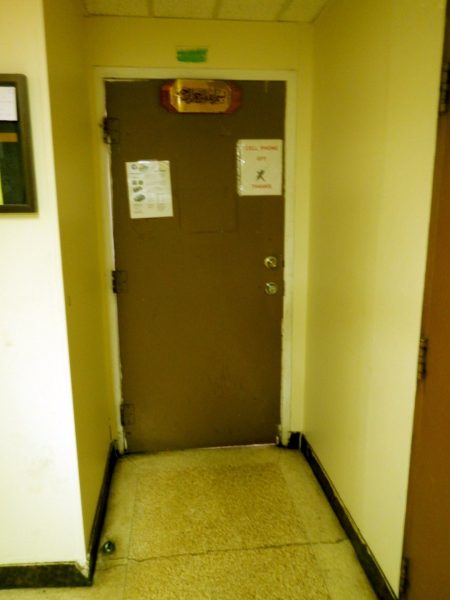 The door was locked when I arrived to pray Asr.
After ten minutes or so a brother with a key showed up, but he was still surprised no one else had come to open the Musallah.
By now I've come to expect Regent Park Basement Musallah quality as a benchmark when visiting new Basement Masjids.
Except for wudu facilities, Dixon Musallah doesn't disappoint.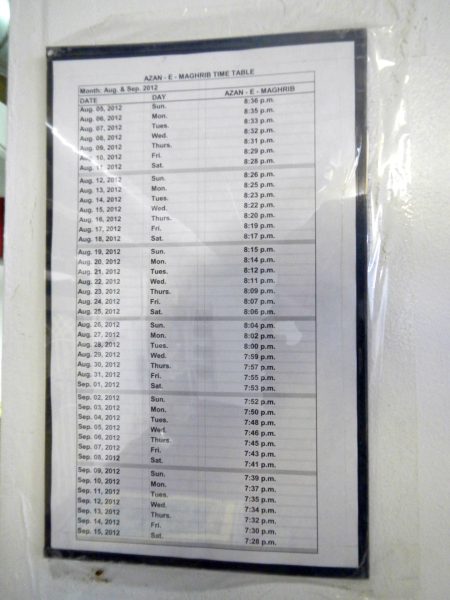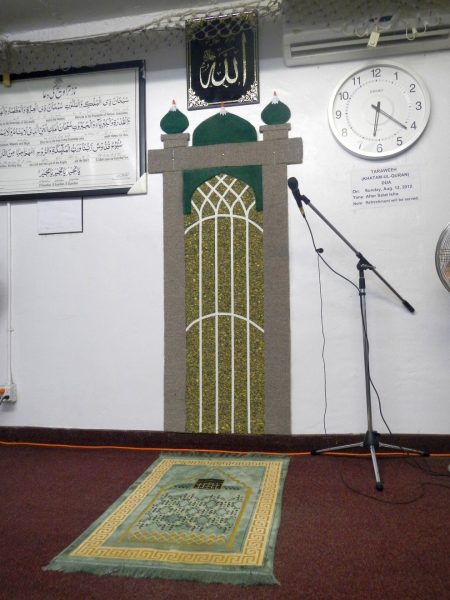 This Mihrab, or Imam's Prayer Niche, is rather ingenious.
They have used green and gray carpeting, cut into shapes of Minarets and Domes.
Regular masking tape is used to create a suggestion of depth, as if the niche extends into the wall.
It's all thumbtacked / stapled into the wall.
While I was sitting in the first line waiting for prayer, the brother beside me got up and pushed one such pin ensuring that part of the Carpet Mihrab didn't fall off the wall.
There is a reasonable amount of space, but at Asr time, it became packed. I felt grateful for arriving early.
Actually, I was visiting Dixon Musallah on one of their Iqama Change Time days.
They've highlight those days on this wall chart listing set Prayer Times.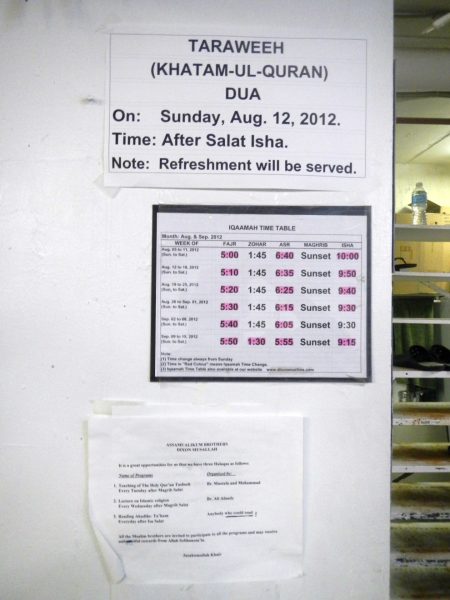 The Adhan is called without a public address system turned on. Both halves of the room can hear fine without one.
It has become the norm for all Adhans, The Calls to Prayer, to be recited into a mic and broadcast over speakers.
Kind of like listening to a electronic guitar song Unplugged, it immediately set a different tone to the prayer for me.
After prayer, I introduce myself to the brother who lead Asr. He informs me there is no set Imam. It's such a small place there is no need for it. That's what larger nearby Masjids, like Masjid Khalid Bin Walid, are for.
The space was originally assigned as lockers for tenants. Initially Muslims had to pay rent for half the space, which I did not photograph at all. That side feels cramped.
All five prayers are held here, but Jumah, is next door at 320 Dixon Road. It's larger  and can accomodate several hundred people.
The Jumah Khutbahs at 320 Dixon are in English.
This Musallah is usually locked shortly after each prayer concludes.
Sometimes it remains open from Asr until Isha, depending on who is here. It's pretty random. In Ramadan however, a few people remain here after Asr until Iftar and Maghrib.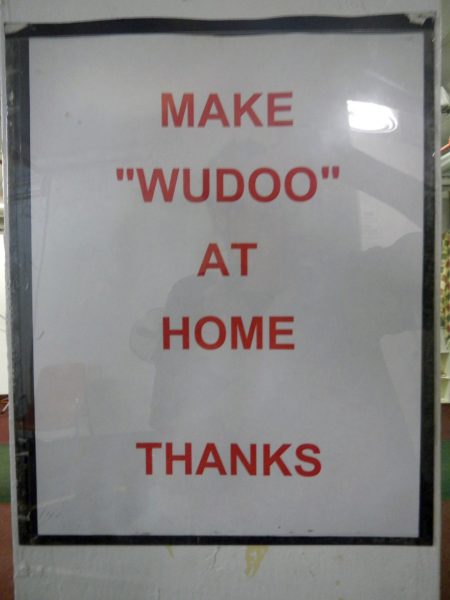 As I exit the Dixon Musallah, the last thing I see is
Make "Wudoo" At Home

Thanks
Outside the Musallah, I am recognized by Atta Malik. A classmate of my Late Father from their grade school days half a world away.
Atta Malik is a founding director of the Jami Mosque four decades ago.
Four decades later, and he is still looking out to find prayer space for the City's Muslims. This time as an owner of several units upstairs.
This a condominium building. Numerous units are owned by Muslims and rented to other Muslims. If the tenants aren't Somali, they are most likely Pakistani.
Eventually the condominium board agreed to provide this prayer space without rent. We quickly catch up on each other's lives a bit then it's time for me to go.
Malik Uncle shares one final story before we part ways. An elderly German lady on the third floor asked him what Islam was all about. He made it plain for her:
Faith and Action

Give a Helping Hand

Not a Begging One
She liked that. And ever since learning that plain explanation of Islam, Gertrude has been taping her handmade signs all over the building…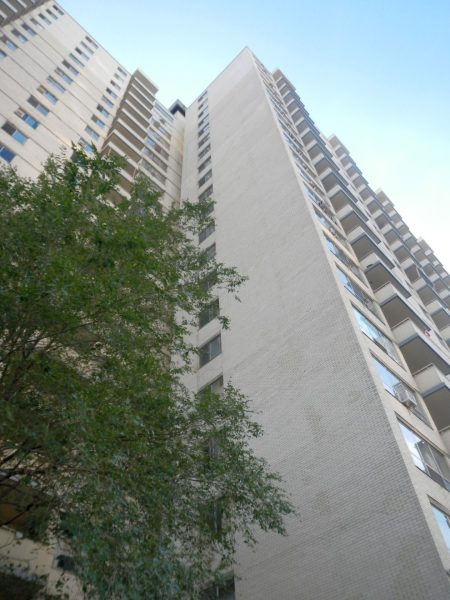 As I begin unlocking my bike, I meet a brother who has lived in this building for 23 years or so.
He raised his family here. When he first moved in, he was among the first few Muslim families, mostly Pakistani, to call 340 Dixon Road home.
He has no plan on leaving.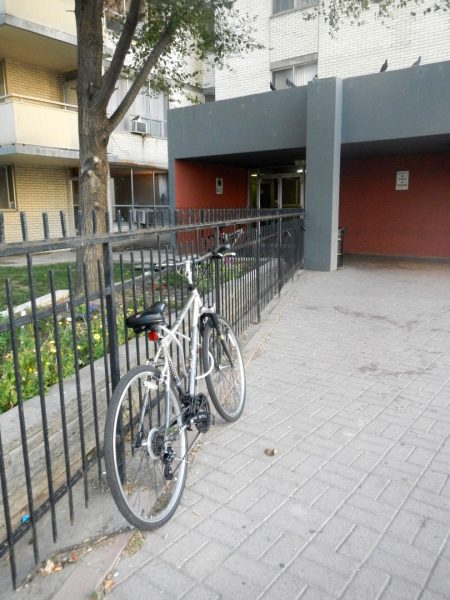 Unlike the brother I just met, I plan on leaving and biking to the Dixie Gurdwara in Mississauga.
I will break fast with the Sikh Community in solidarity with them due to the tragic events in Wisconsin on Sunday…