This video is of Algoma University student Yaser Garwan performing the Fajr Adhan, the Dawn Call to Prayer on Friday Morning.
The Islamic Association of Sault Ste Marie, 677 MacDonald Avenue, is open for Fajr, Maghrib, Isha, and during the month of Ramadan, eight rakats of Taraweeh prayers.
At present, there are no Dhuhr nor Asr prayers taking place.
During the School Year, there are two Jumahs scheduled. After the end of the spring semester, it's back down to one Jumah until the colleges re-open in the fall.
Being on the outskirts of Sault Ste Marie, students in downtown do not routinely make it out here to pray outside of the regular Friday Jumah prayers.
Though it is right at The Elbow where The Trans-Canada Highway almost turns a right angle and heads north around the city, this can not be considered a masjid for travellers to rely on.
It has only been open for 11 months.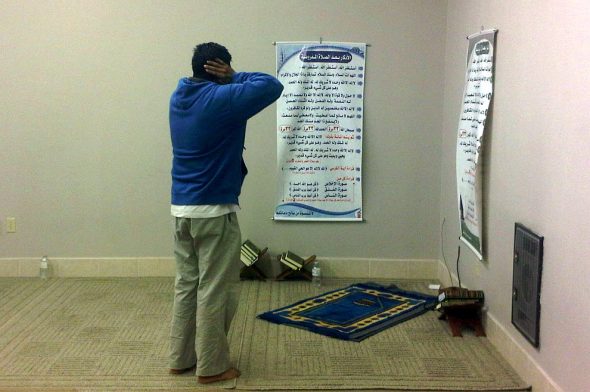 The photo above is of Adhan al-Isha being called on Thursday night.
There is plenty of space for sisters to pray either behind the men, or in the other room. Their choice.
The photo below shows the number of people present for Taraweeh.
This is where the Muslim Doctors come to Pray in Sault Ste Marie.
Eventually, two doctors would join us before we ended Taraweeh for the night.
One of the doctors, still in scrubs prayed beside me for a few rakats. He's usually in Toronto and only here in town when on-call if I understood correctly.
The doctors were on-call and weren't able to speak with me at length as they got up to rush back to the hospital.
There are perhaps 10 to a dozen Muslim families who make Sault Ste Marie their home.
The recent influx of Muslims who are International Students or from the Greater Toronto Area, is really the engine of the local Muslim Community.
This is where they pray.
Sometimes.