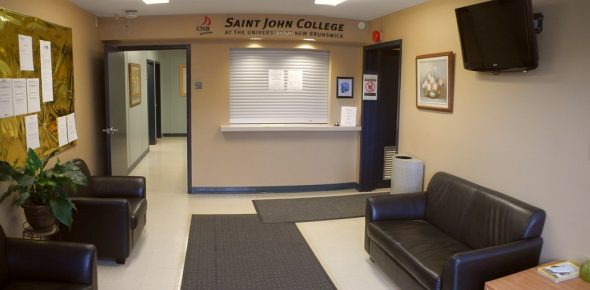 The Muslim Students' Association of University of New Brunswick Saint John has a prayer space available for Muslim Faculty, Students, and wider community.
Abid Saeed Sheikh, is former Faculty. A Professor of English, at times Professor Sheikh delivered the Friday Sermon on Campus in this prayer room.
It's located inside Saint John College.
He drove us over then gave me a tour.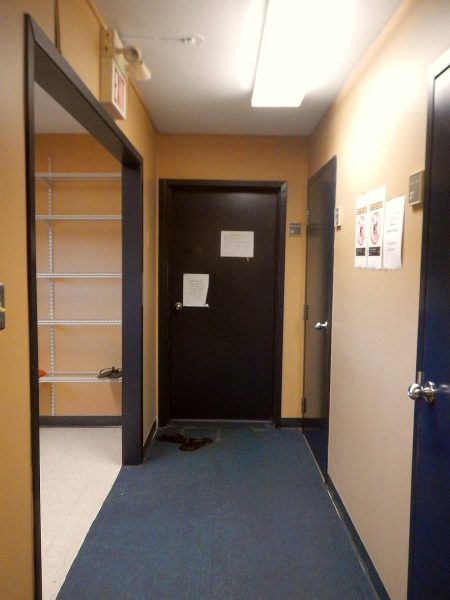 To get to it, find your way to Saint John College.
Prayer room itself is wee bit labyrinthine to reach from the front entrance.
Yet as Labyrinths are ever-present in Islam, I'm sure no one really counts the number of doors and number of turns needed in reaching this farthest unit attached to this modular building.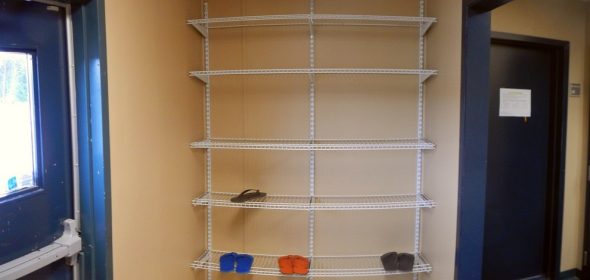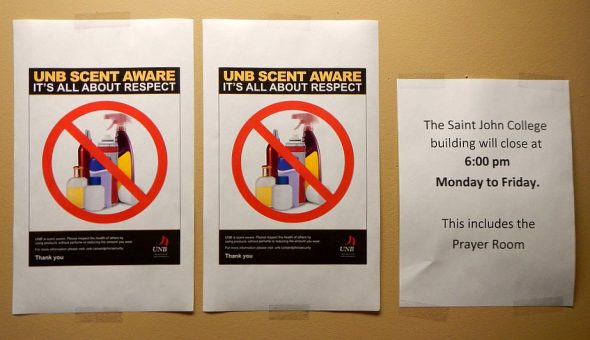 As the College isn't open at all hours, neither are all five daily prayers available for congregation in the prayer room.
With Iftar Sunset time past 9 p.m. and a reduced Summer Semester in session, Prof Sheikh didn't know for sure if there was Iftar here.
This visit would have to be it for 30Masjids.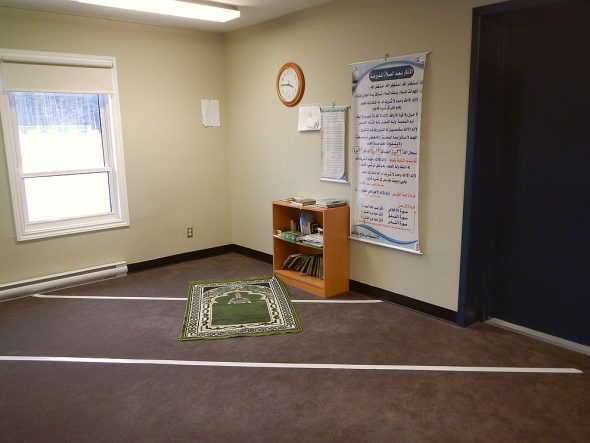 The main prayer room itself is adequate. Dozens may pray comfortably side by side.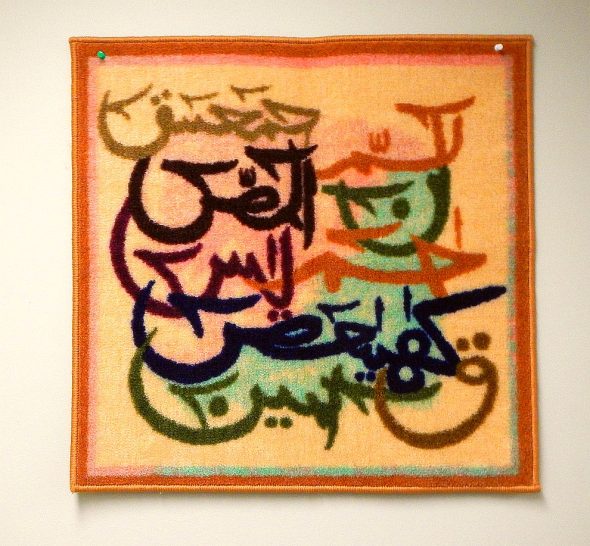 This hanging Islamic Calligraphy caught my eye, it's actually a square of carpet.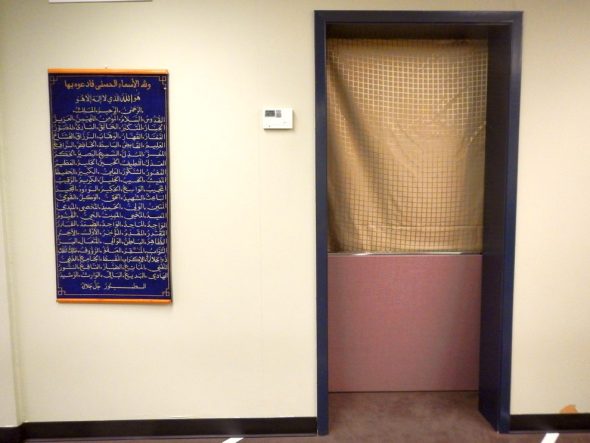 The Women's prayer space is beyond this door. Sisters also have a side entrance.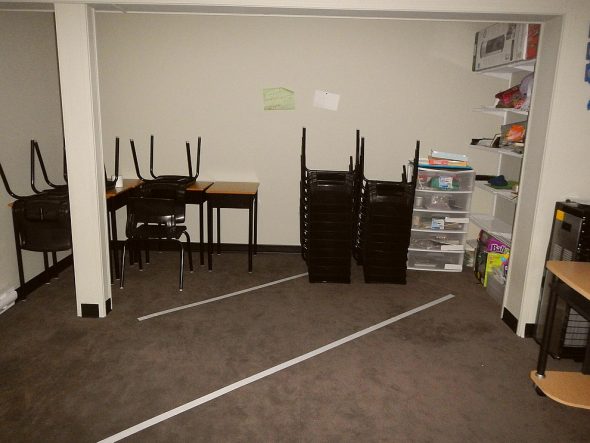 The space may not be adequate. Feels tight to my eyes, compared with the men's side.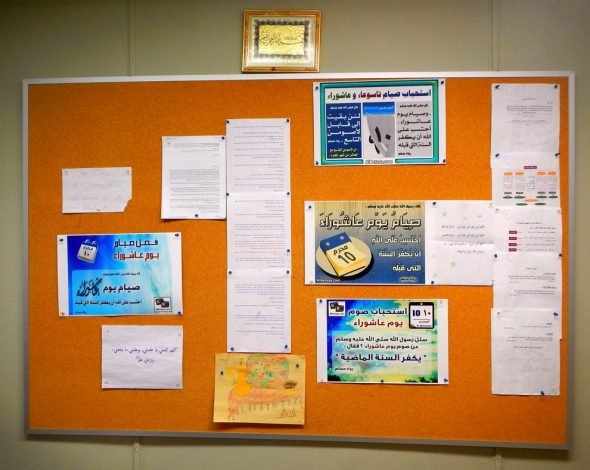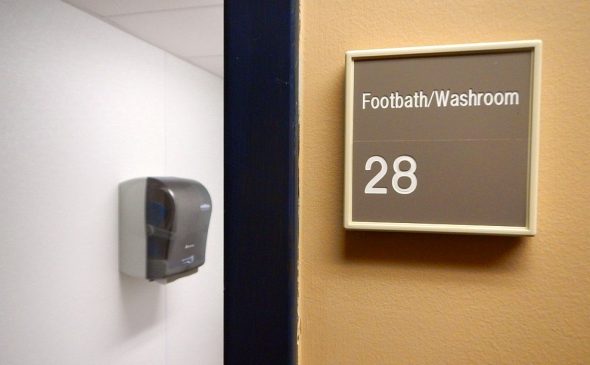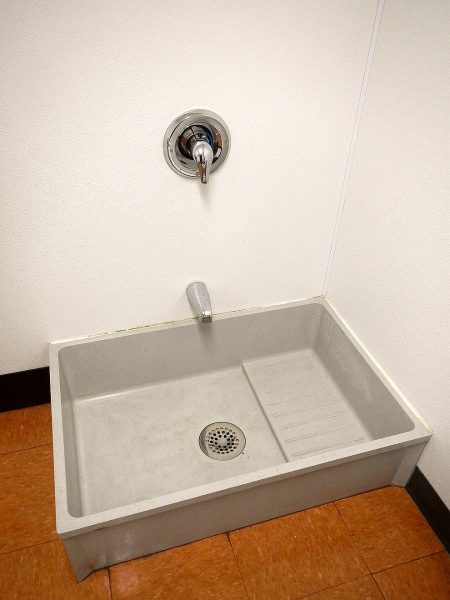 Staring at the official Wudu facilities, I have an improved appreciation for MSAs who have proper sit-down spaces for washing up before formal prayers.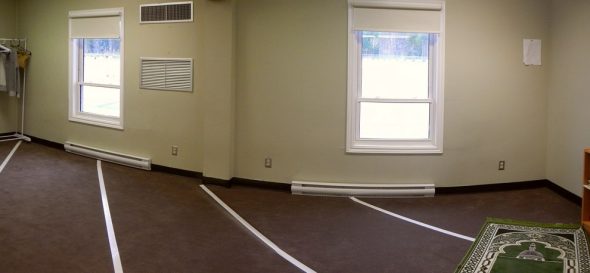 This prayer room is new. It's a modular add-on to the main Saint John College building.
Previously, Muslim Faculty or Students had a much smaller room in one of the main buildings. UNBSJ is prudent with expanding the campus and not overextending itself. Sometimes though, The University begins to ask for space back that was once given.
That happened here a number of years ago.
It was timely because about 6 years ago the Saudi Government began a program of enrolling their Students to colleges world-wide.
We learned about this back on Day 17 of Ramadan 2013 when I broke fast with Saudi Students in Sault Ste. Marie, Ontario.
Here in Saint John, enough Saudi Students were enrolled back then to have their own Saudi Students' Association.
In the face of losing the campus' only dedicated space where Muslims could pray, The Saudi Government donated the capital cost to add this modular room to the Saint John College Building.
They actually had to. How could The Saudis send their Muslim Students around the world yet have them end up struggling to pray?
Problem solved. A new dedicated Muslim Prayer Room at zero cost to The University.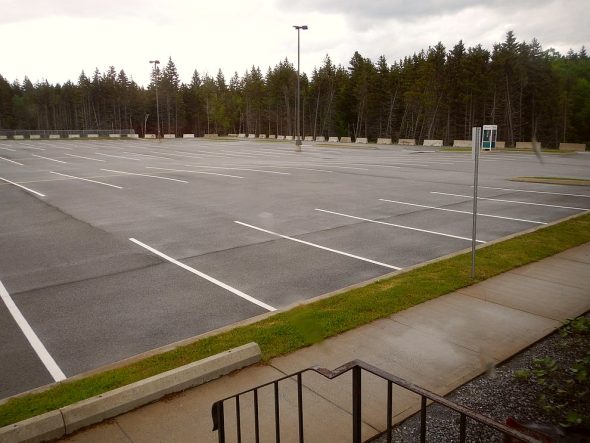 Yet despite the size of this prayer room, at times during that first cohort of Saudi Undergrads, Fridays on campus sometimes had Muslims praying Jumah outside in the parking lot adjacent to the Prayer Room.
Still not enough space!
Fast forward six years to Ramadan 2016.
With the oil price taking a huge hit from 6 years ago, Saudi Arabia has wound down their overseas Student programs.
Only a handful of Saudi students remain on campus today, finishing their degrees.
They are expected to leave the Province upon graduation.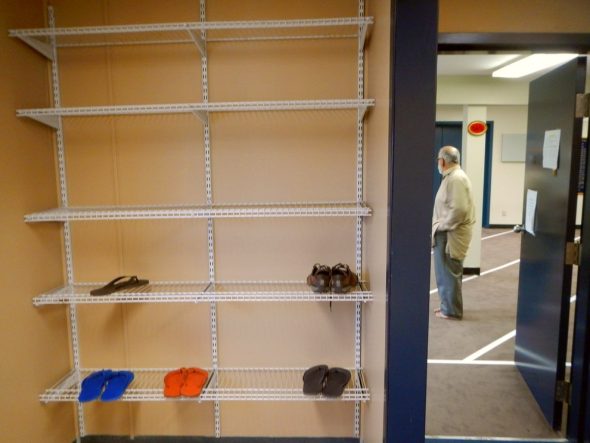 The Saudis enrolled, studied, prayed, graduated, and shortly the last few will have left.
They leave behind this Legacy Project.
This prayer room remains for use by Muslim Faculty and Muslim Students and Muslims Visitors of University of New Brunswick Saint John.
Who knows?
Oil may hit $200 and The Saudis may come back!
Beyond that, the larger legacy is that an active Muslim Prayer Space on campus helps the University and moreso Saint John Regional Hospital also on campus, to attract and retain Professional Muslims in Health Sciences and Medicine.
The appeal of an on-campus Muslim Prayer Space equally applies to Muslims Medical Students in deciding where to study.
Notwithstanding today's spot price for oil, unlike the Saudi Undergrads, Muslim Faculty and Medical Students will indeed keep coming back to UNBSJ.