"May Almighty Allah bless the Aboriginal Peoples of the Arctic region". The Innuit people of the Arctic region… http://t.co/GURWK7jipB

— Abdullah Hakim Quick (@hakimquick) July 9, 2015

From Shaikh Abdullah Hakim's Facebook photo post:
"May Almighty Allah bless the Aboriginal Peoples of the Arctic region".

The Inuit people of the Arctic region are a strong, resilient nation who populated this frigid part of the earth over 10,000 years ago!

Imagine entering North America across the frozen Bering Straits from Russia and finding a huge continent with no humans.

This is like landing on the planet Neptune and having to survive. But they flourished and helped to make the basis of today's Canada.

Today we have to recognize their culture and respect their traditions all over the North. Whether its the Gwichin of the Northwest Territories or the Sami of Scandinavia.

This part of the world is still pure and should not be exploited and Muslims need to assist the Inuit in finding success in this life and the Hereafter.

AlHamdulillah, even the local Press has recognized the work of the Local Muslims.

"Iqaluit mosque fundraiser launched by Islamic Society of Nunavut – Online appeal raises more than half of its $100K goal in one week"

Let all continue to give in these sacred last 10 days of Ramadan and May Allah bless you, accept your prayers and empower your children in righteousness.

Donate at: http://gofundme.com/Iqaluitmasjid

Look at the "Traditional dress of the Innuit, even that really looks "Islamic", SubhaanAllah!!!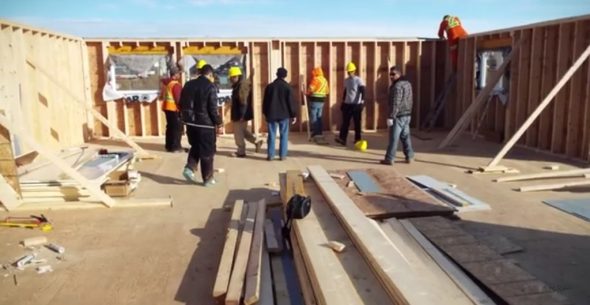 Completion of Iqaluit Masjid

Iqaluit is a far-flung town near the Arctic circle, inhabited by about 8,000 people, mostly Natives or Inuit. The Town serves as the territorial capital and the largest community of Nunavut.

In Iqaluit there are over 100 Muslims and their numbers are increasing regularly.

Masha'Allah, some local Inuit people have recently embraced Islam and many more are listening to the message. The need to build an Islamic Centre is crucial for the growing Muslims Community.

Consequently, in 2009 Islamic Society of Nunavut (ISN) was incorporated with the Objective to establish prayers and maintenance of the religious identity.

Once built, the Islamic Centre of Iqaluit will be the first in the territory of Nunavut.
Th above is excerpted from their GoFundMe Page…. where the following comment was added by a Muslim Sister who once lived in Iqaluit…
In her words:
Masha'Allah I am so happy for Iqaluit's community!

I lived there 7 years ago and I so wished there was a masjid there back then!

There weren't that many Muslims at that time. Only very few! But I am glad the community is growing.

I still have many Muslim friends there. They sure will be happy about the masjid and I dare imagine they are also contributing. Now I hope I can visit again!

As Tounsi Mouslim mentioned, a place for sisters would be important as well. I sure would've loved to go to the mosque especially in Ramadan when I was there.

Life as a Muslim sister there was an extremely lonely and sad place to be. My personal experience was interesting but mainly negative. I knew of 3 other sisters who were there also very isolated.

Life is already difficult there with the extreme cold, very short winter days, lack of light and vitamin D, being a visible minority in many cases, having to adapt to a completely different lifestyle and usually not finding friends easily due to the lack of social activities or even coffee shops there.

Having no mosque to go to to find solace was a very sad fact of life. I do pray it will change for the sisters who now live there.

Insha'Allah kheir!
www.GoFundMe.com/Iqaluitmasjid
UPDATE – Thursday July 16 2015 / Ramadan 29 1436:
SubhanAllah! I donated to Completion of http://t.co/Yk7IBxyHWI —> http://t.co/yNaOhI5dB2 | #Ramadan #LaylatulQadr http://t.co/G6gVHRDjED

— HïMY SYeD (@30masjids) July 16, 2015
The $100,000 Goal was reached this morning: Read The Full Story Here.