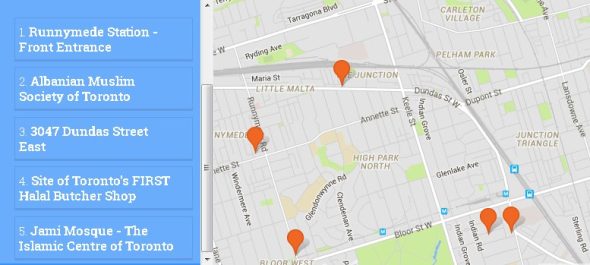 Lately, when it comes to Muslims in the News locally in Toronto or regionally in Peterborough, Ontario, it appears there's a lack of understanding of Canadian Muslims by any number of fellow Canadians.
Yet, there's also an earnest appetite to learn more about The Muslims of Toronto and our Community's history.
To satiate such sincere hunger for knowledge, I will be leading the following Jane's Walk:
"The History of Muslims in Toronto – A Special December Jane's Walk"
TIME: Sunday December 20, 2015 – 11:00 a.m.
MEETING POINT: Runnymede TTC Subway Station Main Entrance.
WALK LEADER: I'll be wearing a Green Jacket holding a Jane's Walk sign.
Please help get the word and as important…
…Join This Special Jane's Walk!
See YOU on December 20th, and Thank You!
The History of Muslims in #Toronto - A Special December 20 2015 #JanesWalk : https://t.co/0Y6mDNSYcM | #TOhistory pic.twitter.com/5vv2JKpzQk

— HïMY SYeD (@30masjids) December 9, 2015

About This Jane's Walk
Recent current events have highlighted many Torontonians are unaware of The History of Muslims and their original Houses of Worship in Canada's Largest City.
This Special Jane's Walk in December will visit four locations in The Junction and High Park neighbourhoods to reveal that history.
Walk stop locations:
The Dundas Street Mosque – The City's First masjid
The little known history of The Albanian Muslim Society of Toronto – The pivotal role of its founder, Reggie Assim
Toronto's FIRST Halal Butcher Shop – Roncesvalles Village
Jami Mosque – Toronto's Second Islamic Centre and its national significance
Through this special Jane's Walk, Torontonians will gain an understanding and will come to appreciate the work of Third, Fourth, and Fifth Generation Muslim-Torontonians in building our city.