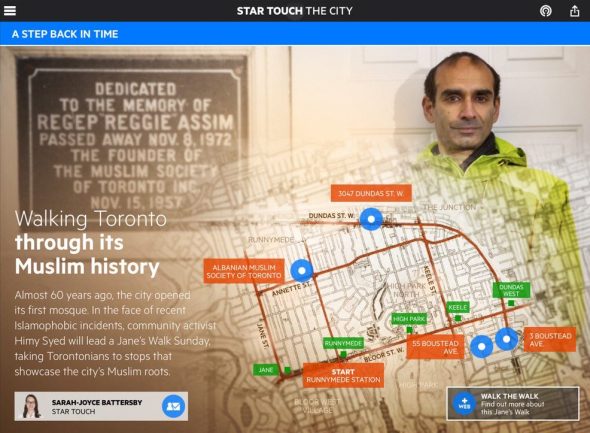 HUGE THANKS to Toronto Star Writer, Sarah-Joyce Battersby and her team, Photographer Chris So and Digital Cartographer José Ongpin, for producing such an elegant Interactive Tablet News Story on Star Touch about Sunday's Jane's Walk!!
Just completed an interview with The Toronto Star (@TorontoStar) about Sunday's #JanesWalk! Will be online in their Tablet News App. Yay!

— HïMY SYeD (@30masjids) December 18, 2015
"A STEP BACK IN TIME
Walking Toronto through its Muslim history"

"Almost 60 years ago, the city opened its first mosque. In the face of recent Islamophobic incidents, community activist HiMY SYeD will lead a Jane's Walk Sunday, taking Torontonians to stops that showcase the city's Muslim roots."

By Sarah-Joyce Battersby, STAR TOUCH, December 19 2015
@HiMYSYeD doing a @JanesWalkTO on the History of Muslims, I designed to map for #startouch https://t.co/BceixHaTP7 pic.twitter.com/bxeWVf69Xb

— José Ongpin (@neuroticjose) December 19, 2015
You may appreciate reading . . .