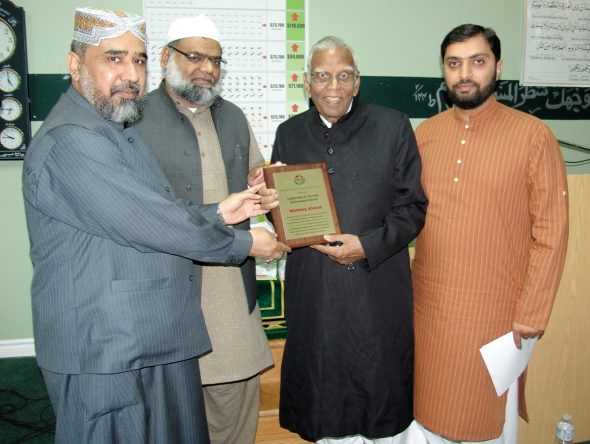 By Ovais Iqbal
On the platform of Minhaj-ul-Quran International Canada and Mississauga Muslim Community Center we recognized an individual who has done an excellent job over the last 40+ years to serve the Muslim Community in Canada especially for the Muslims in Quebec.
As what we have learned form him, this person has achieved the following:
He was the Founding member of first Masjid/Islamic Center in the whole of Quebec (Montreal)  http://www.icqmontreal.com  in 1954
He had served as president for a long time before moving to Toronto just recently
He was the Founder of the first North American Muslims only Cemetery in Montreal
He received a Gold Medal from Goverment of Canada in 1994 for his valued services
He was the Person who got Islam added on the Recognized list of Religions (Government of Quebec) for Muslims to officially get married.
On the 27th night of Ramadan and 14th of August at the occasion of Pakistan's Independence Day we were honoured to recognize Br. Mustaq Ahmad a great Pakistani Canadian for his memorable contributions, we were thankful to him and his family and we prayed to Allah (swt) to give him the best of the best rewards and accepts all his efforts.
I thought to share this good news with all of you.
Ovais Iqbal