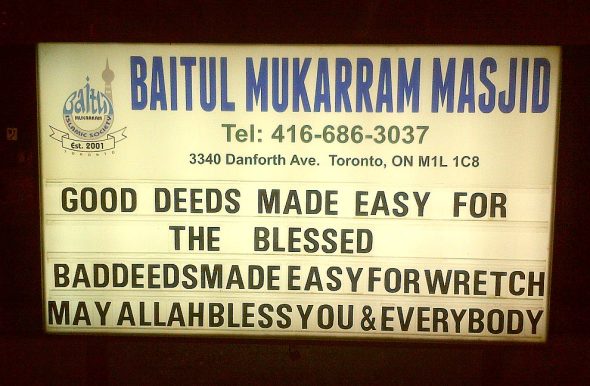 Good Deeds Made Easy For The Blessed

Bad Deed Made Easy For Wretch
Hey… it kinda rhymes!
Thus began Night 26 of Ramadan 2014 in front of Baitul Mukarram Masjid in Scarborough.
I had been wanting to visit this New Masjid for a while now. I do pass by it now and then, however until tonight, I had not entered the new building. Their original location is immediately across the street.
It was very close to Isha Prayer time as I arrived. Assuming Wudu Facilities were downstairs, I made my way there and found what might double as either the Sisters' Prayer Area or overflow Prayer Space likely on Fridays during Jumah.
Like any new Masjid being converted from a former Church Building, the transition is a work-in-progress. The Wudu Facilities at present is simply a standard Men's Washroom.
Back upstairs, awaiting the few minutes before Isha, I begin to look around noticing and appreciating how Fresh and New everything looks and feels.
People sometimes talk of that New Car Smell when taking possession of a new automobile. Tonight, a sense of that in Baitul Mukkarram, akin to that New Masjid Feeling, if you will.
Carpet still had that Fluffiness Factor as forehead met carpet during prostration
Colours of the recently painted walls remain warm and bright
Blades of the hanging ceiling fans were dust free
I pray eight Rakats of Taraweeh and feeling sleepy, again, as I had not had coffee, again for another night before Isha, I decide to step back and sit.
Notably, hardly anyone left after eight Rakats. This is very unusual for me to see. Also, there was PLENTY of room left as the last few rows were completely empty. Except for the young ones who took liberty sitting in groups, quietly playing around the space.
All this space during Taraweeh prayers and this being a new Masjid, reminded me of Quba Islamic Centre. Pretty sure in time, this masjid will be packed every night in future Ramadans.
Where am I sitting? On one of the former church pews, which now two or three of them are placed along the west wall of the Main Prayer Hall.
Nice that they didn't have issue with re-using a church pew as a bench at the back of the room.
The North Wall is simple, with stonework taking up the centre from floor to arched ceiling. In the middle of the stonework, one can make out protruding wall joints suggesting a pattern that once held up a large cross. At the top of the arch, two simple examples of Islamic Calligraphy are placed.
I am pretty sure the shutter sound of my blackberry camera will disturb the worshipers. Sound carries very well in this prayer hall. I decide not to snap any more photos.
It's pushing Midnight as I exit Baitul Mukarram Masjid as Taraweeh continued inside on their way to 20 Rakats. I decide to return in the morning to take some outdoor photos, and here they are…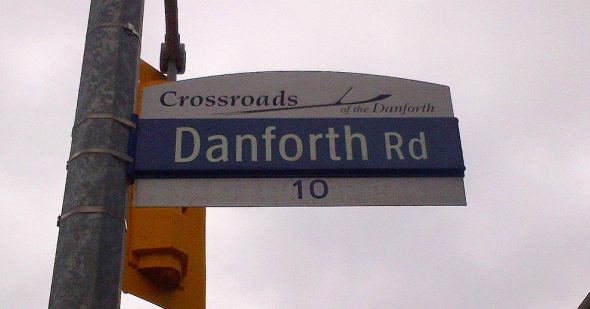 Baitul Mukarram is located in the Crossroads of the Danforth neighbourhood. The name derives from the fork in the road where Danforth Avenue and Danforth Road is found.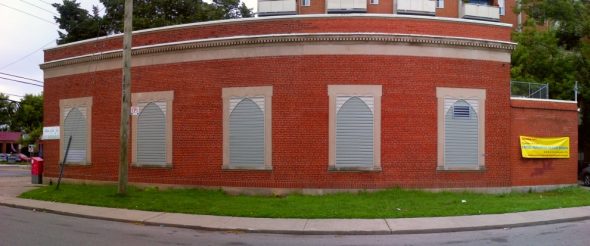 This is the original Masjid Location. Much, much smaller that the expansion space. In the past, I have prayed Jumah here. And boy-oh-boy, was it ever a tight squeeze.
Here on the left is the old space, and opposite on the right, the new prayer hall building, at 3340 Danforth Avenue.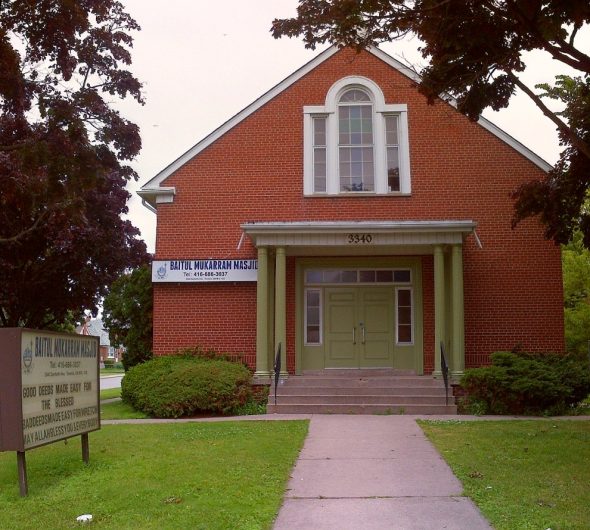 Reflecting on exact numerical street address, I notice something… it's 3340.
Jesus, Son of Mary (May God-Alone be pleased with them both), lived on Earth until he was 33.
Prophet Muhammad (peace be upon him), received his first Revelation of the Qur'an at age 40.
This is a Church Building which was purchased and is the process of becoming a complete Masjid and Islamic Centre.
From 33 to 40 to make 3340 Danforth Avenue.
That's all. But it is kind of neat, eh!
There is plenty of parking in the back. Always a necessity with any house of worship. I spot no bike racks.
A banner hangs of the outside wall of the old location, covering up some spray painted tagging.
The banner is for the Islamic School run by BMIS. The graffiti underneath is not.