After arriving in Windsor on Via Rail from Chatham, I walked to Noor-e-Islam Madressah and Cultural Centre at 747 Lincoln Road in the Walkerville neighbourhood.
It was mid-afternoon in-between Dhuhr and Asr. Being a small prayer space, understandably it was locked at this time of day.
I returned a couple days later around Asr time and stayed for Iftar and Taraweeh.
Young brother Muhammad makes Adhan al-Asr, the Late Afternoon Call to Prayer.
Originally, I believed this was Windsor's First Masjid.
I was wrong. It's apparently the Third Masjid in the City's history.
However, that still make this the second Masjid in Windsor's downtown-ish area.
The city's first masjid was a house on Wellington Avenue. It was too small for the then growing community. That first Masjid was sold in 1967 with proceeds earmarked for buying something bigger.
During two years of fundraising, the community prayed Jumah in the local YMCA.
By 1969, they had the funds and the location for a new masjid. That being what would become the Windsor Islamic Association at the corner of Dominion and Northwood on the west side of the city.
But that necessary move then left Windsor's downtown without a Masjid.
This house is at 747 Lincoln Road. It was purchased in 1983 and has been Windsor's downtown Masjid ever since.
Today, as the time for Maghrib approached, the few of us sitting upstairs in the main prayer hall are invited downstairs for Iftar.
There is plenty of food for the half dozen of us breaking the fast together. Earlier, I had found myself thinking that this year I hadn't yet had Roof Afza, that rose flavoured syrup drink which is popular with South Asians.
And just like, Rooh Afza was poured and plentiful tonight.
There are about 35 Muslim families who live nearby, they make up the bulk of the regulars who pray here. The house next door was recently purchased and slowly but surely, it's being renovated enough to accommodate an increasing number of regular worshipers.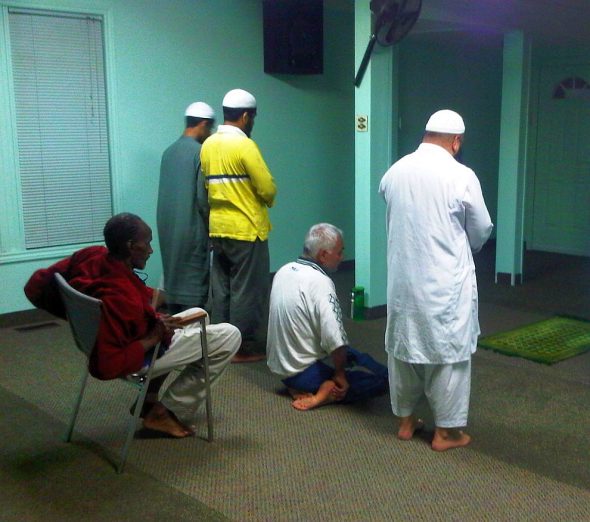 Tonight, I counted about 60 brothers altogether present during the initial 8 Rakats of Taraweeh.
So… where do the Sisters pray? I got mixed answers.
The basement prayer hall where we broke Iftar is supposed to be for Sisters.
There is indeed a separate entrance for men and women. Because it's a house, you can think of it as one entrance to the upstairs main floor, and a second entrance to a basement apartment.
The other answer was that currently the main prayer hall was for brothers only and no prayer space for sisters is available.
I ask what about the house next door they just bought?
One the congregants, who doesn't speak for the Masjid's management, agreed with me and hoped it would indeed become the Sisters' Prayer Space.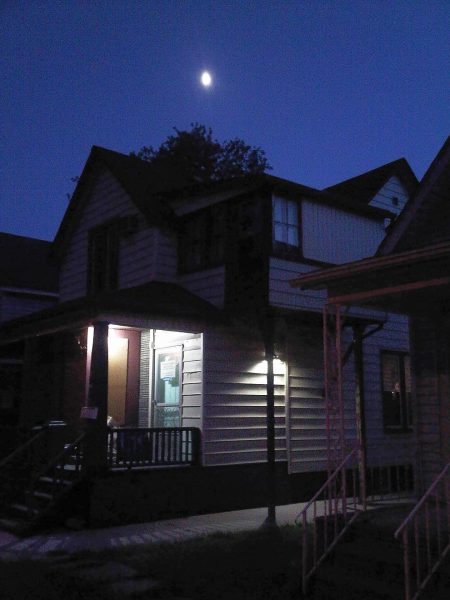 Noor-e-Islam is located steps south of Wyandotte Street in the suddenly gentrifying Walkerville neighbourhood.
If Toronto is anything to go by, where gentrification occurs, Muslims follow, and Masjids are needed.
By then, this small Masjid's expansion to include the house next door should be ready.
Hopefully with Sisters being able pray inside too.
InshAllah, Ameen.