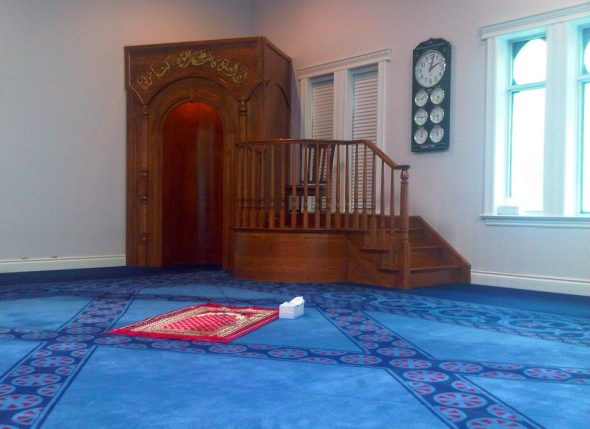 Just arrived in London, Ontario from Toronto. Let's see if we can make afternoon prayers at @LondonMosque. InshAllah. #30days #Ramadan2013

— HiMY SYeD (@30masjids) July 9, 2013
Day 1 of 30 Masjids Ontario
I've arrived in time at the London Muslim Mosque for afternoon Dhuhr Prayers having travelled by bus from Downtown Toronto earlier this morning.
However, Day 1 of 30 Masjids Ontario does not necessarily mean Day 1 of Ramadan in London, Ontario.
This Muslim Community determines the start of Lunar months by actual moonsighting reports, hence Ramadan locally will begin tomorrow, Wednesday July 10 2013.
Having personally decided to start my Ramadan going by pre-determined lunar calculations, it is already the first full day of fasting for me.
InshAllah, God-Alone Willing, I'll spend more than one day here in London, with several different stories being shared on the blog. I've barely been here a few hours, and story-wise already have several promising leads.
Paramount, a proper history of the founders of this community will be forthcoming. The London Muslm Mosque, where I am typing these words right now on my netbook, is the first and oldest Masjid in Ontario. It is also generally agreed that LMM is the Third-ever Masjid to be built in North America. It's a story that deserves a proper telling.
To start our 30 Masjids London series, let's meet Haroon Babur
I met Haroon after Dhuhr Prayers inside the London Muslim Mosque. After our conversation, it's easy to imagine, he is one young person any masjid would likely wish they had on staff.
Haroon is originally from Ft. Collins, Colorado, but like myself, he was born in the United Kingdom. Liverpool exactly. His family then lived in Chatham, about halfway from here to the City of Windsor and the U.S. Border. He chooses to make London, Ontario his home.
His most recent gig was sitting in a cube-farm answering customer service queries on his headset.
Not much opportunity to put his recent accounting and bookkeeping education to use there.
Living within walking distance of the London Mosque, an opportunity opened up as Farooq, the brother who's been doing the books for the past 15 years is retiring. Haroon jumped at the chance and is currently easing into his new position as Mosque Secretary designate.
There were a lot of candidates who applied for the Secretary position. Yet, Haroon may have had the edge on many of them due to his prior very active involvement within the London Muslim Mosque. It's not that much different than a Corporation looking favourably upon a job applicant's extracurricular school activities on a C.V.
Haroon's eyes pop wide open as he begins telling me how interesting his new job is. Everyday brings something new, something else to learn, to figure out. He is really excited. Keep in mind we are talking about accounting.
Compared to answering phones in a call centre, being Secretary of London's main masjid is an incredible step up in Haroon's career.
He is all of 23 years old.
How about other people his age?
Haroon goes into great detail why there just aren't that many opportunities for young people in London. The baby boomers who have jobs, are not retiring as quickly as elsewhere in the Province, hence few new job openings at that end of the job spectrum. And the jobs that are available remain entry level things geared to high school aged students.
Many young graduates hit this glass ceiling the moment they get their degrees. Their best option is to leave London for either Windsor or The Greater Toronto Area in search of improved prospects.
Any number of Haroon's colleagues have done just that. Consequently, the next generation of London's Muslims may not actually live and work in London. Far from being a crisis, it is still something to be mindful of.
Haroon has the benefit at his age of having been part of two smaller, tighter Muslim communities. The first in Ft. Collins, Colorado, the second in Chatham, Ontario.
In those two masjids, everyone really did know everyone else. Youth would automatically head to the Masjid right after school. Almost all of the five daily prayers had regular attendants. Those masjids were indeed a proper Third Place for many Muslim families, the other two places of course being Home and then School or Work.
That isn't the case here at the London Mosque. The masjid isn't necessarily the centre of people's daily lives. Weekly lives perhaps as found on Fridays, and Ramadan evenings for sure on an annual basis. But Haroon laments unlike that small masjid feeling, he hasn't found the same identity with community here.
He doesn't discount nor complain about this, rather he's describing what I too have witnessed spending time with small congregations in storefronts and converted buildings, compared to huge purpose built masjids, where one may remain detached and anonymous if one so chooses.
His eyes light up again, as Haroon lists all the activities those two smaller congregations would organize. We pick up the current London Muslim Mosque flyer listing scheduled activities and Haroon goes through it one by one. His eyes dim as he reflects alound why there aren't more study circles and events.
I suspect though, in time, Haroon may be a bridge between the two kinds of congregational activity levels and community spirit. Time will tell.
Our conversation continues but I am aware he has to go elsewhere, despite that, Haroon gives me a quick tour of the well stocked library and introduces me to other staff members.
We quickly run down where there is free 24 hour WiFi nearby, and then Haroon leaves for the afternoon.
I'm struck by two things in the London Muslim Mosque so far. The first being the outlook and energy of Haroon, the new incoming Secretary for this masjid. The second is that the Masjid Board of Directors didn't go with someone older, instead opting to give this young man what appears to be his dream job.
InshAllah, as other masjids are faced with retiring elders in administrative positions, they may decide to give opportunities to new graduates.
But, as I have seen these past two years doing 30 Masjids, it is not always the case.