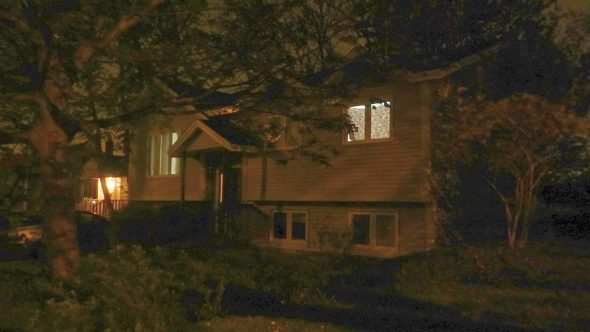 You can't find it on IslamicFinder. You won't see it on Salat-o-Matic.
This may be Newfoundland's third Musallah. Yet it's much more than that…
40 minutes until Dawn, until Fasting, begins in St. John's, Newfoundland.
2:15 a.m. and I'm knocking on the door of "125".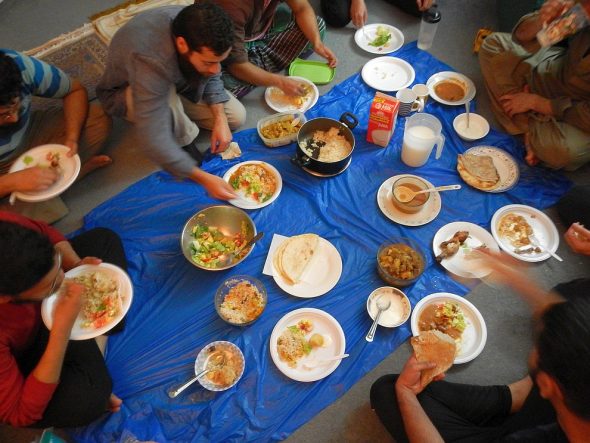 Minute or two later, I'm inside finding a spot around an impressive group effort of Sahoor, the pre-dawn meal Muslims take in before Fasting formally begins at the crack of Dawn.
Everybody pitches in, making this spread a truly international Sahoor.
Salad with Lettuce, and Pineapple, with an Olive or two, I think I tasted. Leg of Pakistani style Chicken Tikka. Tandoori Bread sans Tandoori. Two different styles of rice. And carbs. Plenty of Carbs.
Brothers from six different Muslim Cultures gathered around the food.
Three from Bangladesh, two from Pakistan, two Egyptians, one each from Morocco, Kenya, and Turkey.
I am asked the eternal Icebreaker Question, "Where are you from?"
"I'm Canadian," describing my bonafides. Good enough.
Better make that seven different Muslim Cultures from four Continents are gathered around the food.
Almost as impressive as the spread itself, is that we all finish almost everything before us before it's time to wrap up the tarp and prepare for Fajr prayers.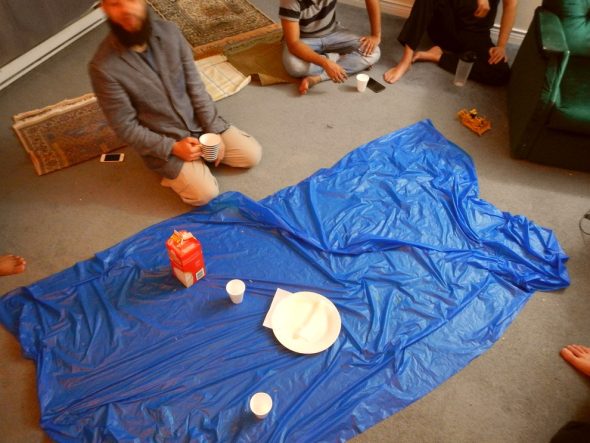 The brothers took turns offering me flavourful samples of their culture's sahoor staples.
A quick debate about whether the Turkish Ayran yogurt drink Brother Emre offers me is considered the same as the South Asian drink, Lassi?
I forget the answer as I was busy finishing my Ayran.
Being their first Sahoor Guest, on this first morning of the first full day of Fasting, I'm offered more food that I should have taken in. Everything was tasty.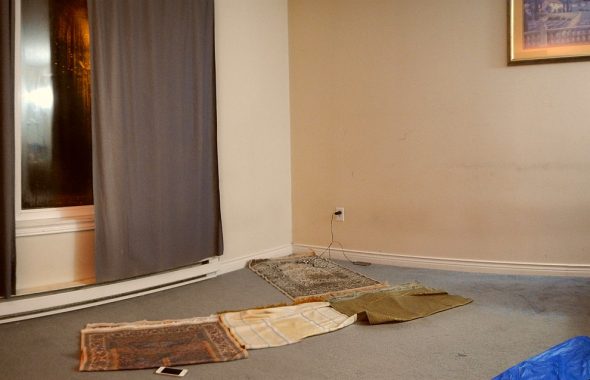 Cut off time for eating, 2:55 a.m., is fast approaching [see what I did there].
The Floor is quickly vacuumed.
A quick debate between Turkish point of view and Bengali point of view as to when exactly we stop eating and drinking. Is it five minutes? Or ten minutes before Dawn starts or do we keep eating until Dawn and Adhan al-Fajr, The Call to Dawn Prayer is made or heard?
I keep my point of view to myself, choosing to observe what they arrive at.
Half expecting them both To Agree to Disagree… Instead they just… Agree.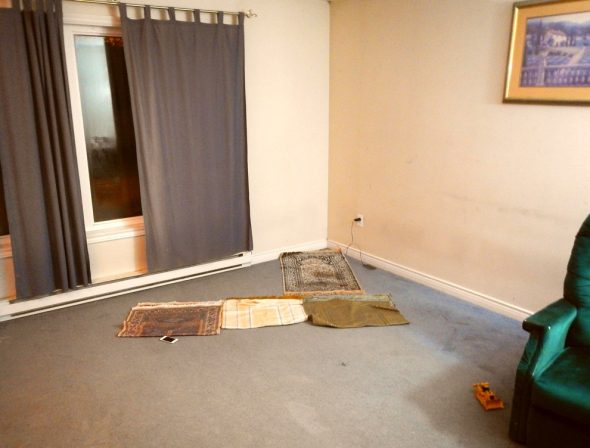 That's the first glimpse into what make this shared student household special.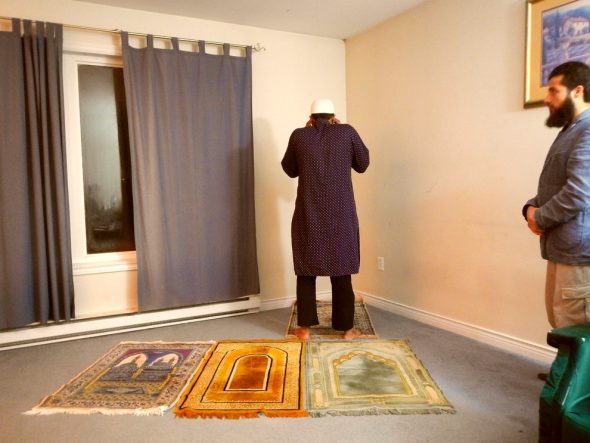 Adhan al-Fajr, The Dawn Call to Prayer.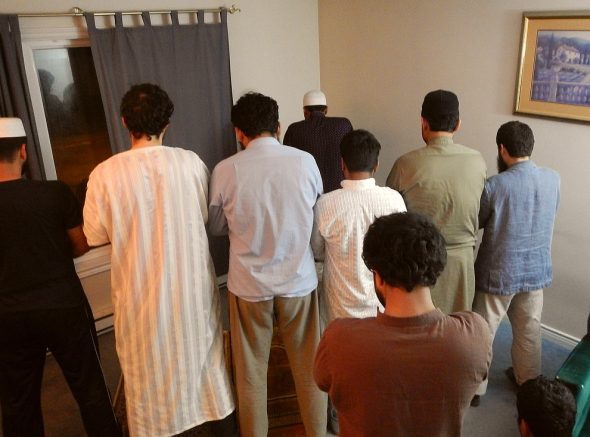 Salat al-Fajr, The Dawn Prayer. In congregation.
After the prayer, half the brothers say their Salams to me and head to their rooms to rest or study.
A quick conversation with Nakib and Emre and two others help me understand the purpose of this place.
Around 2010, one Muslim brother studying at Memorial University wasn't exactly comfortable sharing a rental a space with non-Muslim students.
He was uncomfortable with alcohol potentially being in the house. He worried about utensils and other kitchenware being in contact with pork products and then being used for Halal food preparation or eating.
Occasional partying of his non-muslim rental-mates was a further complication. He wasn't comfortable.
What they did back in 2010 or 2011, was approach the landlord to take on a lease for the entire house, not just their individual rooms.
This intention was renting out rooms not along ethnic or cultural lines.
Moreso, if Muslims of any background stayed with other Muslims, at least they'd have something in common, and as Brother Nakib explained, they'd "feel very much comfortable."
That's the point of this house.
The Landlord would going forward only deal with one lease-holder rather then ten differet students tenants. Making for pluses on both sides.
Through attrition, as fellow students graduated or decided to move on to newer diggs, Muslim University Students, through word of mouth, learned of this concept and moved in.
Today, 2016, there is a Waiting List of five or six Muslims per month asking if there is a vacancy, wanting to move in immediately.
Further to having Islam as the common denominator for all residents, Respect for one another's different points of view or schools of thought within Islam is paramount at "125".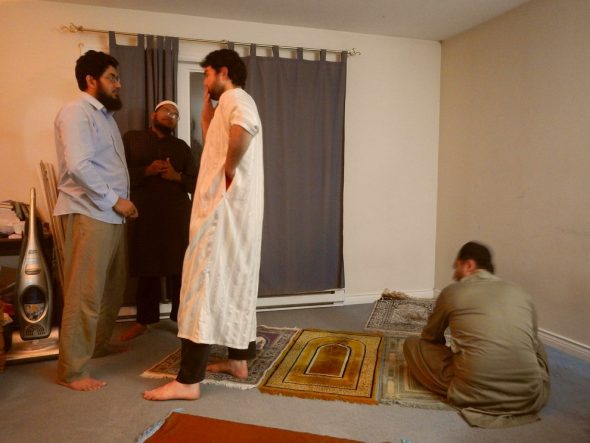 Before leaving, I ask the remaining brothers what their aspirations are for this house, in this Ramadan and beyond.
They intend to invite their neighbours along the street for an Iftar inside.
They've found their Neighbours to be, "very friendly, very helpful."
Hosting an Iftar, among other reasons, is one way to say thanks.
And long-term?
They'd like to find a way to permit any Muslim (or two at most due to space constraints), who needs to pray on time while in this neighbourhood, to join in their set prayer times.
I ask them if they already consider "125" to be St. John's Third, and in fact Newfoundland's Third Musallah? Third Muslim Prayer Space?
"Guess you could say that," Nakib from Bangladesh answers, and Emre from Turkey nods in agreement.
Perhaps one day when looking up St. John's, Newfoundland you'll see "125" on IslamicFinder and Salat-o-Matic after all.