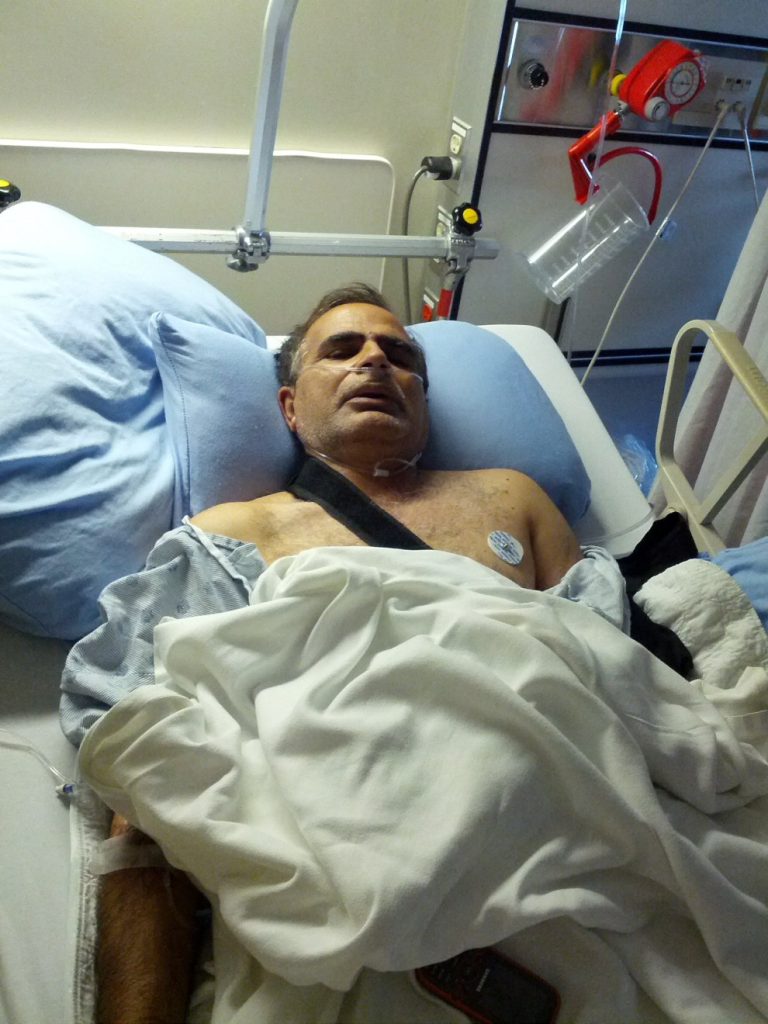 "They're just nice people,"

"They've always got the neighbourhood kids over there. They are the kind of people you want for neighbours."

— Barb Hughes, she lives two doors down from The Sajad Family
During the First Ten Days of Ramadan, on Tuesday July 16 2013, Hamilton Taxi Driver Anwar Sajad picked up two men and one woman at a grocery store at Upper Paradise and Mohawk Road.
After driving them to an address on Limeridge Road West, Anwar Sajad was savagely beaten.

Sajad suffered a head injury, a dislocated shoulder, broken pelvis and broken leg. He remains in traction.
All because three people did not want to pay for a $12.00 cab ride.
Or was it?
Sajad's 22 year old daughter, Zunaira, the oldest of his five children, believes it's a racially motivated assault. Here's some of what she told CBC News Hamilton:
"This is a racial crime," Sajad said. "We're immigrants. We're from Pakistan. We're Muslims. Clearly, there's a racial aspect to this. It's not just the money."She said police should investigate the attack as a hate crime, because "it could have been pre-planned."

"I don't know the exact statistics, but I'm pretty sure the majority of the taxi drivers in Hamilton are South Asian, so maybe that's the reason [the assailants] called the cab,"

"There's always customers that make comments. It wasn't as extreme as this. We never expected something to be this serious before, but clearly it is," she said.

"The doctors told me that they've never seen a beating like this before. Not one at the hands of one person. It was serious. It was intense."

"If he [ the accused ] is given only six months or a year," she continued, "it's like we're cultivating crime, we're promoting it."

'My family is just so devastated by all of this. What kind of animal could do this?'
Since being admitted to Hamilton General Hospital, Anwar Sajad already has had two surgeries and remains  in the spinal unit. It is unknown how long his recovery will be.
"Everything is just upside down,"

"This is the most terrifying thing that has ever happened in my life."

Daughter Zunaira Sajad, told CBC Hamilton
Sajad Family Friend Zaheer Ashraf, reports Anwar's wife, "is still crying a lot beside his bed in the hospital."
Ejaz Butt, recent Past President of the Ontario Taxi Workers Union, has called this a hate crime and believes the charges should be upgraded to attempted Murder:
"We definitely support Zunaira's theory. Why beat someone so badly for $12? If someone wants to not pay their fare, the worst they do is push and run. We all suspect there is something more to this, that it's a hate crime."
While 55 year old Anwar Sajad, the sole breadwinner for his family, lies in a hospital bed, his 19 year old attacker has been free on bail since late July.
Hamilton City regulations stipulate that each cab must be equipped with a video camera, yet cameras can't prevent attacks, they only record them.
"A camera only gives you safety after the incident. If something is mandatory then everyone does it, but if anything is optional that means the companies will refuse to do it."

— Ejaz Butt, recent Past President of Ontario Taxi Workers Union
The camera did not capture details of the attack on Anwar Sajad, but its pictures did help track down one suspect.
19 year old Zachariah Ristic, is charged with aggravated assault and robbery.
One of Ristic's bail conditions, is that he can't take any cab rides. Oh, really ?
Though Police used a photo to track down and charge their suspect, Ristic's picture has NOT been released by The Police.
That fact has deeply troubled Hamilton's Cab Drivers, as they have no way of recognizing if their next customer could be this same guy.
Prepaid Taxi Fare By-Law?
Hamilton Ward 4 City Council Member Sam Merulla has proposed a prepay system where GPS is use to pre-calculate the fare based on start and destination locations.
Mobile Article Detail http://t.co/weW9gAGqQ0 #hamont

— Sam Merulla (@Sam_Merulla) August 6, 2013
He argues pre-payment should be mandatory overnight and optional during daytime. Doing so would take away the possibility of skipping out on cab fare, which was the catalyst for the assault in this case.
On Tuesday August 12, 2013, Merulla made a notice of motion suggesting an evaluation of prepaid fares between 10 p.m. and 5 a.m.
Hamilton City Council will be asked to approve a study of a compulsory prepaid fare system for late-night taxi trips.
Merulla said prepaid fares could weed out a "significant amount of the violence" faced by cabbies because many assaults occur over fare disputes or unpaid bills.
The evaluation would also mesh with an ongoing city study of the taxi industry and current municipal regulations.
Merulla's motion will come before Hamilton City Council on Friday August 16, 2013, …exactly one month to the day after the July 16 attack on Anwar Sajad.
Taxi Driver Protest
On Tuesday August 6, 2013, at least three dozen Hamilton Taxi drivers held a one hour protest around City Hall.
#Hamilton taxi drivers demanding safer work conditions and justice for brutal attack of co-worker. #protest pic.twitter.com/YwYPVN1h8X

— Eryl McCaffrey (@ErylMcCaffrey) August 6, 2013
They wanted to bring awareness to the issue of Cab Driver safety in general and what happened to Anwar Sajad in particular.
Cabbies parked outside #Hamilton City Hall. Want council to help prevent violence against drivers. pic.twitter.com/Uc9t9YDmvm

— Eryl McCaffrey (@ErylMcCaffrey) August 6, 2013
Mayor Bob Bratina just got in a cab with one of the drivers to discuss their demands. Taking a drive around City Hall.

— Eryl McCaffrey (@ErylMcCaffrey) August 6, 2013
Fundraiser
Taxi drivers as of last week had collected at least $6,000 for his family. His neighbours in West Mountain collected $1,000, and a trust fund set up has at least $500.
Neighbours who live on Sajad's street have organized a Fundraiser for his family on Wednesday, August 21, 2013.
Fundraiser takes place at The Whistling Walrus on Upper James Street (north of Rymal Road and the South Hamilton Square).
Doors open at 7 p.m.
Music begins at 8 p.m. and continues until last call.
Assaulted Hamilton Taxi Cab Driver Anwar Sajad's recovery will however, take a lot longer.