It's early Sunday Morning. Day 10.
Actually, it's very early Sunday Morning.
Exiting Masjid Huzaifah after Taraweeh prayers, I decide to stay in Scarborough and make my way to the Tim Horton's across from Nugget Mosque, nickname for The Islamic Foundation of Toronto.
Foundation, (its other nickname) occupies the south west corner of Nugget Avenue and Markham Road, one block north of Sheppard Avenue East.
Year round during the day, Dome and Minaret are a Scarborough Landmark.
During Ramadan nights, they both become impossible to miss.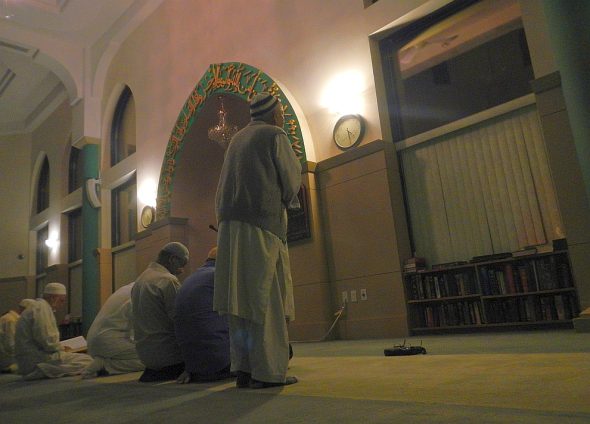 Because of the length of Summer days and the breadth of Summer overnights, Taraweeh Prayers end around Midnight and time for Fajr Prayer begins shortly after Dawn, between 4:30 and 5 a.m.
Sunrise is around 6 a.m.
After reading Fajr Salat, I remain inside the Islamic Foundation having made intention for Itikaaf, seclusion inside the Masjid away from worldly affairs.
Earlier: After Fajr Prayer inside Islamic Foundation/Nugget Mosque, Scarborough. #30masjids #30Days http://t.co/yxANoJyE
Between catching up on sleep, taking naps inside the prayer hall and catching up on blogging previous days' 30 Masjids reports, time passes quickly.
Writing several quality #30Masjids posts for later today. Here's one from 2011: One Masjid with FIVE Mihrabs. #30Days - http://t.co/prr5CWfB
Soon it's pushing 2 p.m. and time for Dhuhr Salat, the Afternoon Prayer.
The Muezzin summons the faithful…
Each Itikaaf  is unique.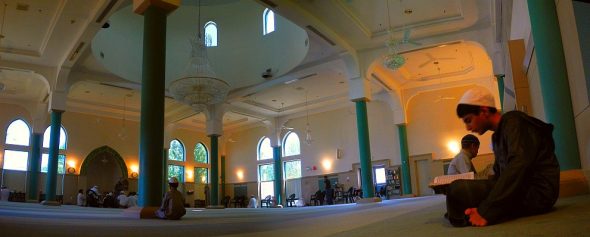 From Fajr to Dhuhr and leading into late afternoon Asr Prayer time, natural light illumes the prayer hall. A waltz of shadow and sunlight slow dances its way across walls, windows, niches, floor, and inside the dome of the Foundation.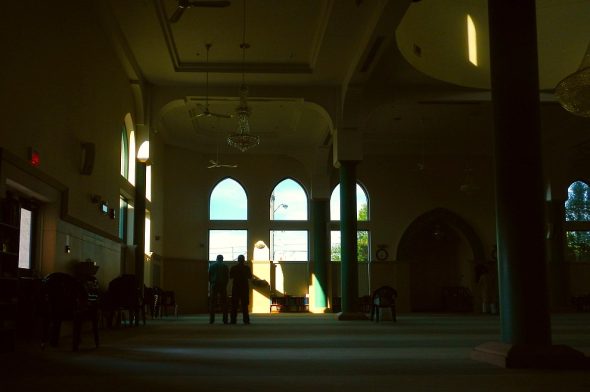 This Itikaaf  is unique.