RT @khalidmosque Janazah (for #AbshirHassan) Friday July 11 at Khalid Mosque after Jumah, insha'Allah. Ina-lilaahi Wa-ina Ilaahi Rajicuun.

— HïMY SYeD (@HiMYSYeD) July 11, 2014
Earlier: Arrived at @KhalidMosque for #Jumah AND Janaza/Funeral for #TDSB Teacher #AbshirHassan. #Ramadan #Toronto http://t.co/Uiko0Z2z1o — HïMY SYeD (@HiMYSYeD) July 11, 2014
I've been editing and re-editing this blog post, but it just ain't coming together the way it deserves and needs to be. So for the moment, until I can sit down properly somewhere to go at it again, InshAllah, and re-do this entry, this temporary placeholder paragraph is it. Gathered are tweets and photos and a couple of videos plus audio of the Jumah Qhutbah. The one thing I want to at least mention right now, is that 30Masjids visited Khalid Mosque during Ramadan 2012. Back then, I wrote about their Janaza/Funeral facilities for Muslims in this part of the city and how vital that was. I could not have imagined two Ramadans later, I would be attending a Janaza here on this day, and struggling to write about Abshir Hassan, a school teacher who was gunned down.

Announcements:
Jumah Qhutbah:
Countless Muslims & Fellow #Toronto-nians attended Janaza for #AbshirHassan at @KhalidMosque. #Ramadan #TDSB http://t.co/4KlkGXJacb

— HïMY SYeD (@HiMYSYeD) July 11, 2014
Fellow #Toronto Muslims Carrying Brother #AbshirHassan before his final journey… #tdsb #Ramadan #30days http://t.co/JlkolUfaWW — HïMY SYeD (@HiMYSYeD) July 11, 2014
#TDSB Students with Teacher #AbshirHassan, one last time, outside @KhalidMosque. #Ramadan #Toronto http://t.co/IdZSbx3NJX

— HïMY SYeD (@HiMYSYeD) July 11, 2014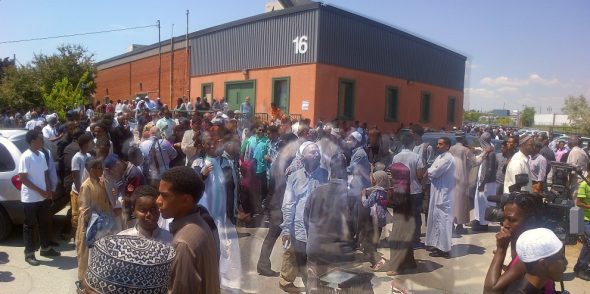 #Toronto-nians outside @KhalidMosque giving respect to #AbshirHassan's Family on this difficult day in #Ramadan. # http://t.co/QZv4Kxu4Ve — HïMY SYeD (@HiMYSYeD) July 11, 2014
You may appreciate reading . . .