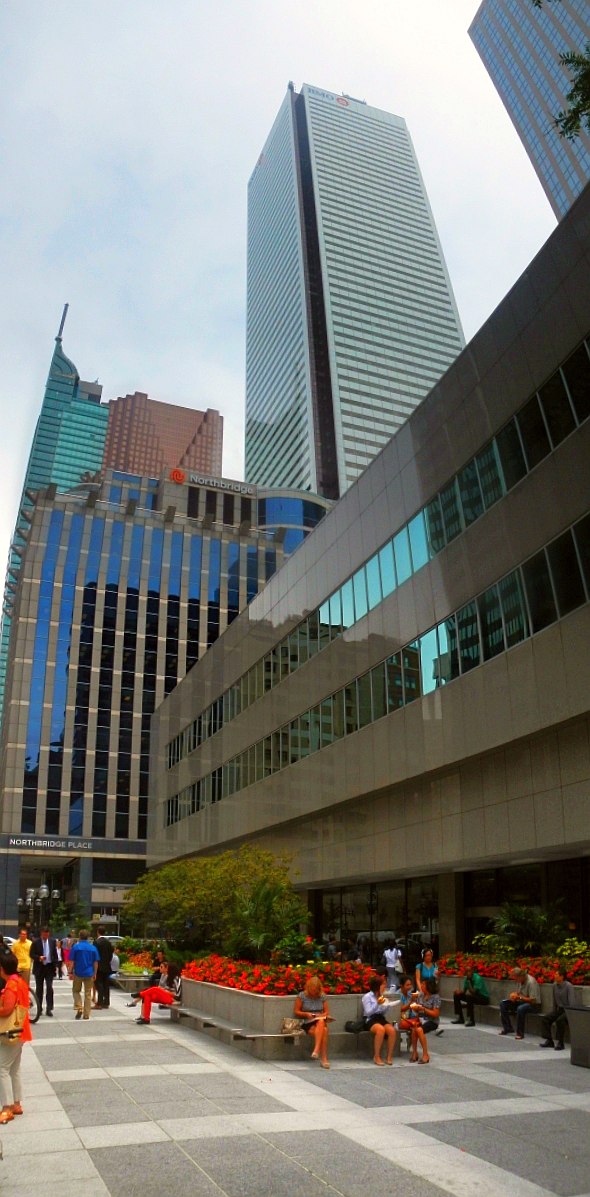 An underground prayer space in the heart of Toronto's Financial District?
Below First Canadian Place? Underground? Myth? Urban Legend? Did it even exist?
Over many years, I've heard about it, but only second hand.
I had always wanted to go see for myself, but until today, just never firmly resolved to do so.
Priya Sankaran from CBC Metro Morning wanted to come along. She hoped to record a story about 30 Masjids for Friday's show.
She ended up with a different story than this one about my intention to pray Dhuhr Salat, afternoon prayers, in the FCP Musallah. But that's for another blog post to come later.
Priya and I met at the Glenn Gould statue in front of the CBC Mothership on Front Street. She recorded the interview as we walked the short distance into the Financial District proper and entered First Canadian Place.
I noted directions to the FCP Musallah earlier off of Salat-o-Matic's webpage.
Slightly confusing, but Priya and I were able to find our way there.
Take the elevator beside PharmaPlus, on concourse level of First Canadian Place to the F/G level underground parking lot. Go the F side. Take a left after exiting. It's the double grey doors.
And what did we find when we get there?
The FCP Musallah was now closed. No Dhuhr. No Jumah.
I had missed catching the last-ever Dhuhr Prayers here by just a few days, and the last ever Jumah Prayers by just a few days more.
Priya wants to follow up with Brookfield Properties, who run First Canadian Place. I hold up the sign as she takes a photo for a possible story.
I am smiling not because we now have one less prayer space in the city.
I am smiling only out of habit of being in front of a camera.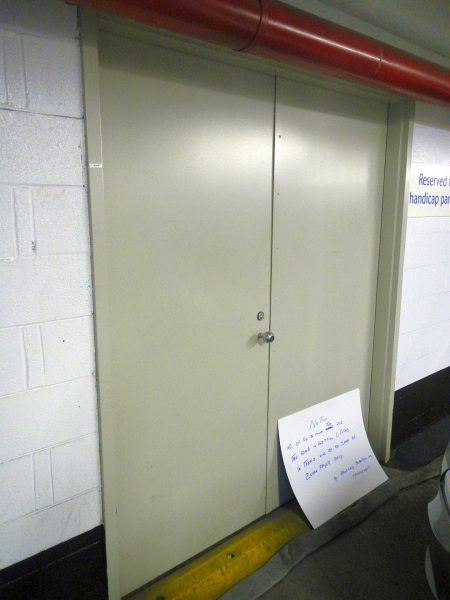 We return the sign to the spot exactly as we found it. Priya asks How I am feeling at this moment.
Privately I'm thinkin',
What a lousy way for building management to start Ramadan.
Earlier, Priya had asked me how many masjids there were in the City, my updated answer to her
Whatever that number is, it's now minus one.
So that was it.
Plenty of time remained for me to walk north to Masjid Toronto for Dhuhr. Still, I was sorry to have missed praying here at least once…
Our hanging around the entrance to the now former front door of the FCP Musallah has not gone unnoticed.
Muslim employees of First Canadian Place meekly ask what we're doing here.
Priya introduces herself being from CBC and takes the lead. She informs them about 30 Masjids, why I wanted pray here, and how we only learned it's just been closed down by management on Monday by reading the sign.
The brothers are sad about the closing. They are resigned to it.
They tell me they had two Friday Jumah prayers, at 1:30 and then at 2:05 or so.
Monday to Thursday, the room would open for Dhuhr Prayers.
The room was closed for everything else.
Turns out its their lunch room. They have their work lockers inside. Since most, if not all, the employees are Muslim, they would pray Dhuhr together.
Brookfield informed them that Prayers would no longer be allowed here, the last Friday in July was to be their last Jumah Prayers.
Emplyees would now have to hustle to Masjid Toronto or Omar bin Khattab on Parliament Street then hustle back to FCP on Fridays.
Seeing my disappointment in not even seeing inside this Musallah, one brother suggests I can take a look for a moment.
Oh Wow. Sure!
He pulls out a key and opens the door…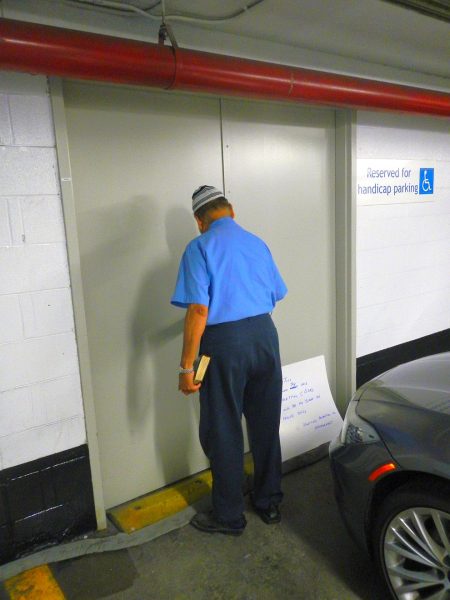 An empty room with a carpet, clock and prayer rug.
This is what I originally imagined the Basement Musallahs in Regent Park to look like.
Only here, steps away and underneath the Richest Intersection in Canada, that's exactly what I found.
I am grateful that I was at least able to finally see the FCP Musallah in person.
I am disappointed that I never got to ever pray here.
There will be no Dhuhr Salat  today.
Priya and I elevator back up to the main concourse. The din displaces the near vaccum silence and sukuun found only a few floors below.
Priya tells me she will follow up with Brookfield and ask why they won't allow a prayer space to continue.
Later on, Priya emails me that Brookfield Properties is willing to go on air as to why they had closed the prayer room.
Would I be willing to go on air with an opposite point of view ?
I inform her that I'm willing to do the same to argue why FCP should to allow its employees a prayer space.
I don't hear back from Priya.
Then late Friday, after Jumah…
Props to Andrew Willis, from Brookfield Properties for logging onto Salat-o-Matic late Friday afternoon to announce reversing their decision and stating the FCP Musallah would remain open:
"This is a private prayer room, and only meant for Muslim employees at First Canadian Place."

Andrew Willis, First Canadian Place/Brookfield
awillis111 reviewed FCP Musallah in Toronto, ON and rated it NR http://t.co/SXJwHK3J via @salatomatic
Not being a Muslim employee of First Canadian Place, I will never get to pray inside the FCP Musallah.
But that's okay.
The Muslim Employees of First Canadian Place still can.